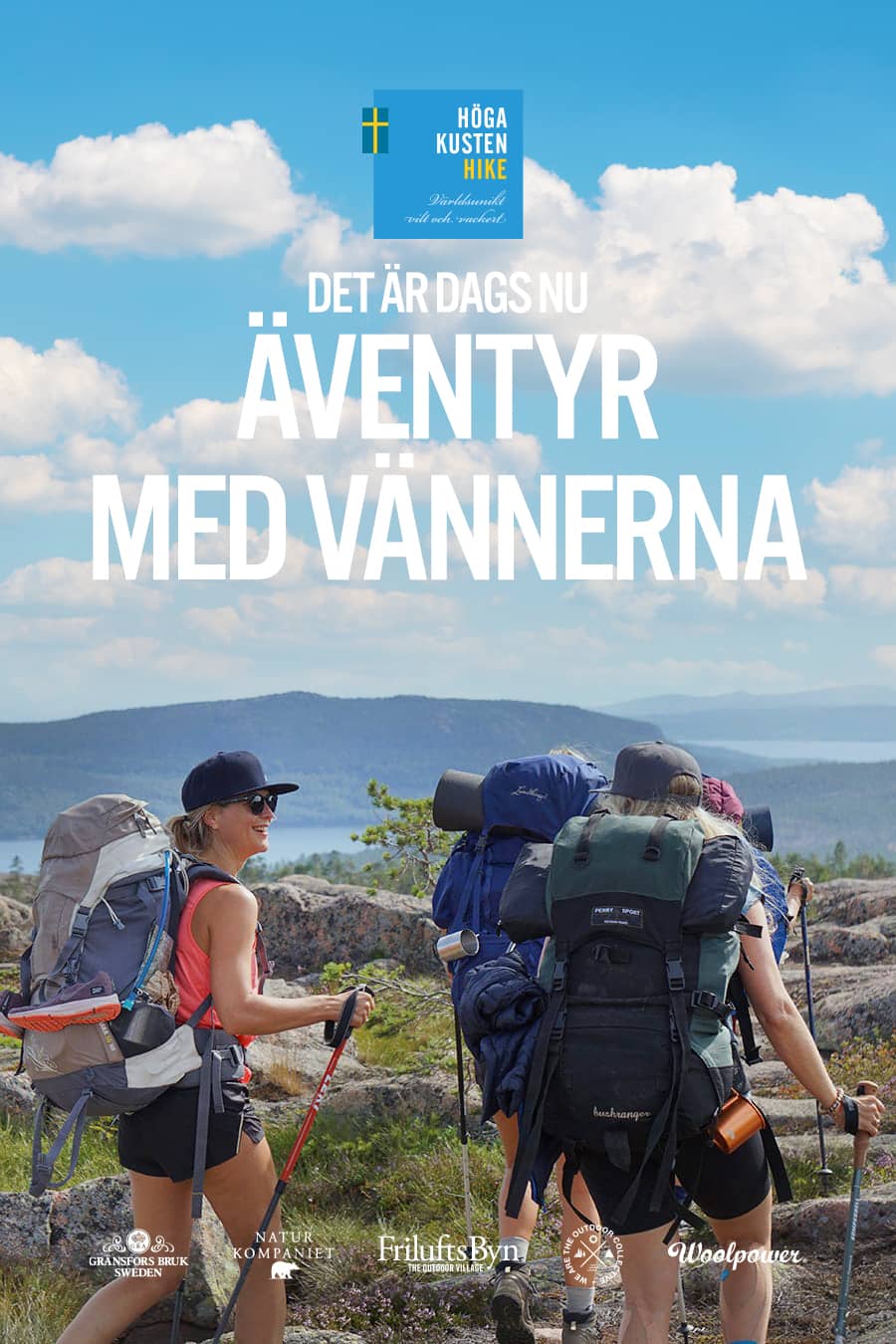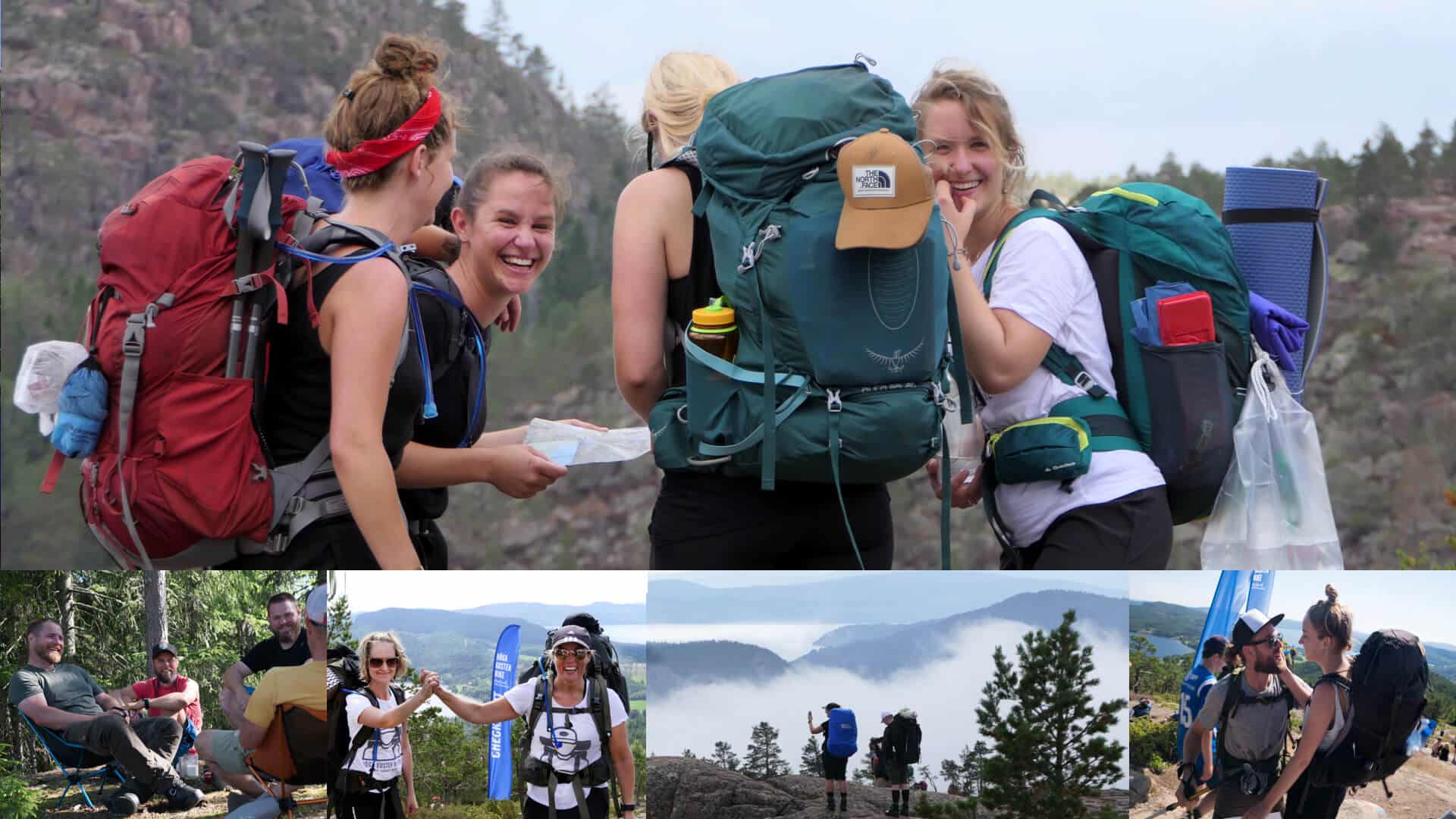 HIKING HIGH COAST HIKE
WITH YOUR FRIENDS
High Coast Hike is the perfect adventure with your friends or colleauges. Together you will experience the most incredible nature, lovely evenings by the camp fire and a festive atmosphere during After-Hike. During the hike you have the chance to take part in outdoor schools, swim in the ocean and relax surrounden by stunning mouintains and  stunning views. This will be so much fun!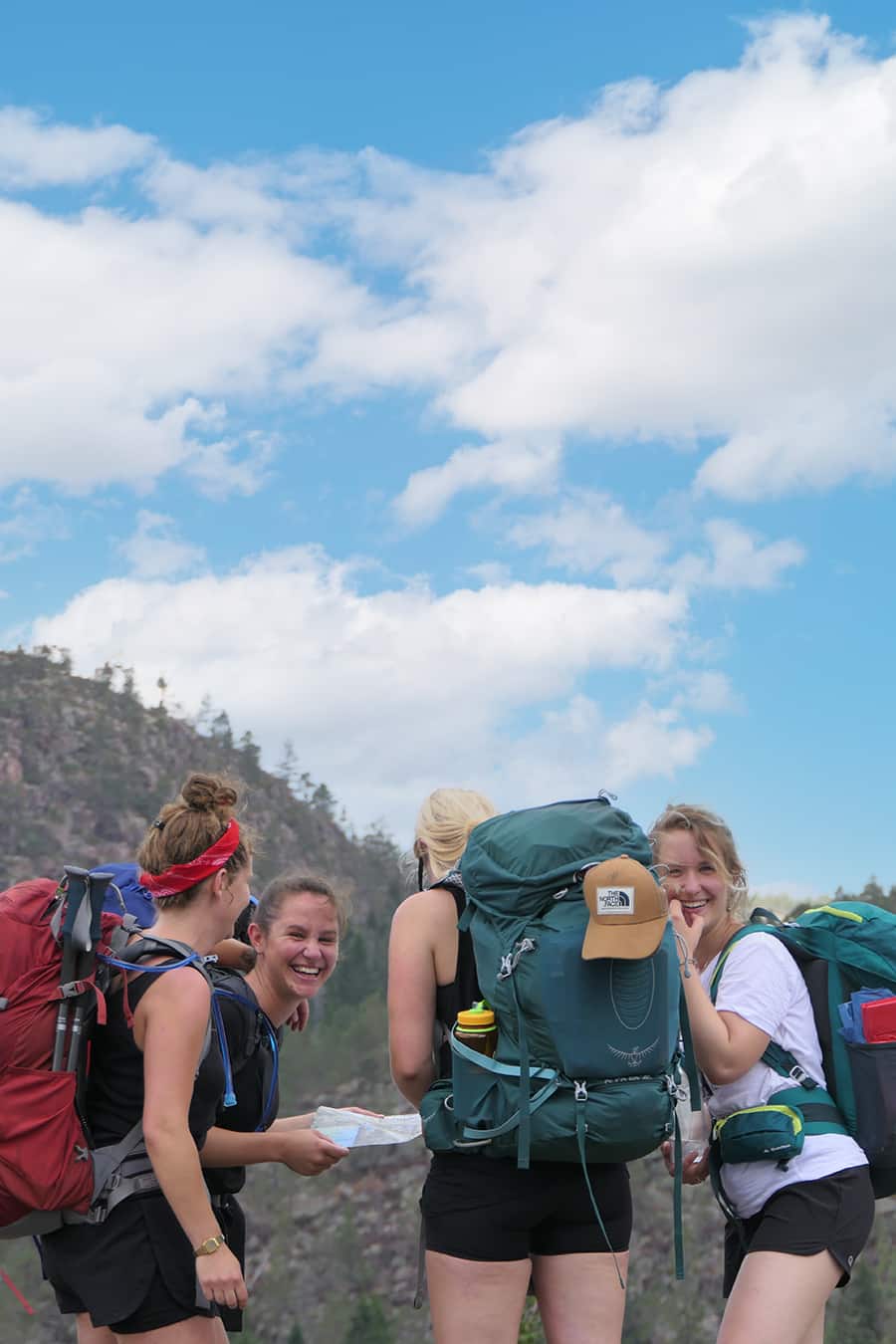 To experience and adventure together is really har do beat. You will love this.
No matter if you're a total beginner or more experienced you will really appreciate the outdoor schools and seminars.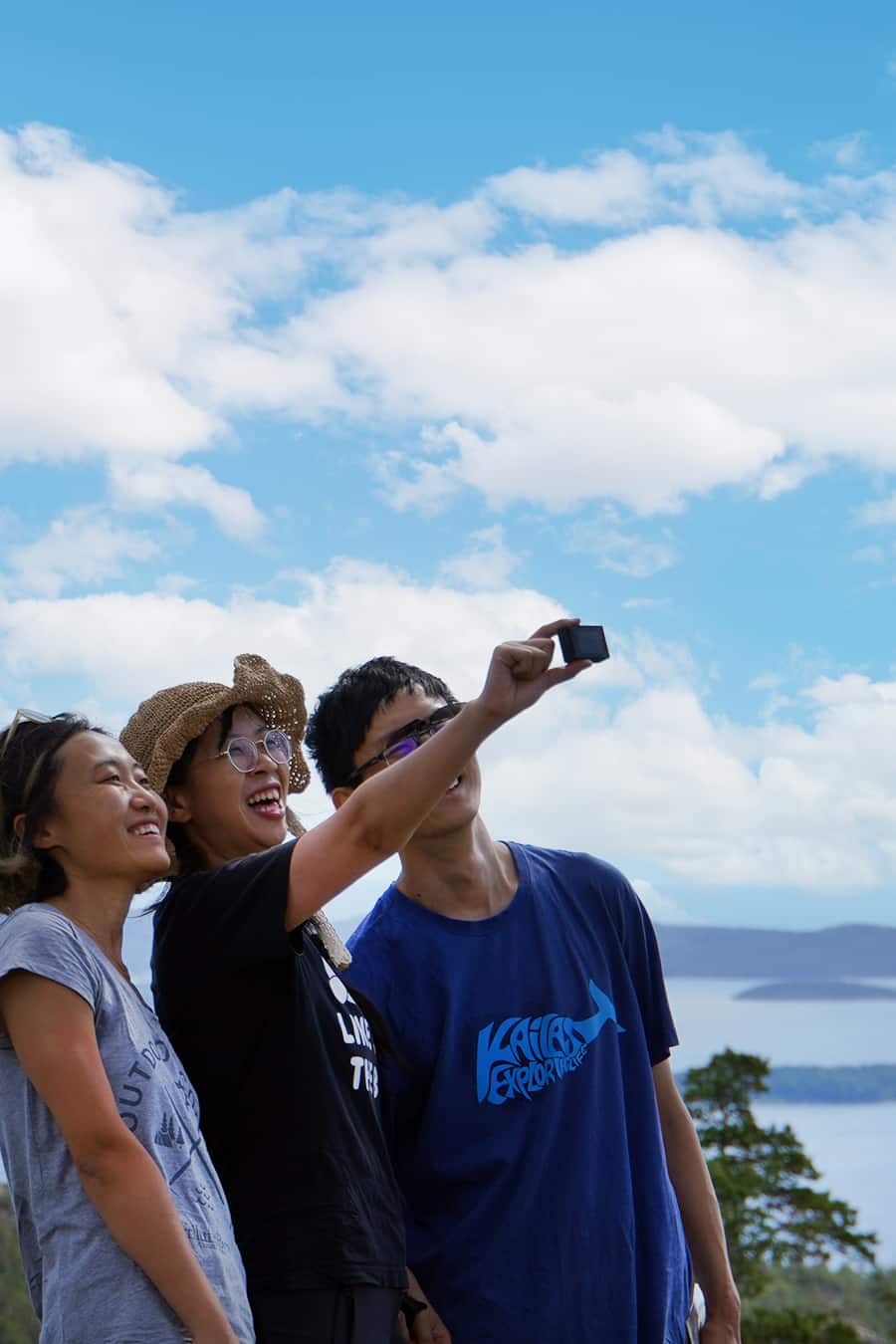 You will meet wonderful people from all over the world.
BRING YOUR FRIENDS, COLLEAUGES OR PARTNER
Isn't it about time you went on an adventure with your friends, colleagues or you partner? Put on those hiking boots and set out to experience the highlights of the High Coast Heritages site at the same time as you're creating memories of a lifetime together with like-minded people.
High COast HIek is a three day adventure where you carry your own gear between shared night camps where the hikers gather around the camp fires, go for a swim or take part in the outdoor schools from some of Sweden's leading outdoor companies.
We have gathered a few tips that can make this awesome experience eve greater. An hey, if your friends don't want to come that is fine too. Click here instead:
HIGH COAST HIKE
3:rd - 5:th August, 2023
Adults:  229 euro* (2290 sek)
Youth (13-16 y)  119 euro* (1190 sek)
Kids: Up to 12y - 79 euro* (790 sek)
*Register with the code "hiker" before the 30th of May to get 40 euro* (400 sek) discount and get an Adult ticket for only 189 euro* (1890 sek).
WHATS INCLUDED:
Bus transports from FriluftsByn, seven meals of freeze dried food, map, outdoor seminar with Woolpower, Naturkompaniet and Gränsfors  Bruk as well as After-Hike. Outdoor Collective t-shirt worth (399 sek) and free space for your tent in FriluftsByn Saturday to Sunday.
REGISTER: Opens Friday 24th of March 15.00
Since it's start in 2013 the High Coast Hike has become one of Sweden's most popular hiking adventures and is attracting hikers from all over the world. Welcome to a great experience filled with incredible nature, outdoor schools and that communal feel you get from doing what you love with like minded people right in the heart of the World Heritage in the High Coast of Sweden.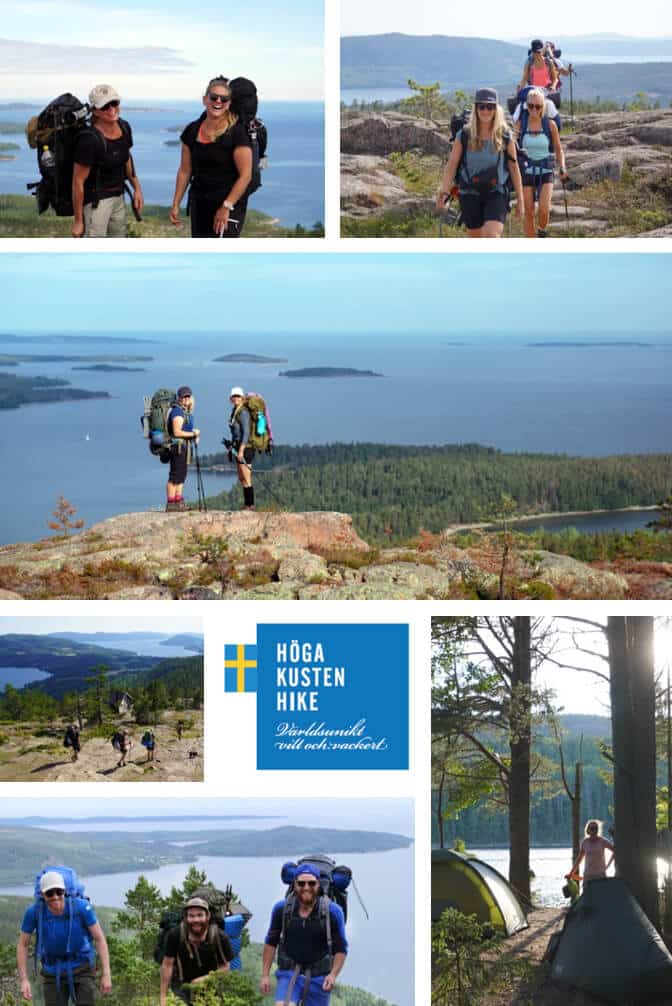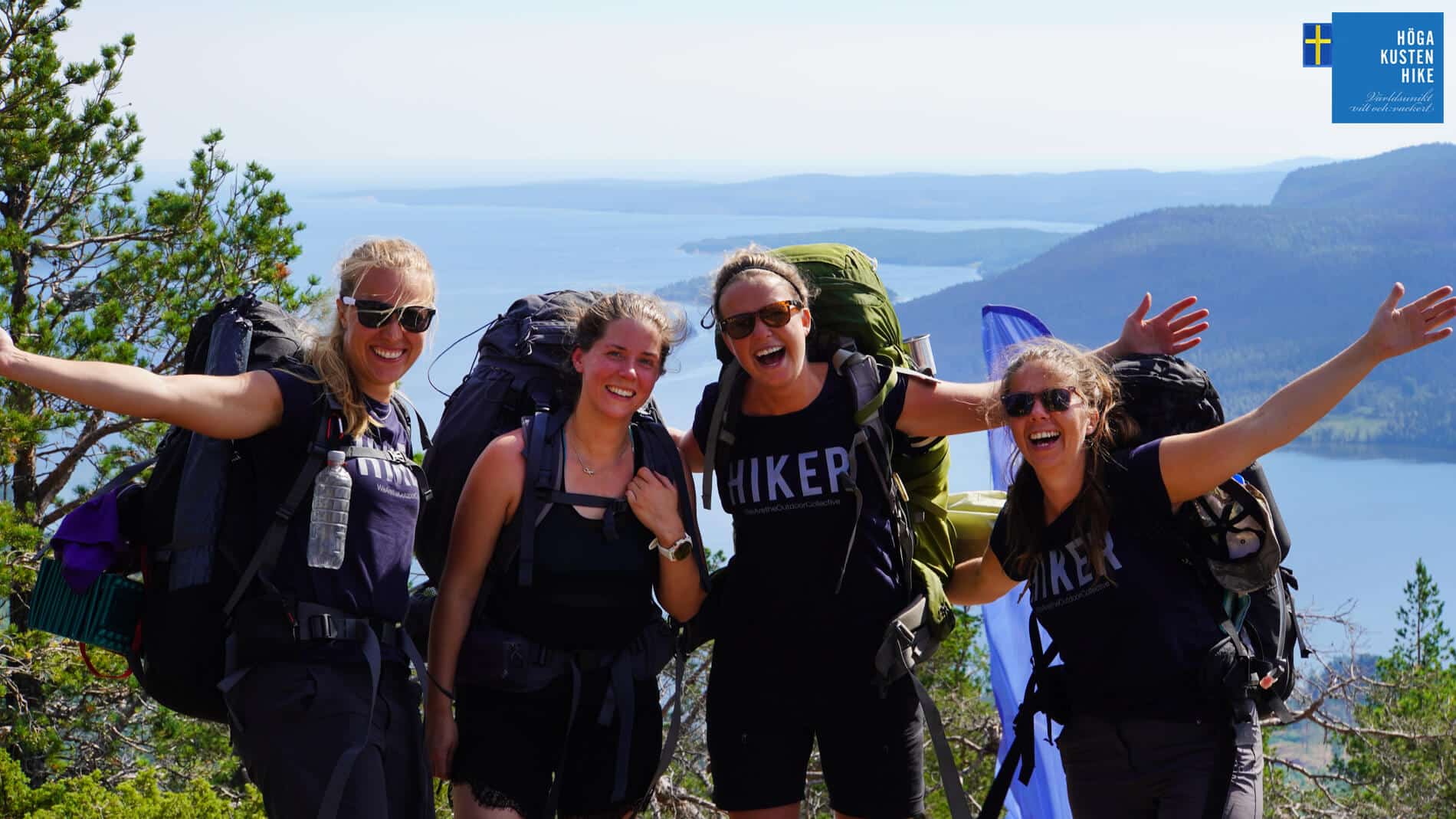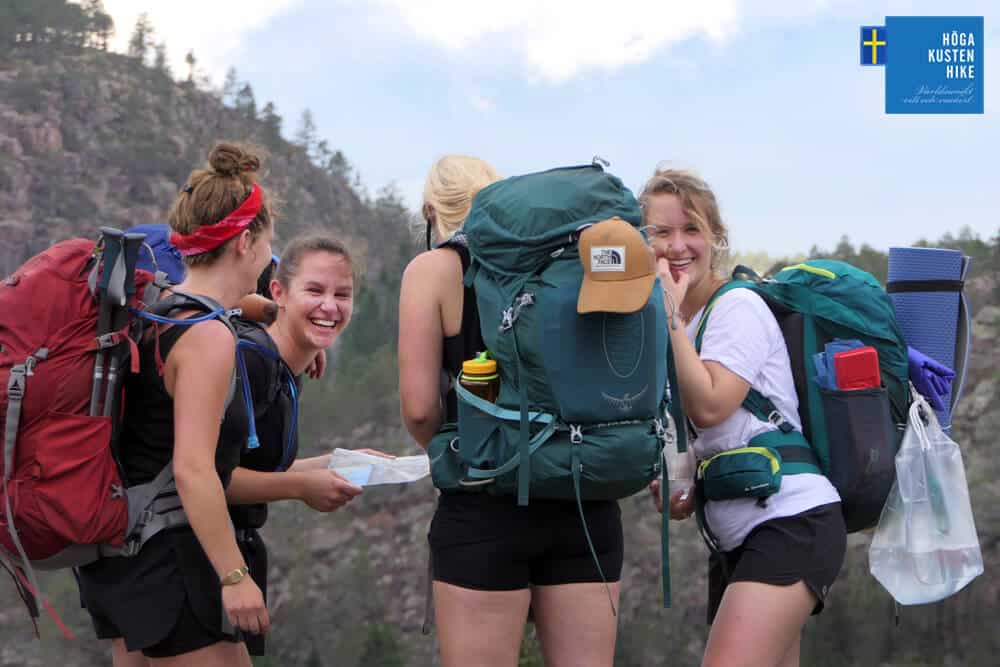 1. GATHER YOUR CREW
Look up who's interested in joining. Since High Coast Hike takes place on a set date you don't need to go through the fuss of picking a date that works for everyone. Lock it in and register on time. Spots tend to fill up real quick.
If your friends, parnter or maybe family take too much time to decide, just come by yourself! The communal atmosphere is really great. Read more about it here:
Come by yourself, hike with new friends >>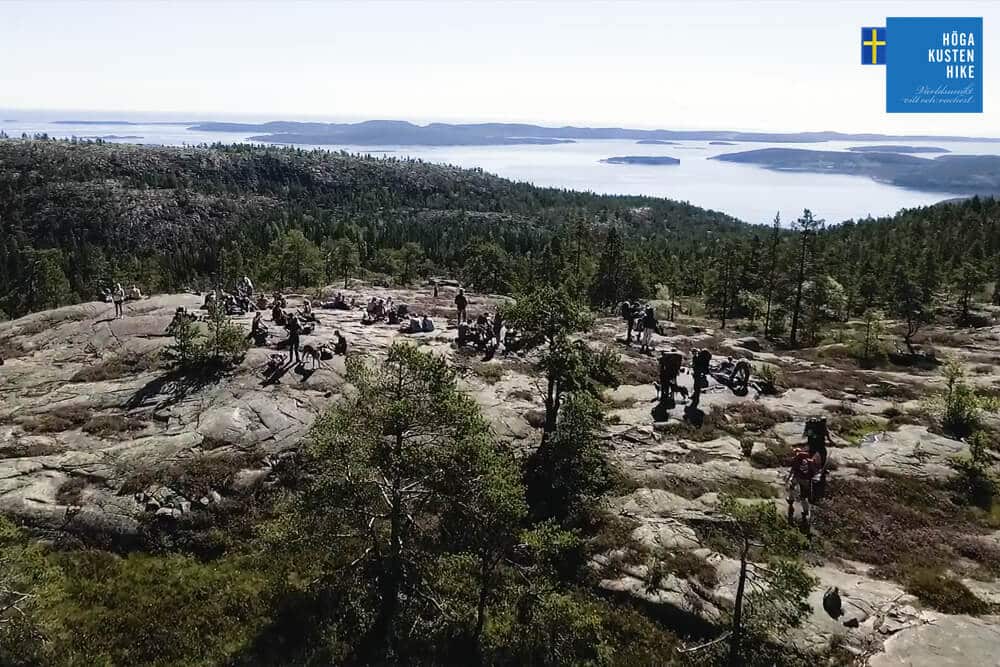 In our facebook group you'll receive updates about the adventure. It is definitly prefered if everyone who is joining is in the Facebook group so not just one person knows what's happening. In this group you can also ask questions and get tips from other hikers. We will also go over the map well in advance among other things.
Great, take me to the Facebook group >>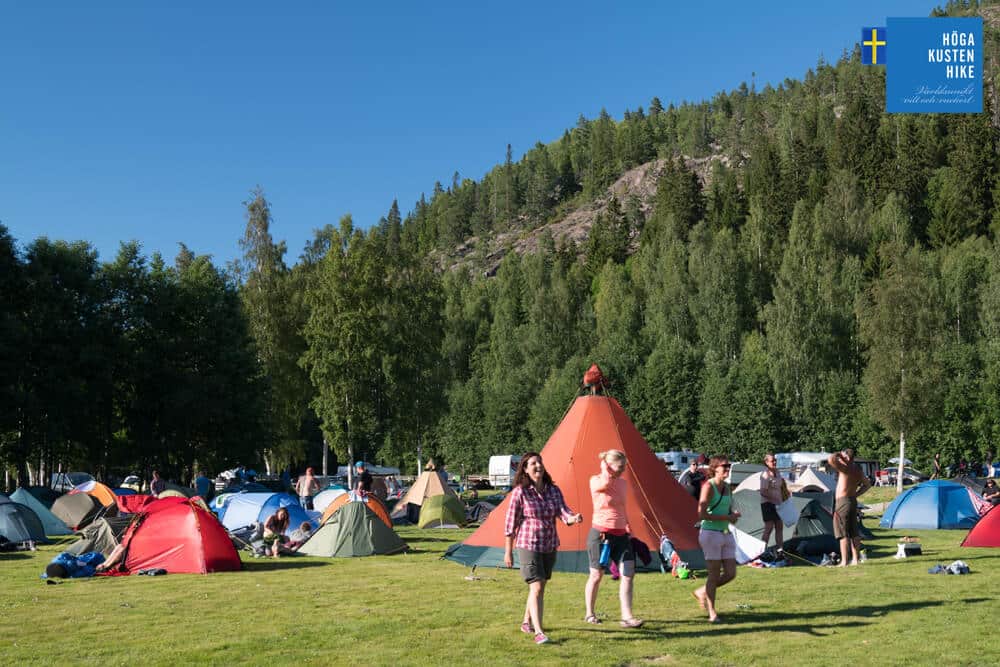 3. STAY IN FRILUFTSBYN >>
Make the most convenient choice and stay in Friluftsbyn before the adventure. Then you are on site from the beginning and if you chose to camp the night before the event you have a great opportunity to test out the gear and make adjustments if needed. You could also reserve a cabin if you planned ahead.
A camp spot in FriluftsByn is included the night between Saturday and Sunday. We don't recommend that you get right in the car on Saturday after hiking for three days straight, you also really do not want to miss the Ater-Hike on Saturday evening.
Best tent site in the High Coast >>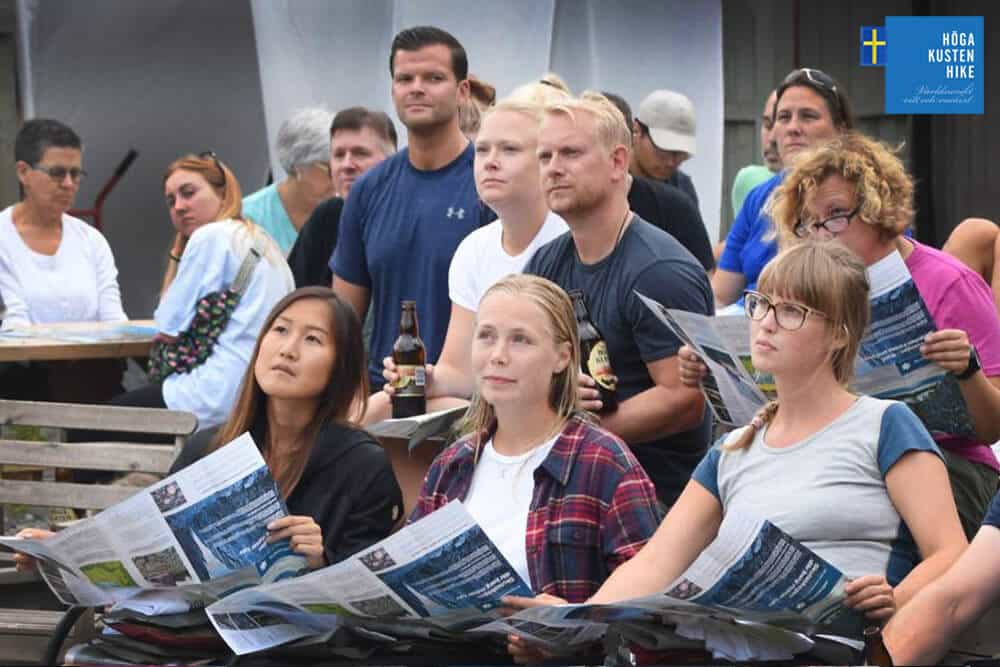 4. JOIN THE PRE-EVENING
You'll find all information you need on this website, we will also do a live in the Participation group on Facebook a week before the event. We do still recommend that you join us on the Pre-Evening for the final run through of the hike.
In a friend group there is normally that one person with all the lists and details of the trip, please make sure that everyone have a good idea of what this hike intel and what to expect. The Pre-Evening is a great time to catch up. There will be live music, great burgers, camp fires and a general really good time. Perfect relaxing start to the three fun filled days to come.
Pre-Evening at High Coast Hike >>
5. JOYFULL HIKING
The morning of Day 1 we'll set out on busses to ethe start and the you'll hike from there at your own speed. There will be guides along the trail in case anythign would happen. During the first and second day you can chose two different routes – Regular and a somewhat shorter route we call the Pleasure route. If you are in general good health you will be able to do the Regular-route.
We will experience the High Coast absolute highlights and join forces again at the sharend night camp, relax, go for a swim, and those who like attend the outdoor schools with some of Sweden's leading outdoor companies.
The Hike >>
Seminars & Workshops >>
Tips for first time hikers >>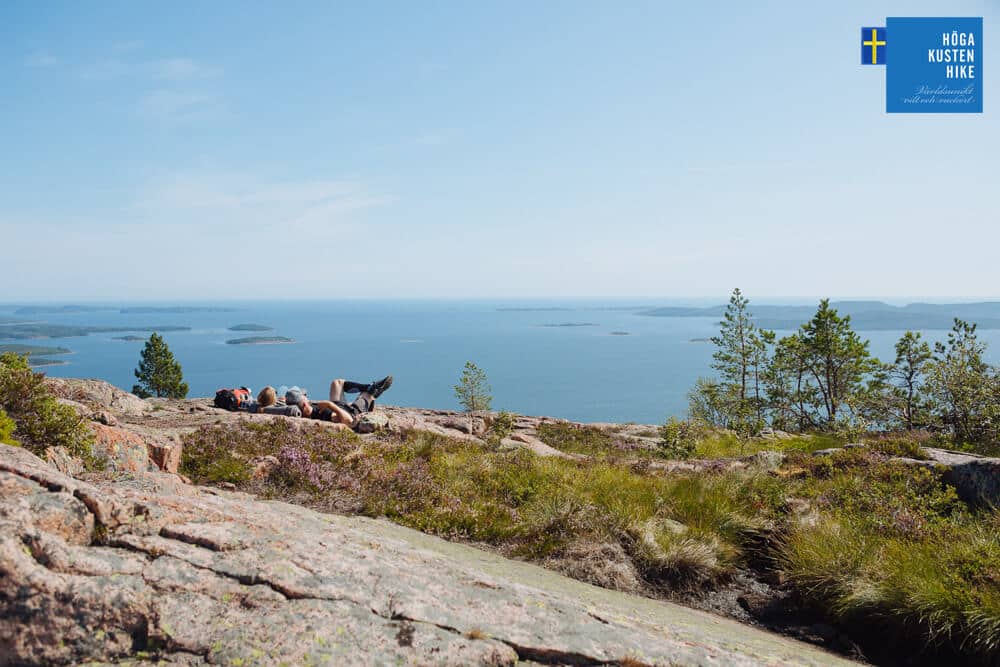 6. RELAX!
The High Coast Hike is for sure a challenge, but you will also have time to take in and enjoy the many views. If either of you gets a pebble in your shoe, need to adjust the backback or make a change in clothing – stop and do that. You'll have plenty of time and it is light almost 24/7 here in the summertime. This is not a race, its an opportunity to meet and hangout with like-minded people in breathtaking nature while having a lot of fun.
Stop and go for a swim in Tärnättvattnet and in the ocean. Have a seat and a coffee at the top of a mountain. This is what we call a beautiful life.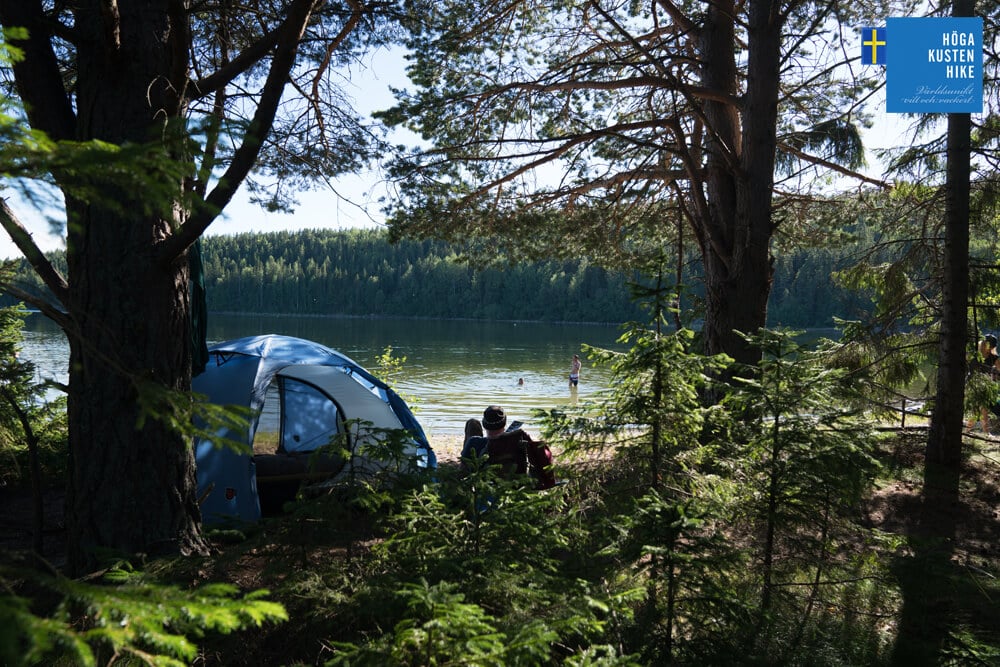 7. SLEEP "LIKE A CHAMP"
In the evening we meet up at the shared night camps. Here you can chose to pitch your tent more secluded or together with others. At the first night camp many go for a swim in the ocean before making dinner, relax on the cliffs and attend any of the workshops. At the second day night camp many hike to the top of Mr. Gyltberget and enjoy the views together with Naturkompaniet's outdoor school.
As many of the hikers attending this event might not have hiked that much before, we put these tips together. Listen to these and you might sleep surprisingly well.
Tips for the first time hiker>>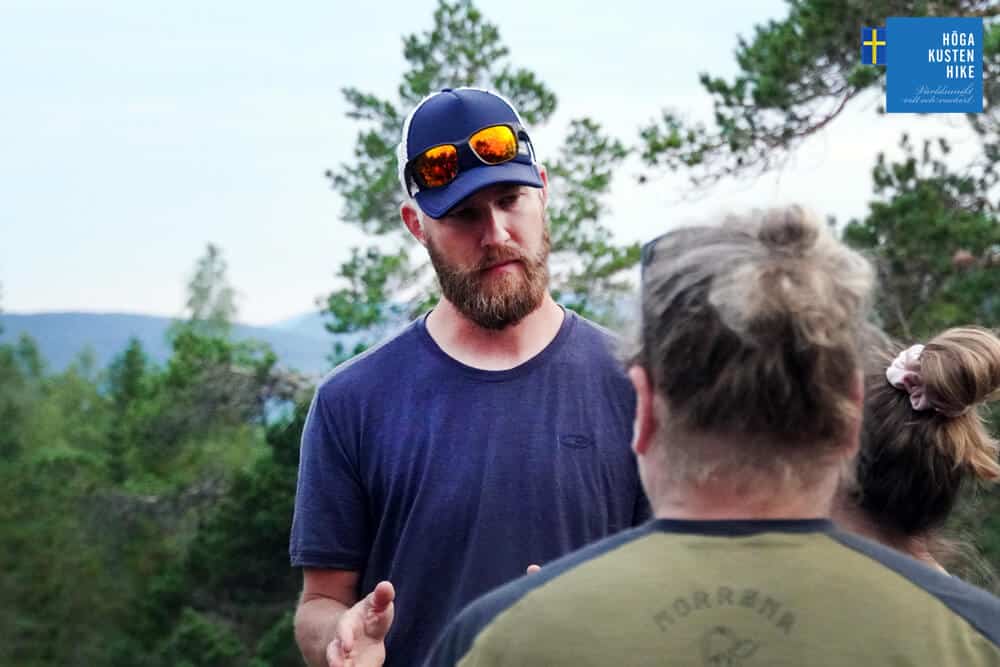 8. ASK QUESTIONS
During this hike you will meet guides from outdoor companies that are here for you. So please ask questions "Does my tent look alriught?" or "Could you help me adjust my back pack?" Naturkompaniet will join us on the hike and are pro's on everything outdoor related.
However, do not hike in brand new hiking boots. Make sure you hiked atleast a few miles before attending the event. ALso make sure to pitche your tent a few times and that you know how to operate your outdoor stove. If you got those bases covered, this will be a great adventure.
Seminarier & Workshops >>
Tips for first time hikers >>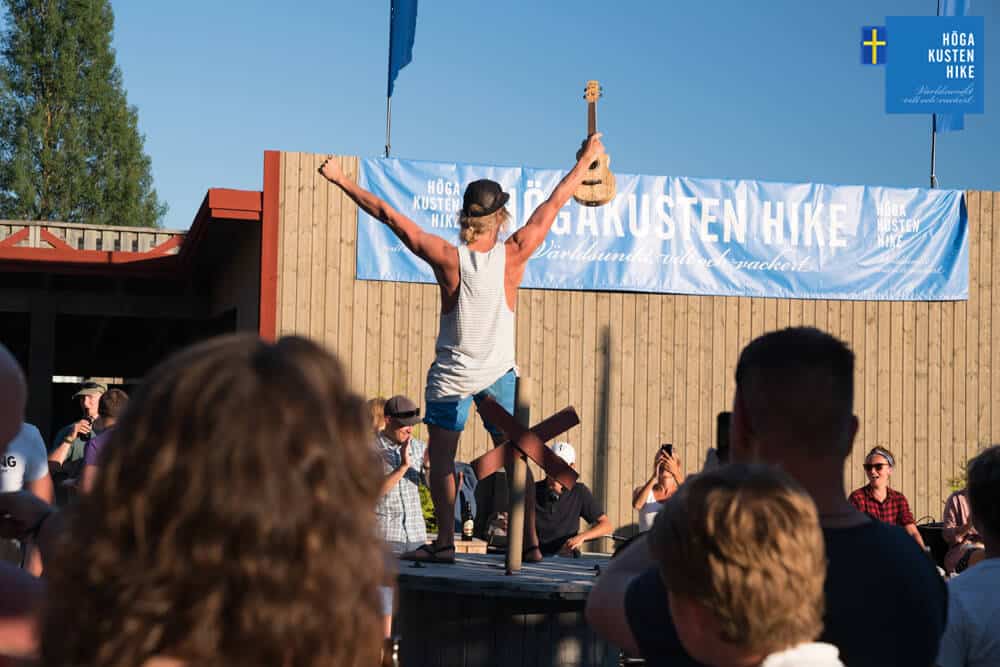 We don't want to say that one of the top moments of this hike is when you reach the top of Mt Skuleberget day three. But it is a truly incredible feeling to be out for three days with all the experiences that  comes with that and then finally reach the finish line at the top of the World Heritage.
When you relaxed at the top for a while and helped cheer other hikers on we hike the High Coast Trail down to Friluftsbyn, take a shower and meet up again at the After-HIke over ber and a burger along with live music and lot of fun. You can pitch your tent in Friluftsbyn for free the night between Saturday and Sunday, so there is literally no good reason to miss out on this!
After-Hike >>
HIKE THE HIGH COAST HIKE
WITH YOUR FRIENDS
High Coast Hike is a safe, incredibly bebautiful and exciting adventure for hte whole family. Every yesra many parents come, by themself or with their partner, to expericen the World Heritage High Coast together with their kids. This is how you create moments of a lifetime.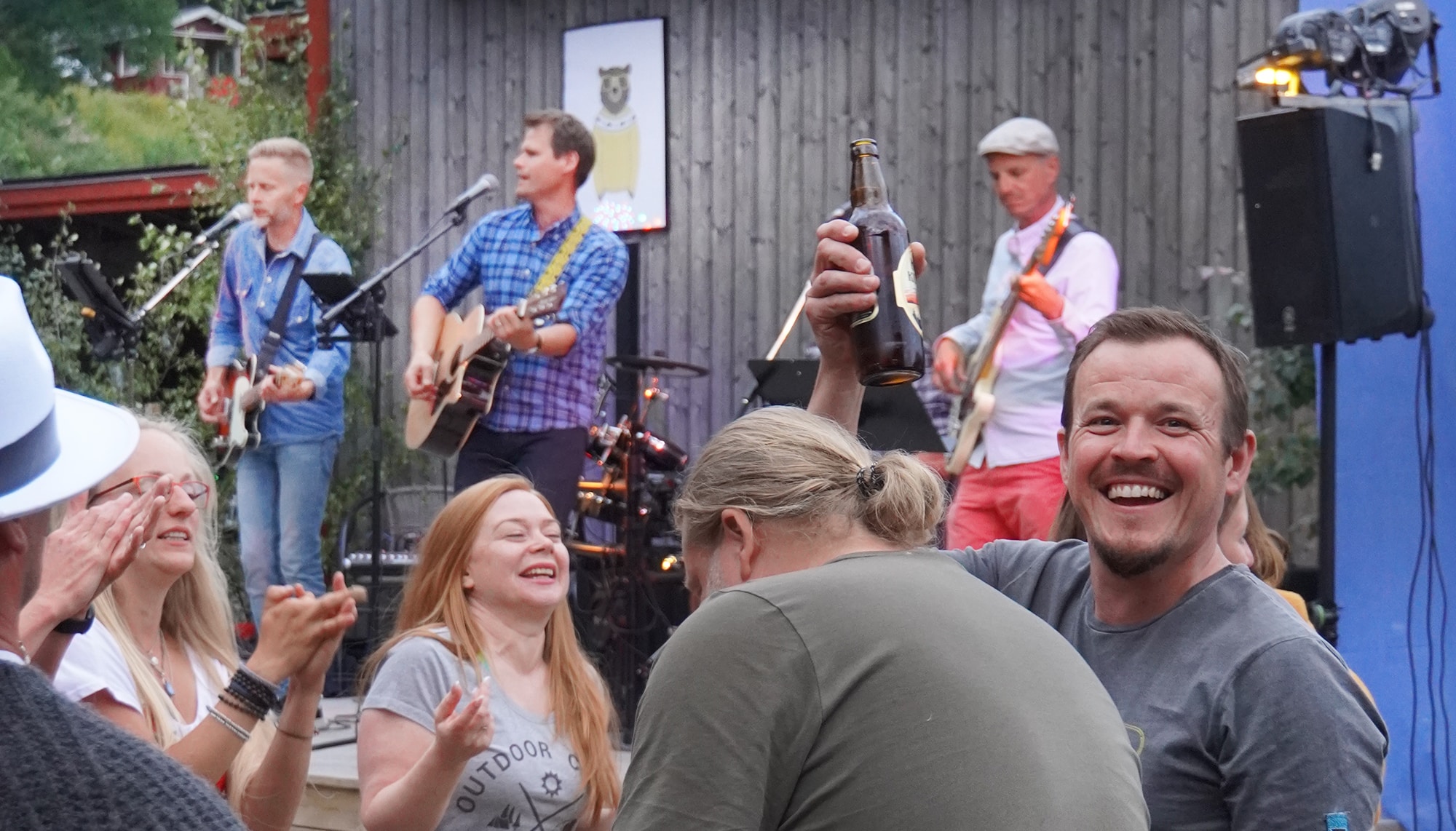 How difficult is the High Coast Hike? We asked some of our hikers to tell us what they think.
HOW HARD IS IT?
This question is difficult as it is so much up to each persons own ability. It actually took a bit of convincing for us to even add "kilometer per day" as it is pretty irrelevant here in the High Coast. It's equally as much about altitude meters and terrain as it is about length of hiking.
For you to ge the best possible experience we offer two different routes - the Regular route, which you can do if you are ir general good form and have hiked a little further with your packed backpack before. The we have the Pleasure route. which is great if you are a little uncertain, or if your hiking with kids or simply just want to enjoy the scenery and camp site chill even more. You can switch between the two routes each day if you wish. No matter which route you chose we end up at the same night camp all together.
The most crucial factor is wether you come prepared or not. For most hikers it is a new experience to hike with a back pack of arounf 15kg and therefore it is a good idea to test your gear before setting out on the High Coast Hike. If you test it out, know what to expect, this adventure will be a blast.
Wed: Pre-Evening >>
Thur 16 km or 8 km about 6-8h*
Fri: 13 km or 9 km about 6h*
Sat: 10 km about 4h* + After-Hike >>
Sun: Sleep-in travel home.
*Calculate with about 2-3 hours for breaks, food, photographing, relaxing, swiming etc.
PREPARATIONS
1. Register for the event in time as it tends to get fully booked: Registration >>

2. Plan how to travel to FriluftsByn in the High Coast. You can most likely caarpool with other hikers if you want: Travel to the High Coast >>

3. Check what equipment you have and what you mightneed to buy or borrow from a friend: Packlista >>

4. Reseeve accomodation, most chose to camp out in FriluftsByn. It is the mostd fun and efficient option: Boende >>

5. Prepare yourself: Friluftstips >>
Bring your friends or your partner on this once in a life time adventure!
Of course you can do this. Over the coarse of three days you'll experience the absolut highlights of the High Coast of Sweden. You hike at your own pace or together with others to the shared night camps. The longest strech is about 8 hourse excluding breaks, photographing, swiming and a nap. If you this it is so beautiful here that you prefer to take longer breaks then chose the Pleaseure-route both day one and two.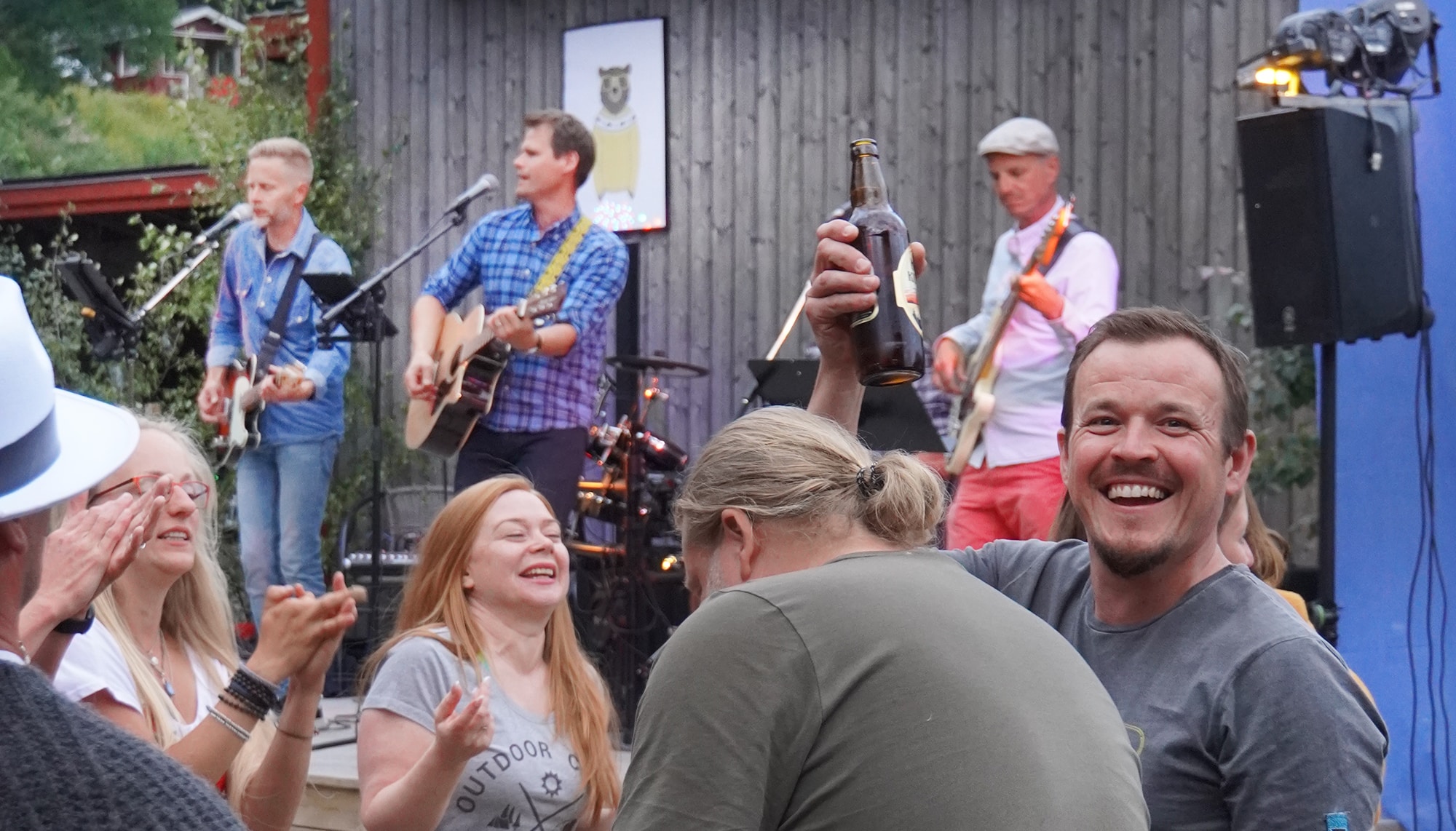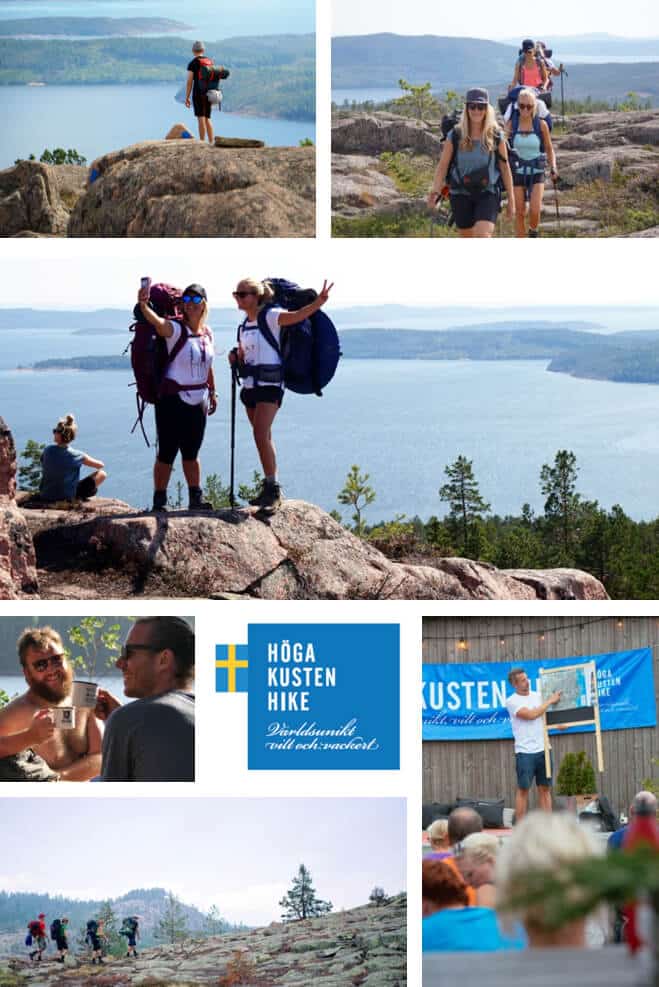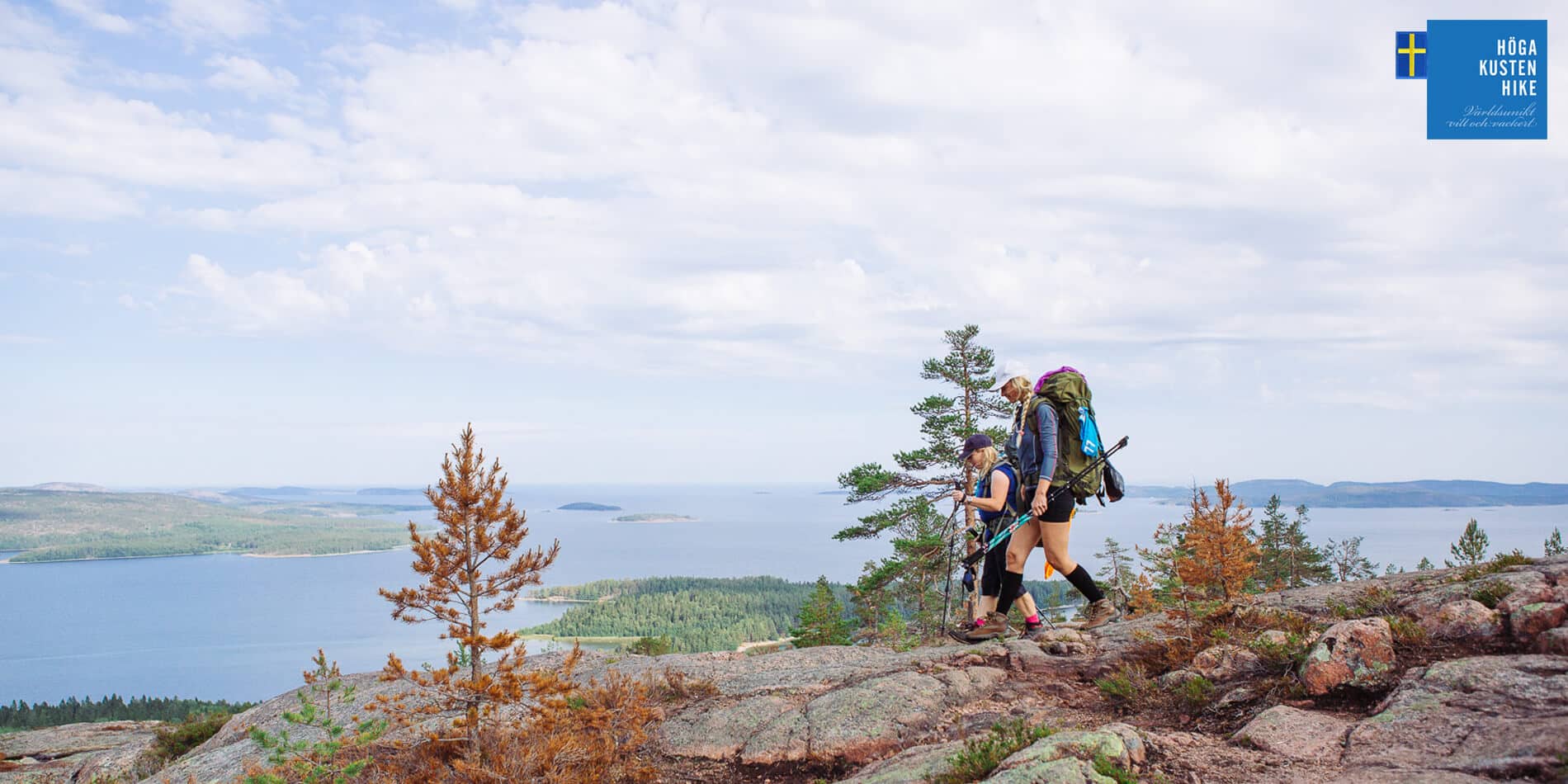 WHAT TYPE OF ADVENTURE ARE YOU LOOKING FOR?
Many come by themself and keeps coming year after year for the great outdoor community. Others bring their friends, family or partner and combine time with eachother and time with new found friends. No matter how you prefer to spend your hike, here are a few tips.
A UNIQUE HIKING EXPERIENCE
The High Coast Hike attracts hikers from all over the world. Here are four reasons why you need to join the adventure:
Over the stretch of three beautiful days you'll experience the High Coast absolute highlights. Here is everything you need to know about the hike.
Attend seminars with some of Sweden's leading outdoor companies and get great tips on how to make every part of the adventure the most enjoyable.
Chill pre-party on Wednesday followed by a the grand After.HIke celebration with live music on Saturday. This will be a lot of fun!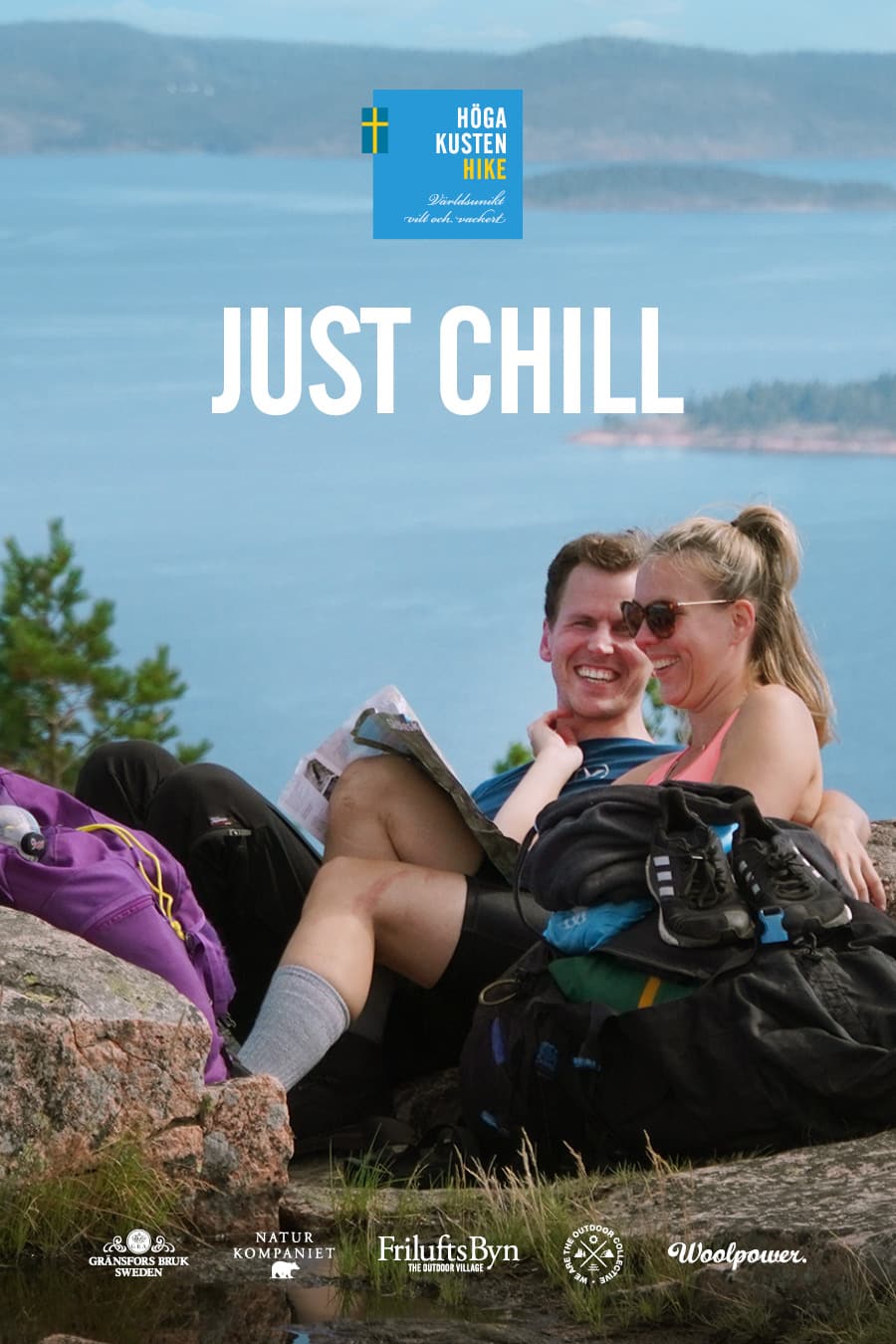 JUST CHILL >>
A big part of the experience is that you get time with yourself, each other or your new found friends, depending on how you prefer to spend your time. Many end up choosing a mix of all of them.
This is the adventure you've been waiting for. Come by yourself, bring your family or friends.
THIS WILL BE SO MUCH FUN!