"We have put toghether what we believe is the very best hike in the world heritage. Each day you can chose between the regular route and the little shorter route." 
Jerry, FriluftsByn
"It is easy to find new hikeing buddies on this adventure, but if you prefer to hike by yourself that will be possible too as the route streaches far. A combination of the two is what I would recommend." 
Eva, Woolpower
"It's so much fun knowing that you are part of a group with the same goal. Both during the breaks along the route and in the evenings in the night camp there is such fun and friendly atmosphere. But I also really like that you can adjust the hike after your own preferences." 
Sandra Nilsson, Stockholm
HIKING IN THE HIGH COAST
High Coast Hike gives you the opportunity to experice the highlights of the World Heritage. Enjoy the magnificent coastal mountains, the far streached ocean and the spellbinding forest together with the awesome company of likeminded people.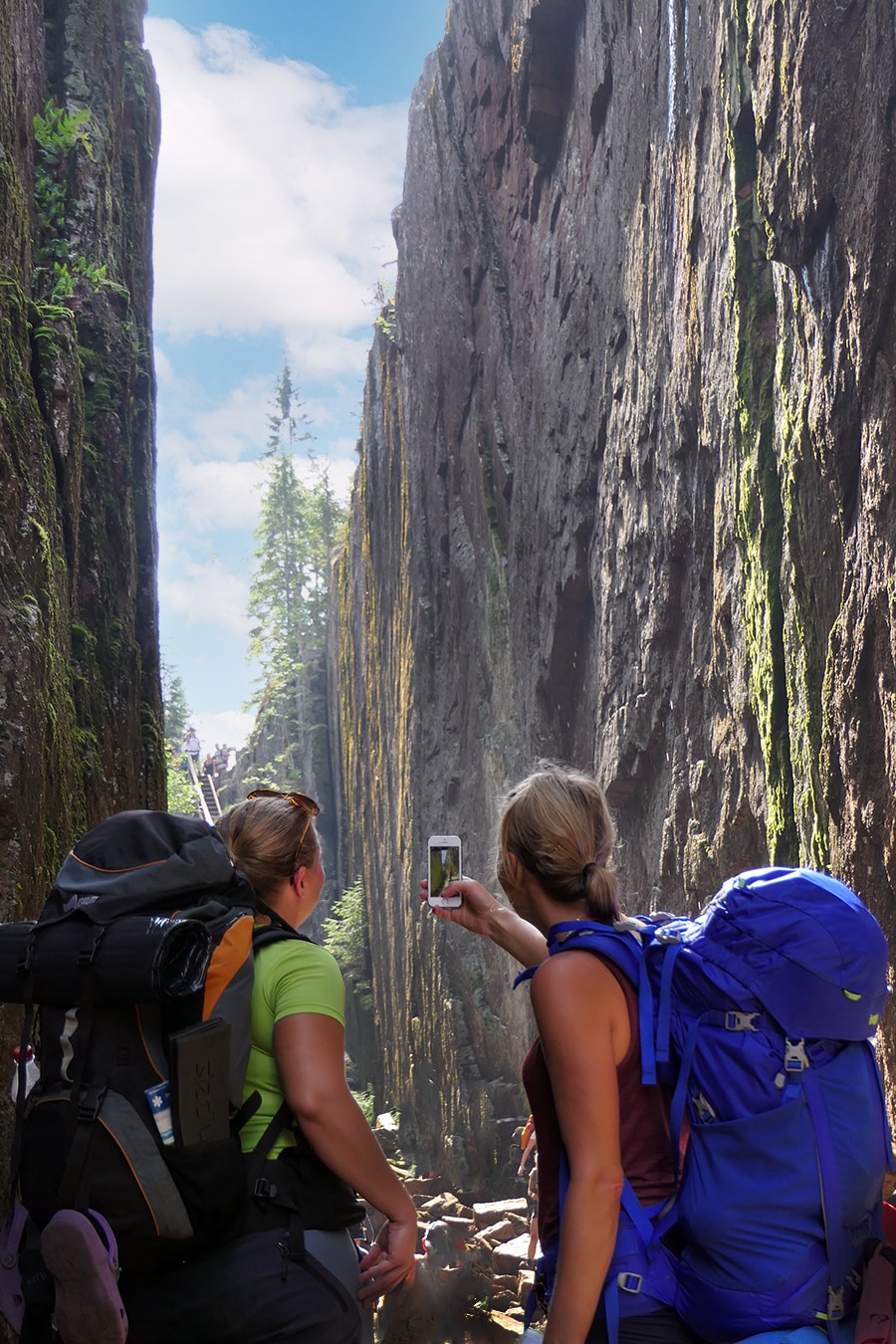 Experience the magnificent nature of the High Coast of Sweden. This hike takes you to the very best highlights.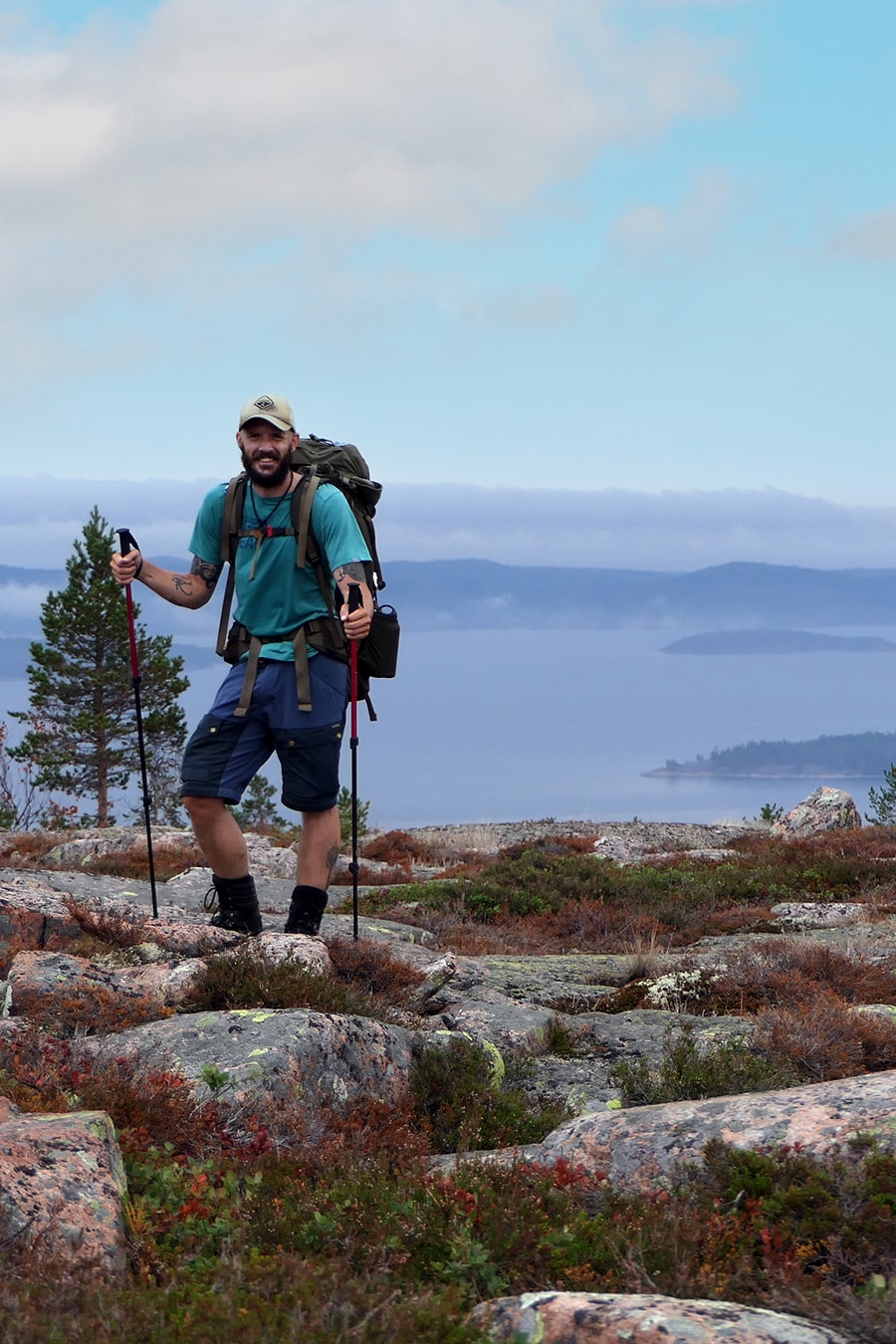 You chose your tempo. Expect around 6-8 hours of hiking each day. That means you have generously with time to pause, take a break or just take in the views.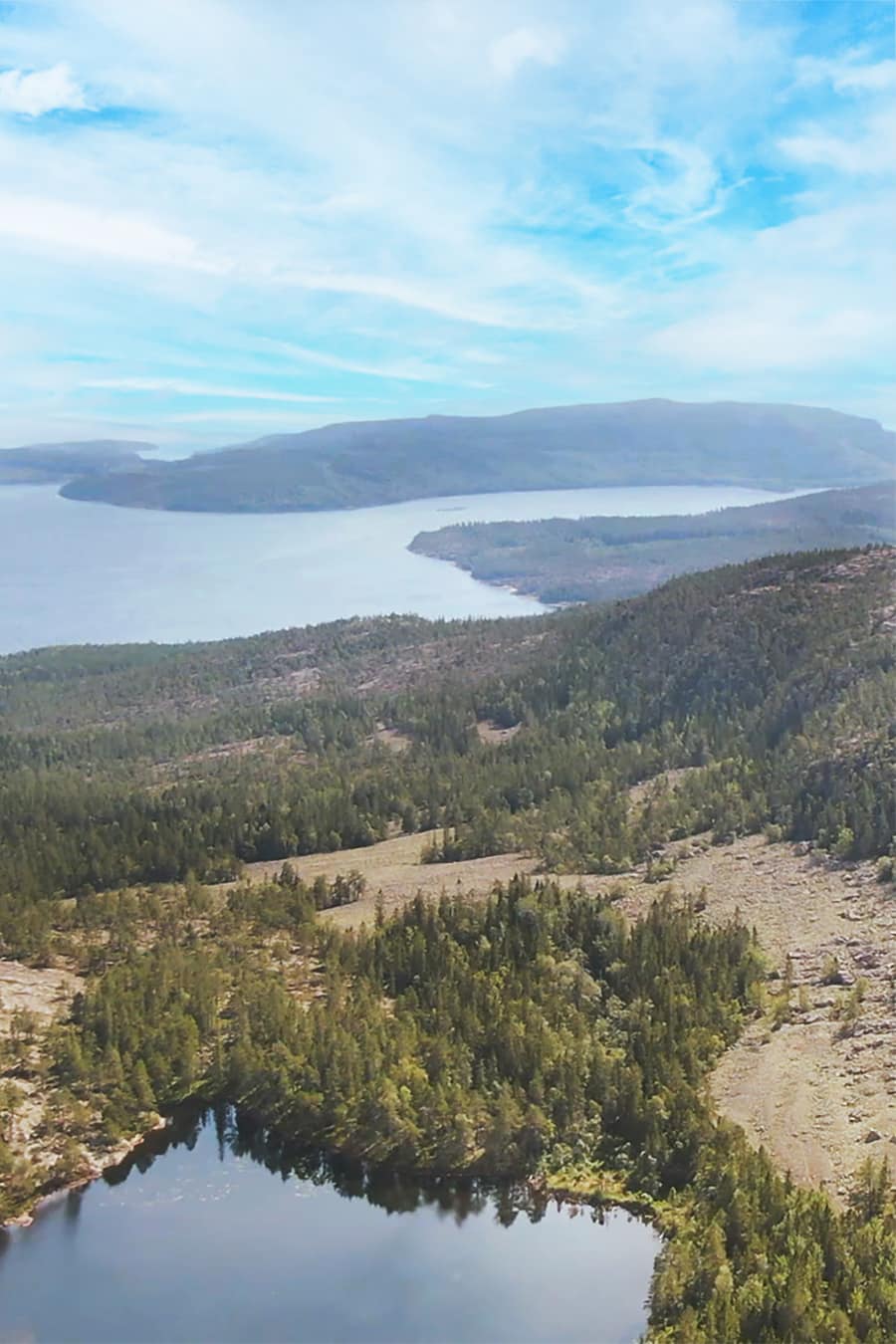 Grand mountains, far streached views, and spellbinding forests. The High Coast of Sweden have been votes "Swedens most beautiful nature".
The Community around these hiking events is something that needs to be experienced. You will meet likeminded people from all over the world.
HIKING IN THE HIGH COAST
The High Coast of Sweden is one of two Natural World Heritage Sites in Sweden and has been voted Swedens most beautiful nature. During the High Coast Hike you will experience the highlights of the High Coast – Coastal mountains, deep forests and a shimmering coastline – you will be a part of a great community of likeminded people as well as take part in workshops from Sweden's leading outdoor companies.
After you checked in at Friluftsbyn and collected your food, map and gotten a run through of the adventure we will set of together in a buss that takes us to the Start. From there we set out togehter. You hike with your equipment at your own speed to our collective night camps. Every day you can chose between the "Regular" or the "pleasure" route which offers a little more time for rest and breaks. All along the hike you will find our guides, seminars, magnificent views, sandy beaches and great company.
High Coast Hike takes you to the High Coast's absolute highlights. The strech of this hike offers the perfect mix between relaxation and great fun adventure.
LET'S HEAR IT FROM FORMER HIKERS
Press play and get a little taste of whats to come in the adventure.
This will be a really incredible adventure. Make sure you slept atleast one night in your tent, that you can boil water in your outdoor stove and that you hiked atleast a few miles in your hiking boots with the backpack you will bring. It's as easy as that.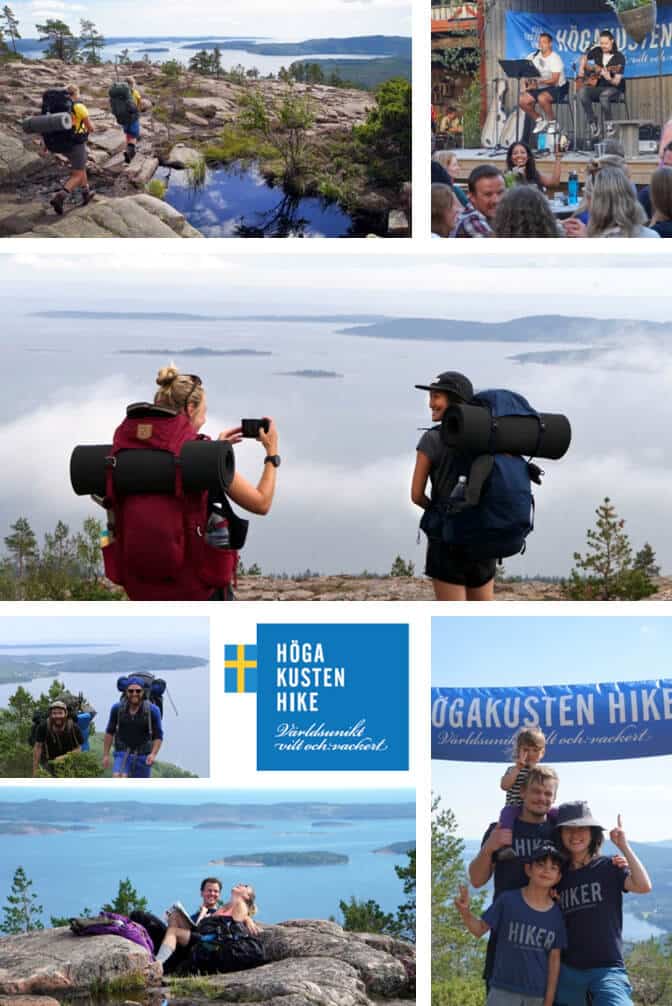 HOW DOES IT WORK?
Before we take the bus to the starting line you will check in at Friluftsbyn and get your map, gas to your outdoor stove (if you need another type of fuel than gas you bring that yourself) and food. Two breakfasts, two lunches and two dinners. You pack and bring your own equipment for the hike and you carry your own backpack. (More info: Packing list >>) Before heading out we'll go over the map and you'll get our best tips on how to best plan your hike. The best fike-spots, best views, where you can refill on water and where to cool off with a dip in the water.
You will follow the marked trail but it's still fun to keep track of where you are in the world heritage. You hike at your own pace, by your self or with others. Many end up doing a mix of the two. THroughout the route you will meet our guides and we also have guides that walk last on every route so you will always have someone to ask for help in case anything happens. You hike completly at your own pace, but it is very important that we leave the night campday two at 10:00am the latset, and night camp day three at 9:00am the latest. This is to make sure we can all take it easy and hike at our own pace but still make it in time to the next camp or the finnish line.
REGULAR OR PLEASURE?
Most chose to hike the Regular route, but since we noted that more of you head out onb this adventure with kids or maybe hike for the very first time we created the Pleaseure-route were there is more time for breaks. Both end up at the same night camps – but the Regular route offers more mountains and there for more views, while the Pleasure-route offers more time to sit down, streach your legs and maybe even take a little well deserved nap if you wish.
If you already walked a few miles with your packed backpack you should definetly to the Regular route. If you are a beginner or hike with kids you can always take the Pleasure-route the first day and then evaluate for day two and three. We want to be clear that the Regular route also offers many great fika-stops and photo ops, this is great for everyone with basic good health and condition.
HOW EXPERIENCED DO I NEED TO BE?
That's kind of the thing. Some are experienced hikers and some are beginners. This is what creates the great community and experience. You might think we are overdoing it with another video clip, but trust us. Just press play and you will understand why you will absolutly love this adventure.
The High Coast Hike combines hiking with magnificent views where fika and photo breaks are well calculated into the route plan.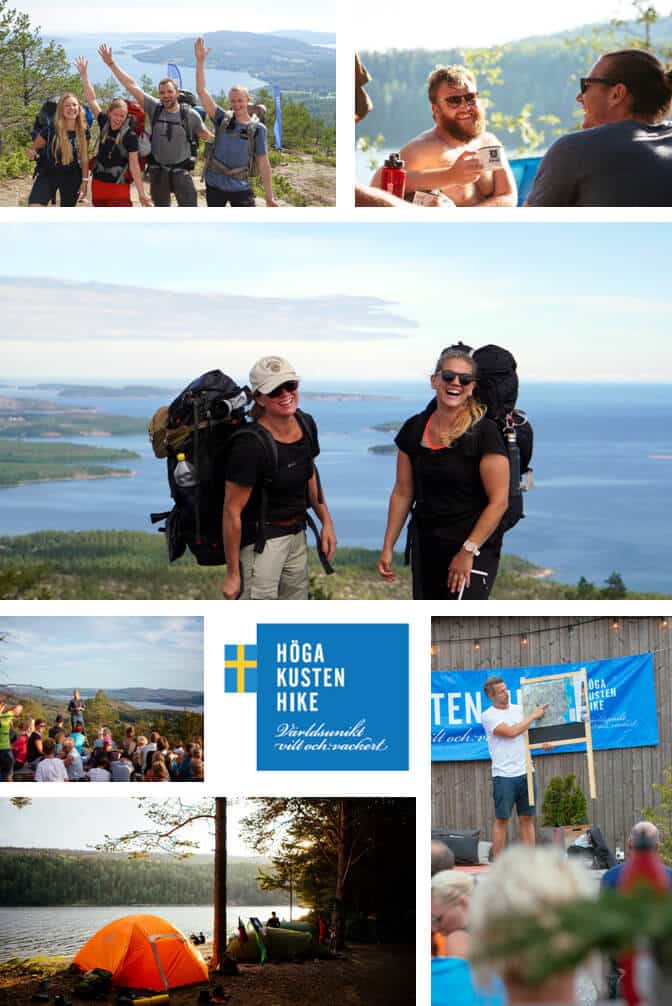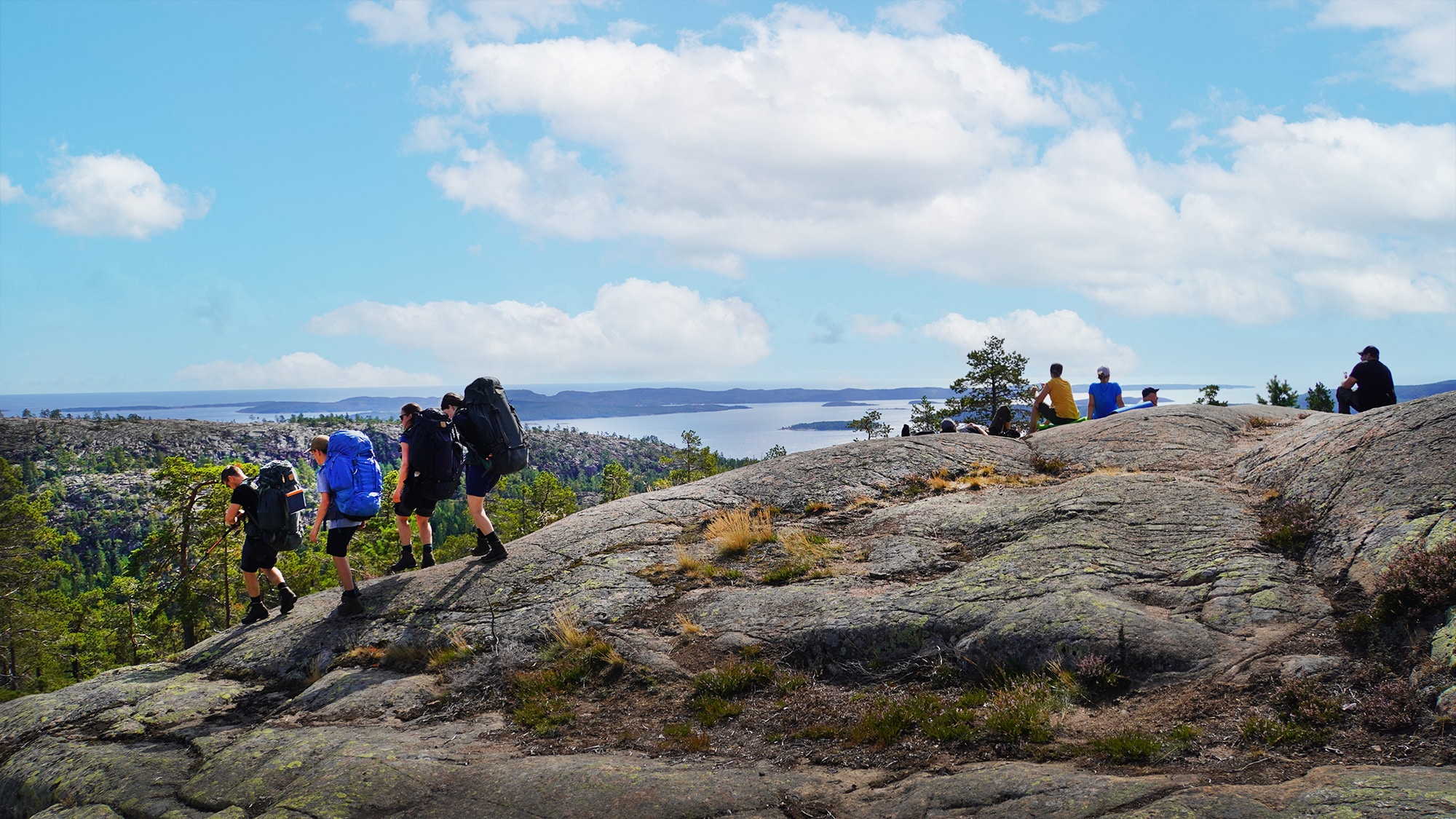 HIKING DAY I:
MOUNTAINS, THE OCEAN, LAKES AND DRAMATIC COASTLINES
When entering the bus from Friluftsbyn you have probably checked, double checked and tripple checked your backpack and the adventure awaits. Make sure to get on the right bus as some take you to the start of the Regular route and the others take you to the start of the Pleasure route.
The ride is about 20 minutes and then you are ready to set off and enjoy all that the High Coast beautiful nature lays at your feet. The hike stretches over magnificent Mt Stampberget and Mt Slåttdalsberget and down through Slåttdalsskrevan towards Tärnättvattnet. In the evening we'll light at camp fire at Tärnättholmarna night camp, surrounded by the ocean.
Distance:
Regular: 16 km
Pleasure: 8 km
Time: appr 7 hour hike (exl breaks)
Other: Outdoor seminar with Woolpower.
Highlights: Nylandsruten, Skrattabbortjärnen, Mt Stampberget, Mt Slåttdalsberget, Slåttdalsskrevan, Tärnättvattnet, Tärnättholmarna.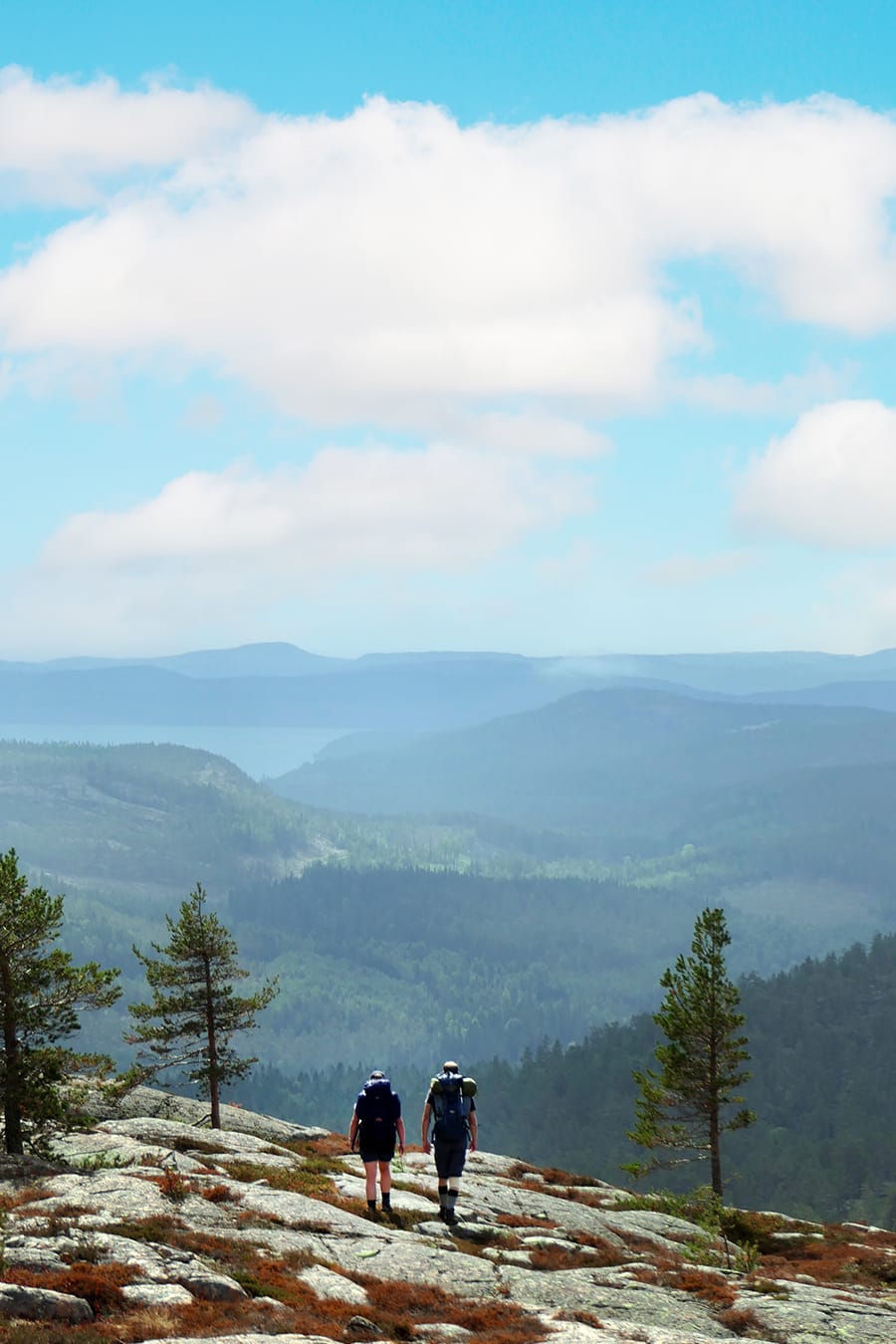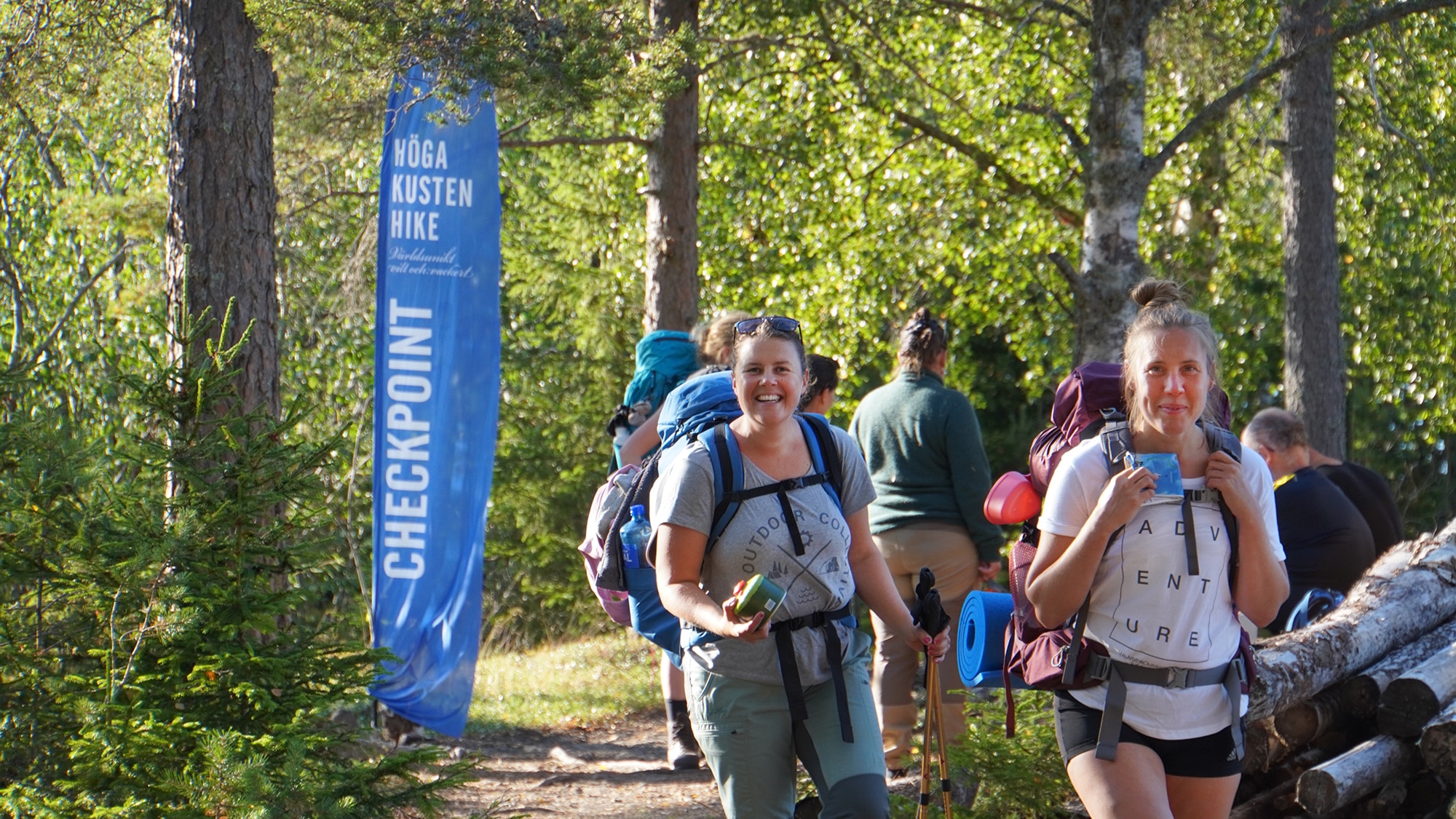 When you reach the night camp you need to check in at the Checkpoint. Then you'll find a great place to pitch your tent for the night. Later you can attended outdoor seminar with Woolpower, take a dip in the ocean, chill by the campfire or take a nap on the cliffs with ocean view.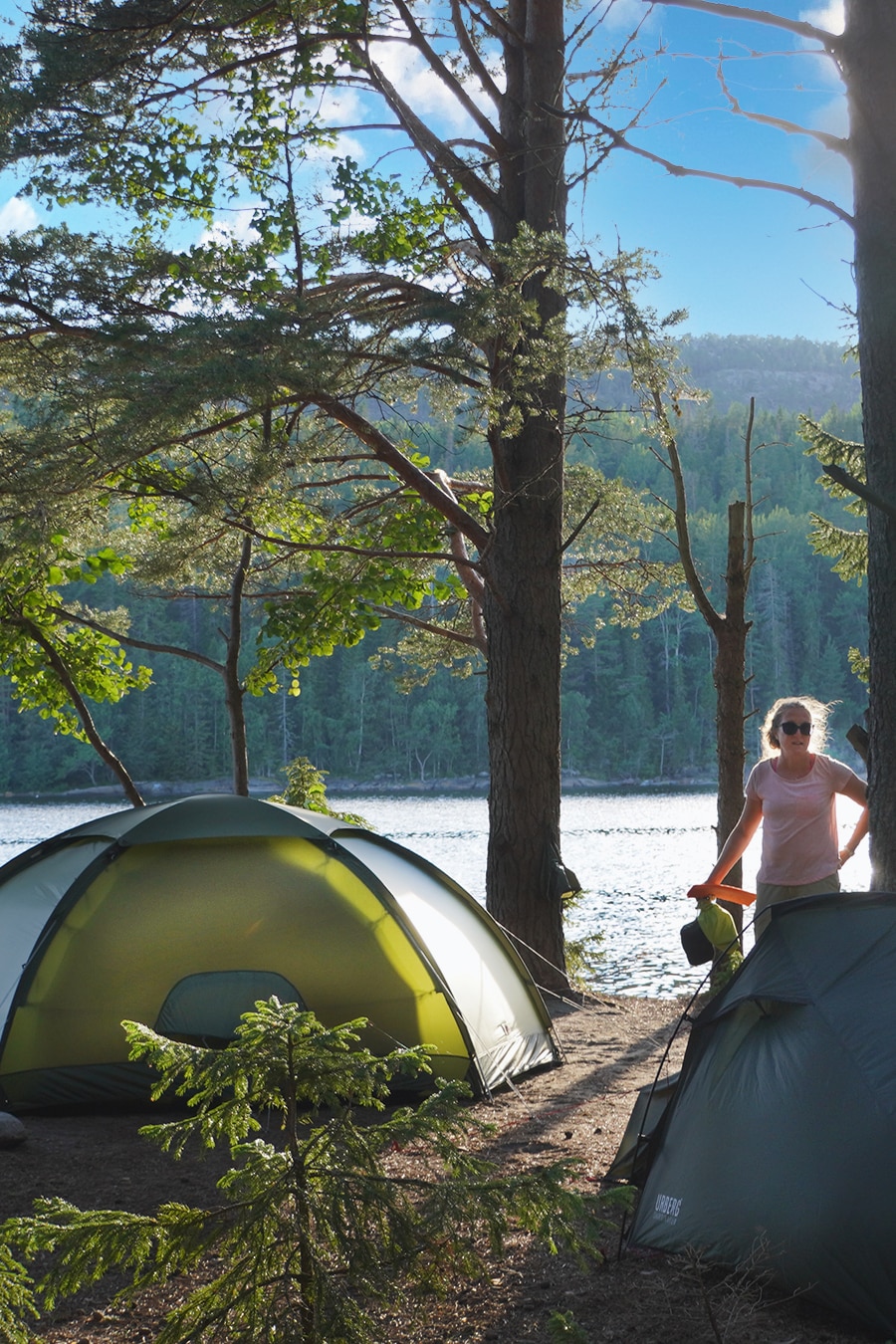 The first night camp is at one of the most beutiful spots in the World Heritage. If you want some tips on how to make the coziest night camp you can check this video out:
– How to get the best nights sleep >>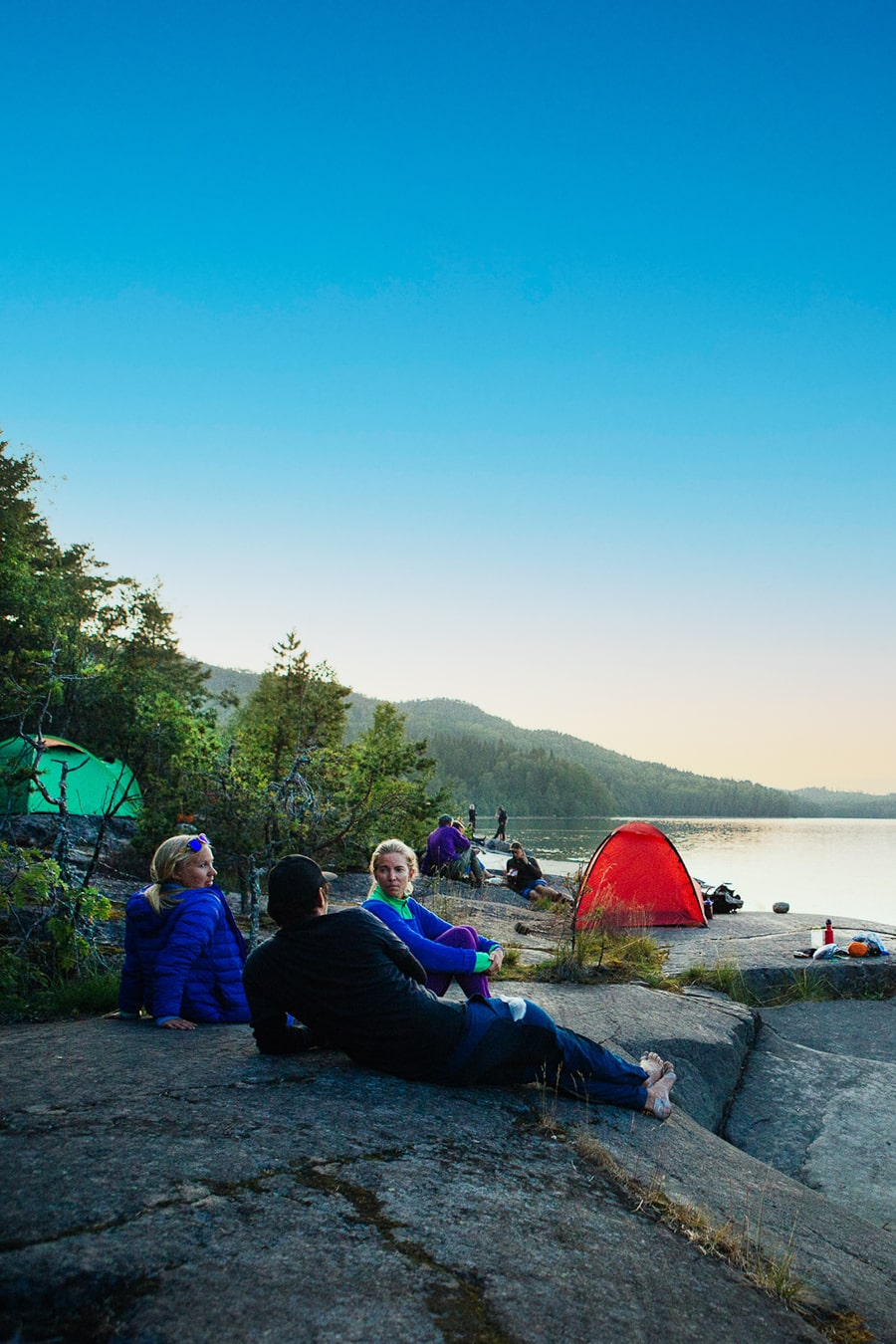 The tent is pitched and the sleeping pad and bag are layed out. Maybe go for a dip in the ocean. Maybe just relax and enjoy your surrounding.
HIKING DAY II:
LAKES, DEEP FORESTS AND WIDE STRETCHED VIEWS
Wake up with the ocean as your neighbour. You will have plenty of time in the morning and you check out from the night camp somewhere between 8:00 – 10:00 am. There won't be a collective start, you head off when you feel that you are ready. If you are hiking the Regular route you hike towards "little Slåttdalsskrevan" and Tärnättgrottan. The start here is pretty steep but hte reward is that you hike with the night camp and the archipelago of the High Coast as your backdrop. If you are hiking th Pleasure route you will follow the trail along the coastline to the sandy beach at Kälsviken where you join forces with hikers from the Regular route.
We recommend that you take your lunch break here at Kälsviken before hiking in the forest towards night camp at Dal. When you reached the camp and pitched your tent, head up Mt Gyltberget for outdoor seminar with Naturkompaniet and enjoyt the spectacular views. This day will be amazing.
Distance:
Regular: 13 km
Pleasure: 9 km
Time: Approx 6 hours hiking (exl breaks)
Other: Outdoor seminar with Naturkompaniet
Highlights: Tärnättholmarna, Tärnättgrottan, Kälsviken and Mt. Gyltberget.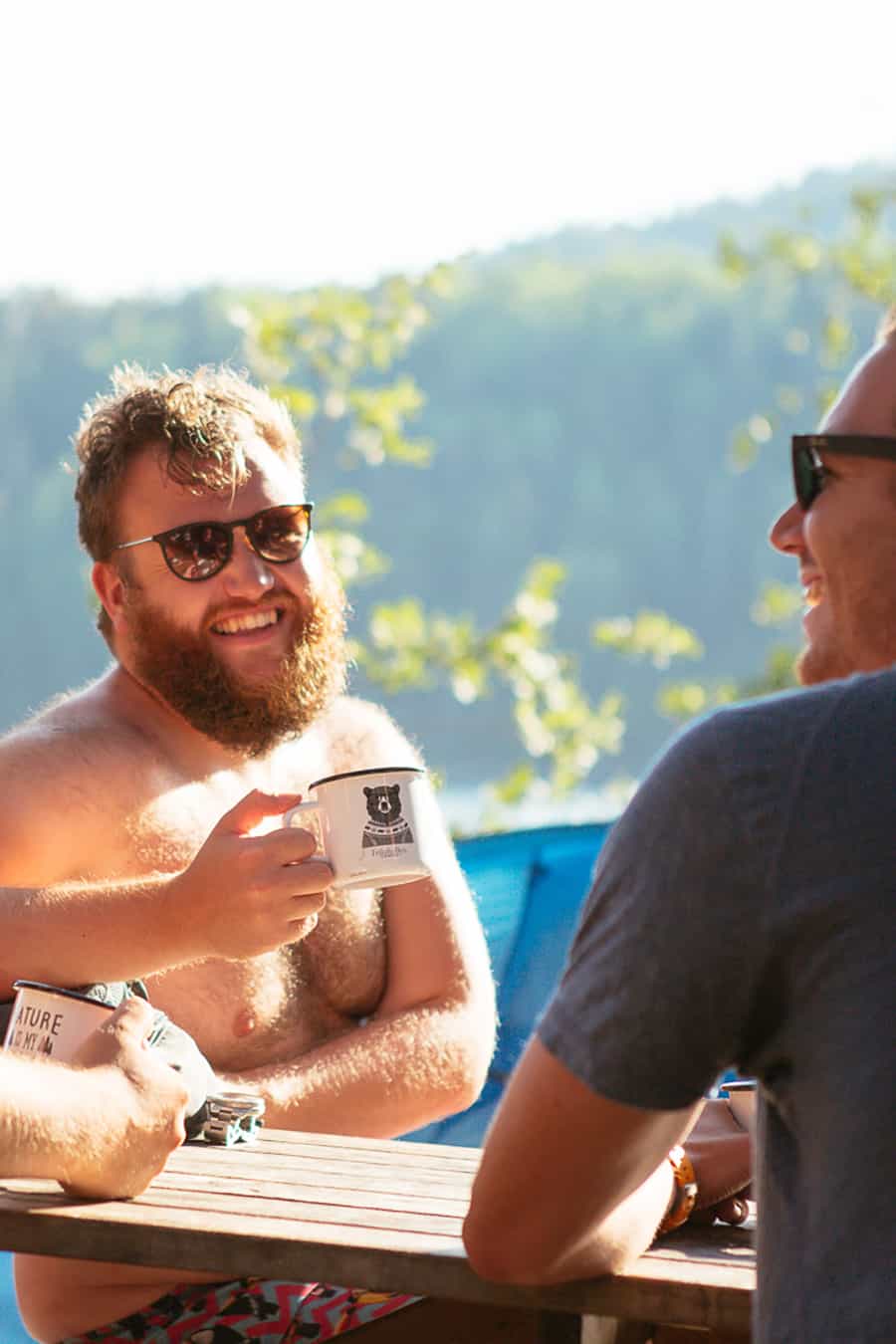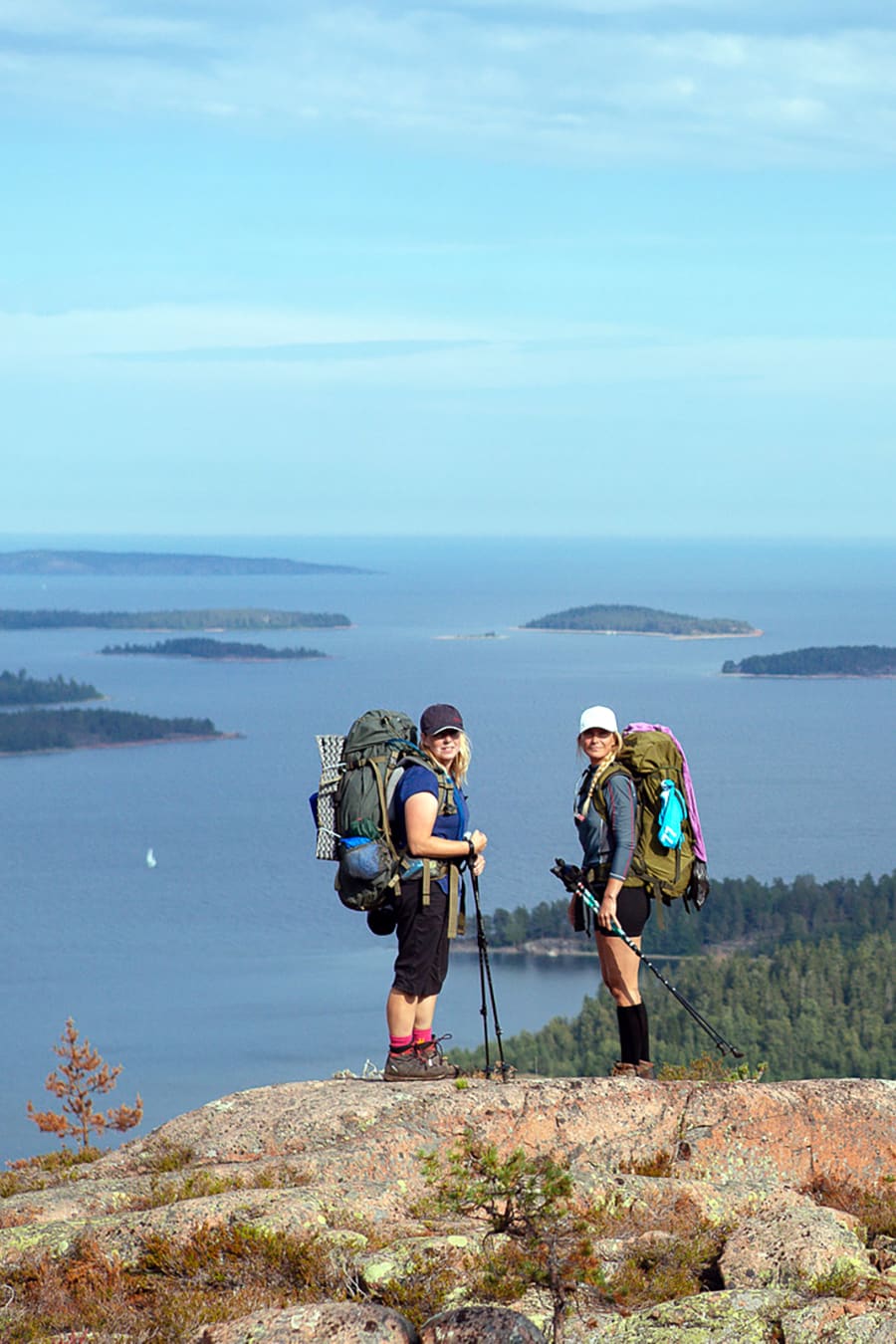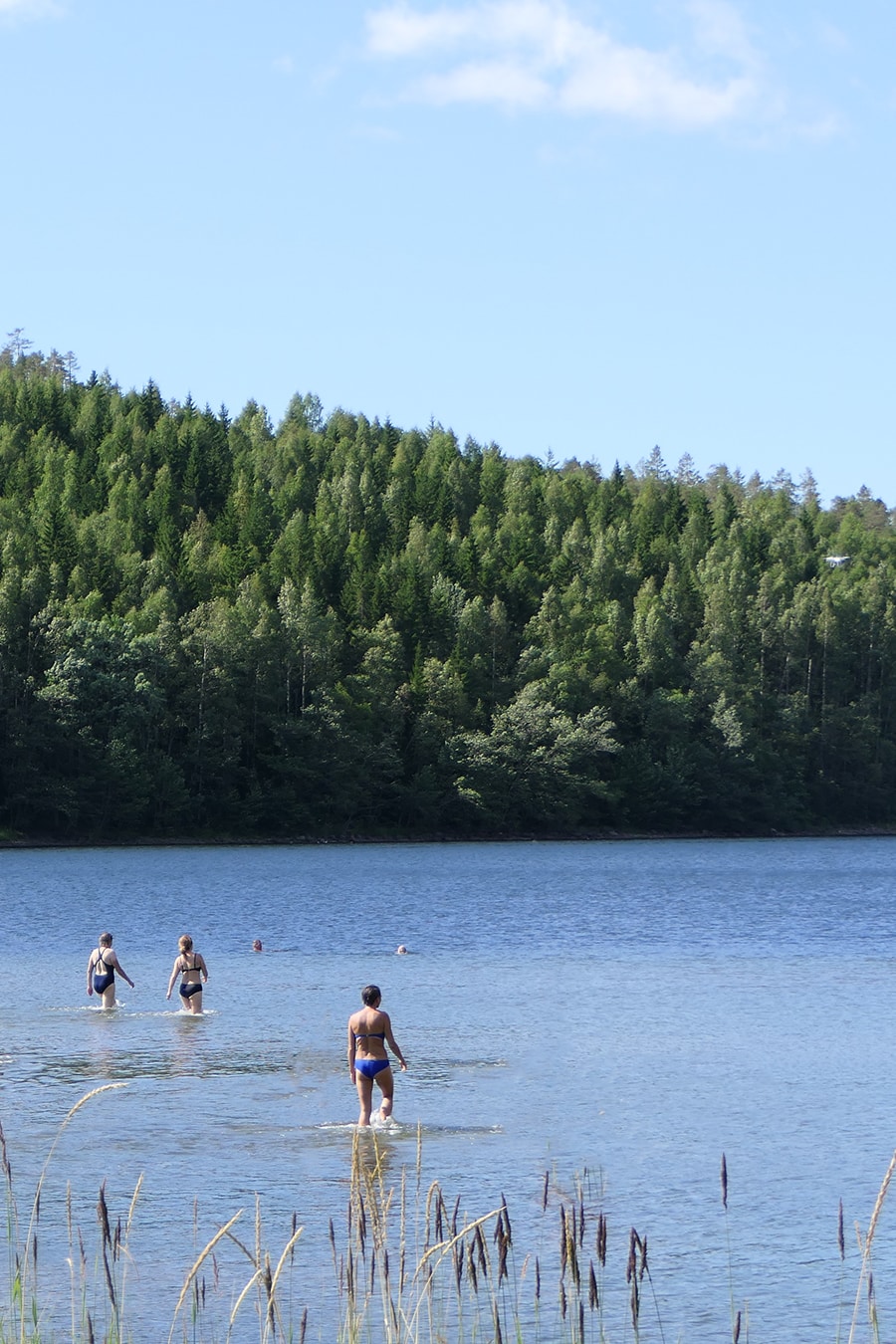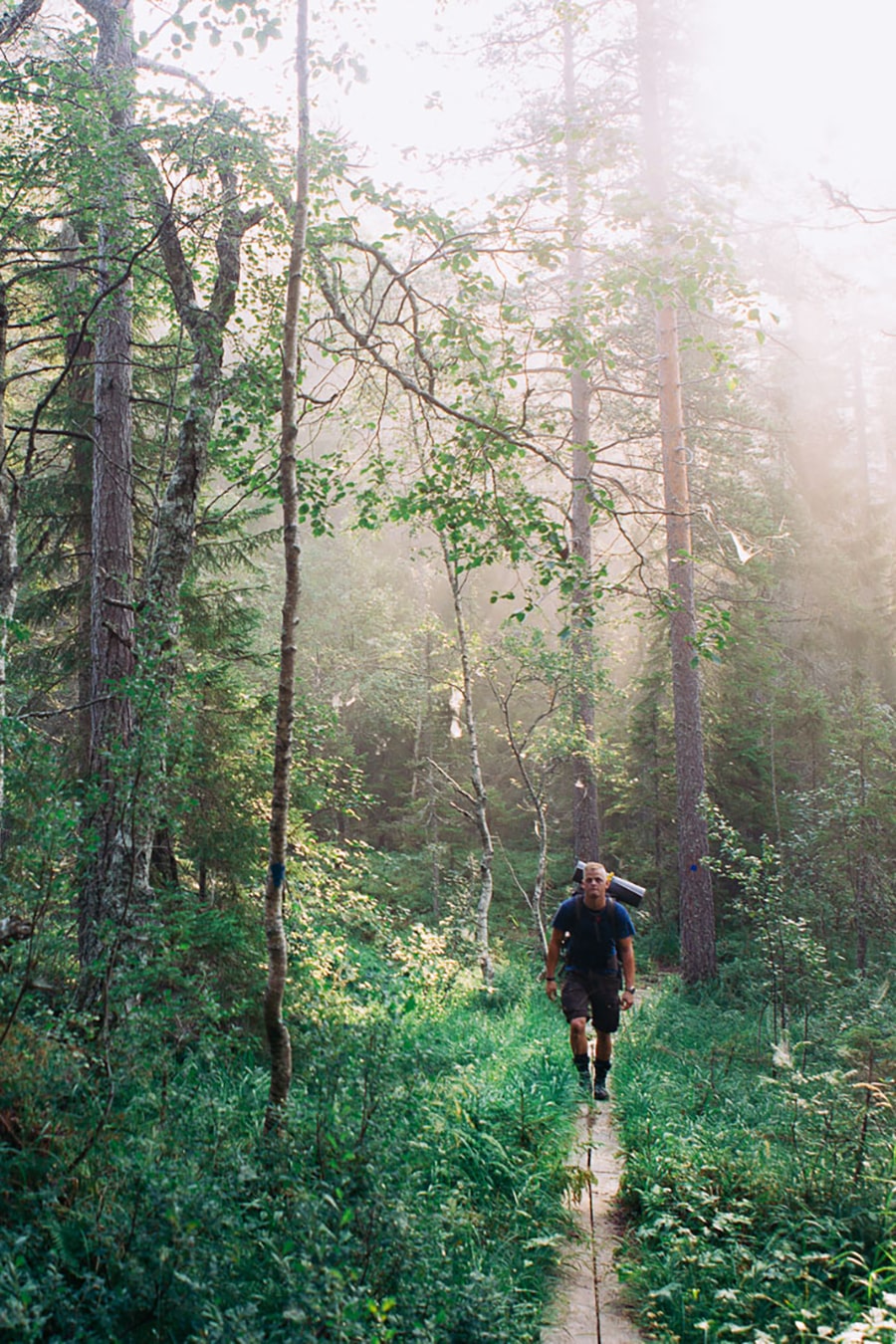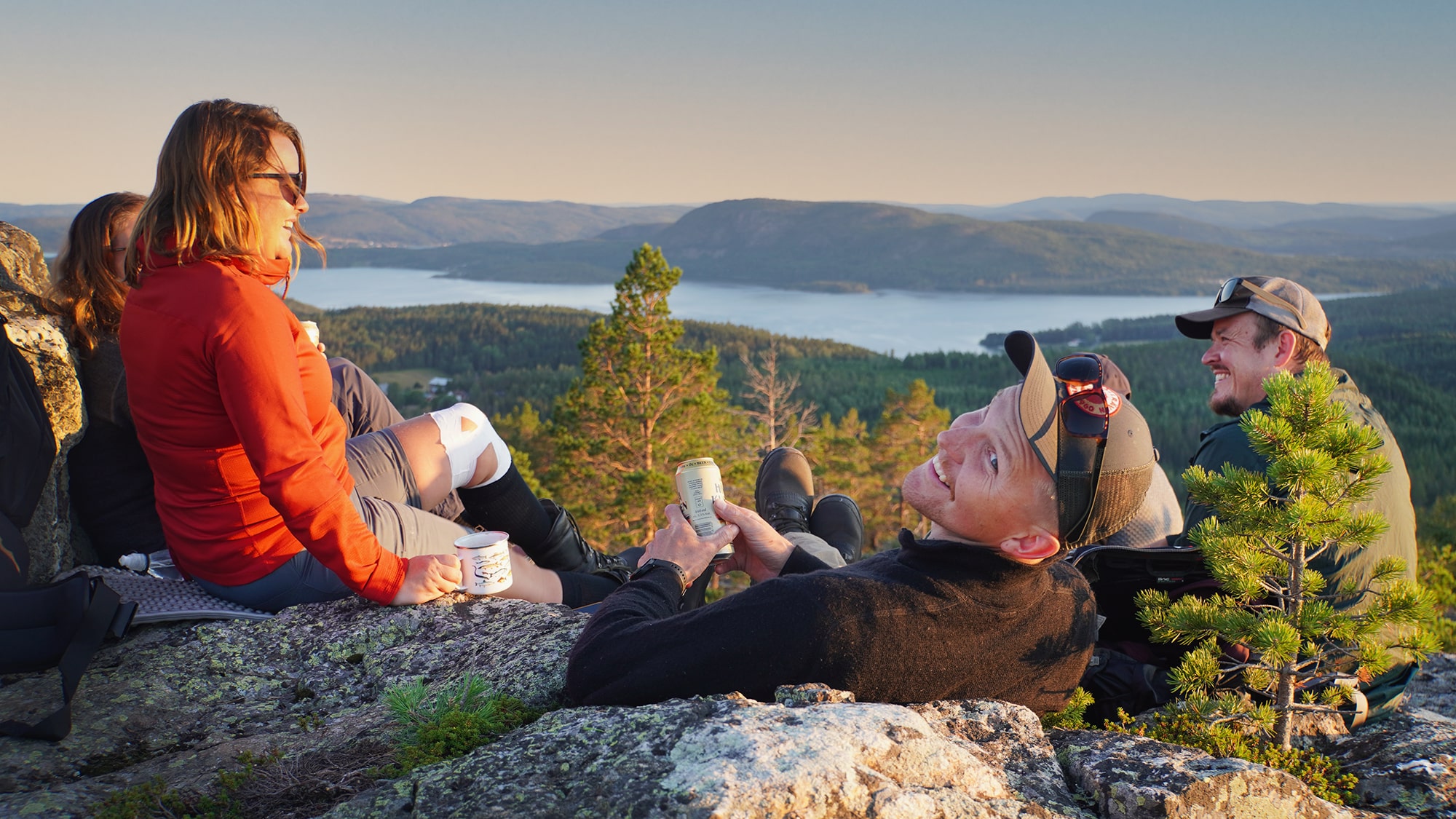 When you reached the night camp day two, pitch your tent and relax a little bit. Then hike without your backpack up to the outdoor seminar hosted by Naturkompaniet and take in the incredible views. From here you'll even see Mt Skuleberget that we are hiking up day three.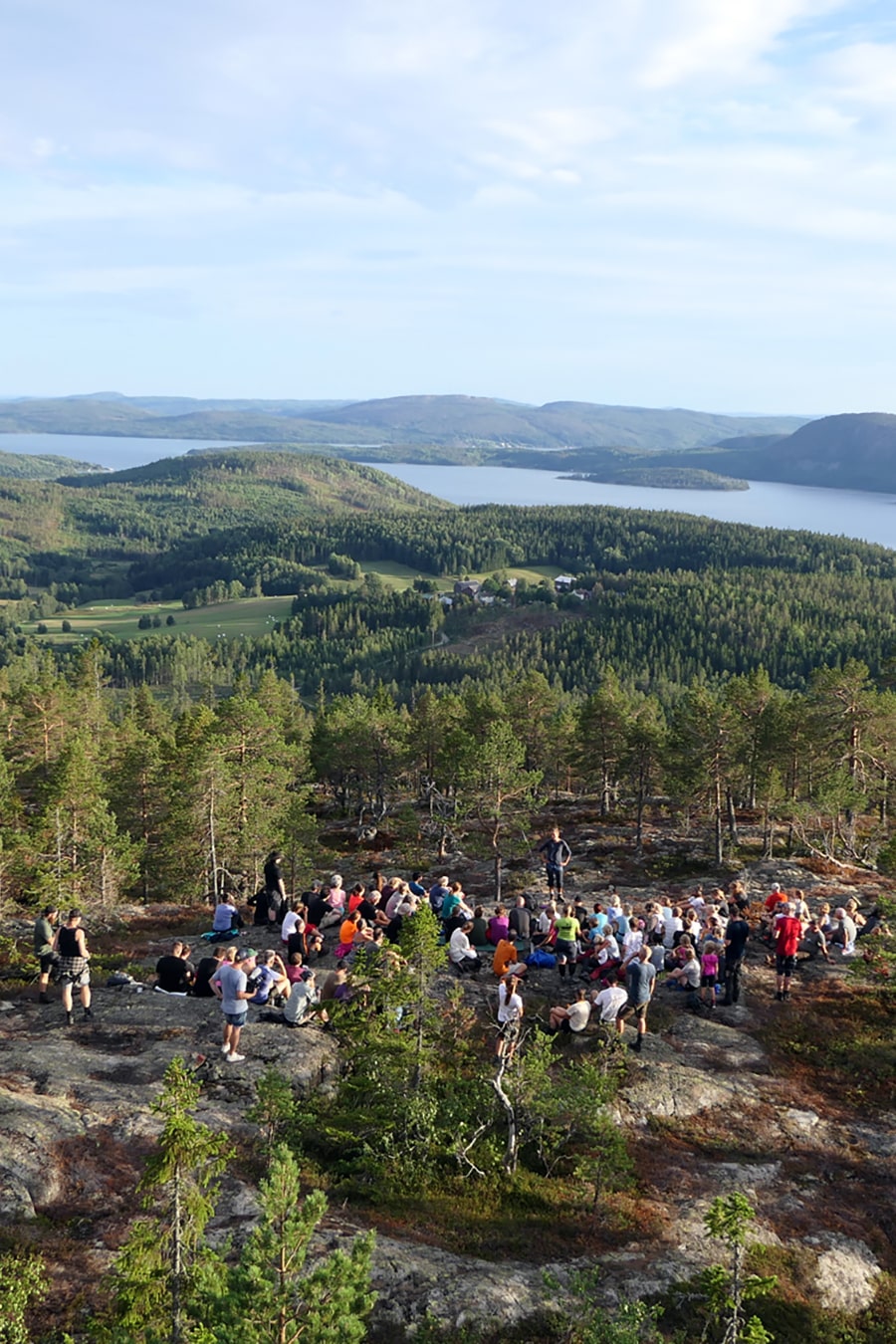 Our night camp the second night is located at a wide stretched field in the forest. If you want to wash off you can walk a couple hundred meters to Dalsjöfallet. And seriously, who doesnt want to take a refreshing shower in a cute waterfall?
At the top of lookout point right next to the night camp Naturkompaniet will host a outdoor seminar. Calculate about 30 minutes hike without a backpack to get there.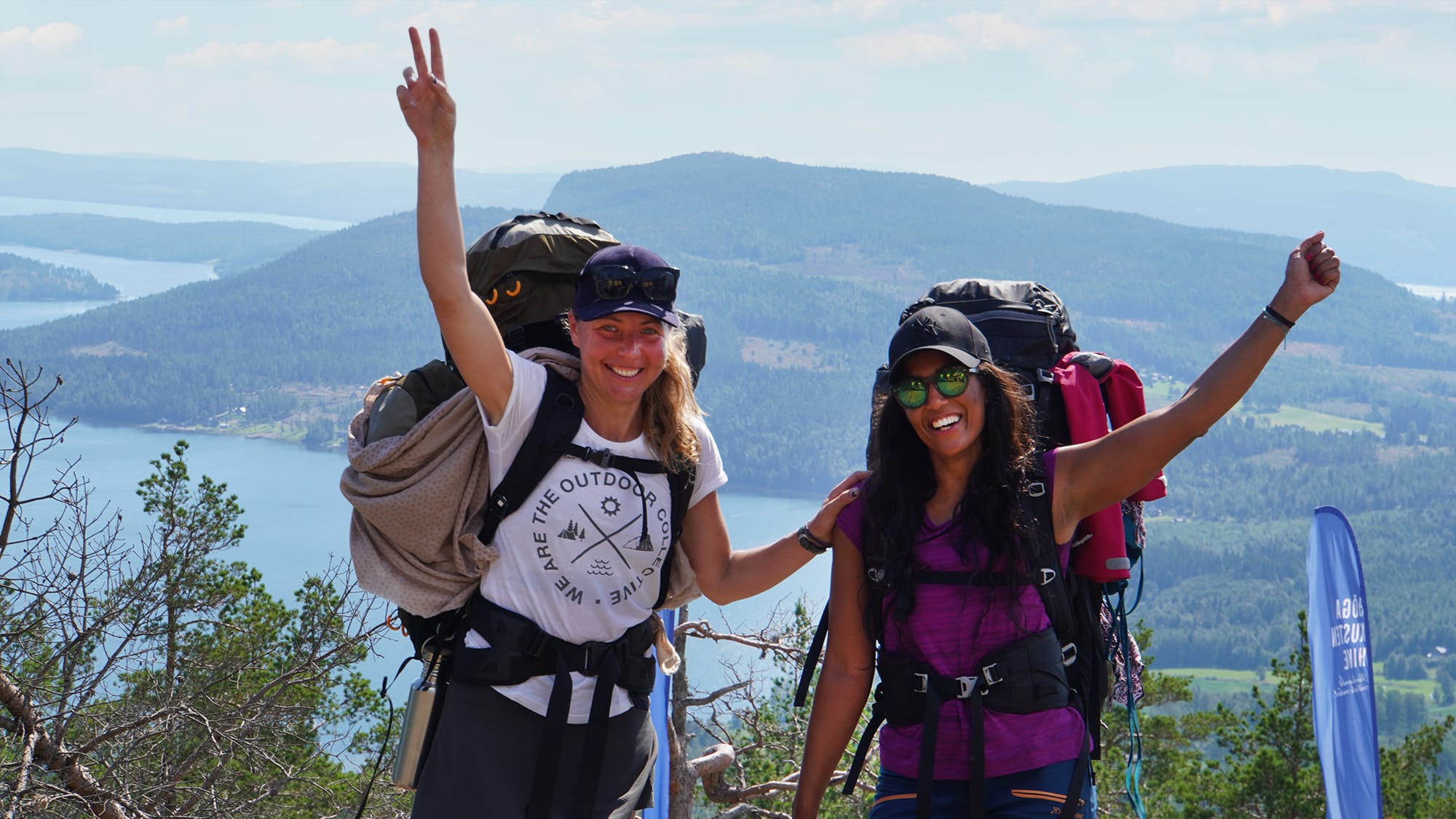 HIKING DAY III:
HIGH COAST TRAIL, MT. SKULEBERGET & AFTER-HIKE
The last stretch is the most dramatic finish ever.  From the night camp in Dal you follow the High Coast Trail towards Mt Skuleberget .  You chose if you rahter hike the steep "Grottstigen" past kungsgrottan (not suitable with a dog) or if you prefer "Östra Bergsstigen" that stretches along the east side of Mt. Skuleberget.
At the top you'll reep the reward of what many consider the High Coast most breathtaking views. After you crossed the finnish line you walk down High Coast Path to FriluftsByn where we celebrate your great achivement at After-Hike.
Distance:
Regular: 10 km
Pleasure: 10 km
Other: Families can leave their kids backpacks at check-out in the morning and get them back in Friluftsbyn.
Time: Ca 4 timmar
Highlights: Parts of the High Coast Trail, Mt. Skuleberget and the reward at the Top Cabin, shower and have a great time at After-Hike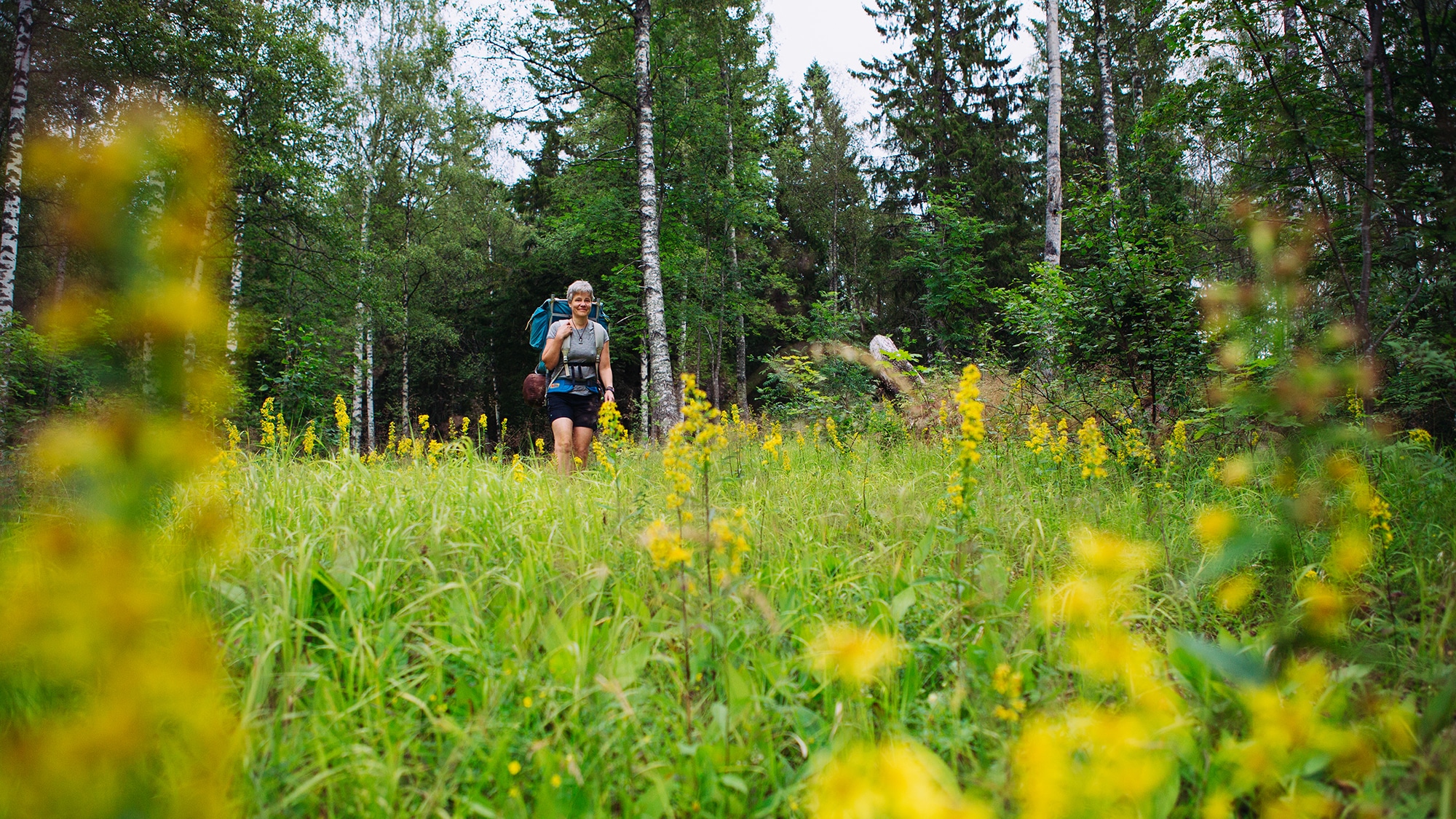 The first 7 km are pretty easy terrain as we follow the High Coast Trail. The last kilometres you start to see the magnificent Mt. Skuleberget getting closer and closer.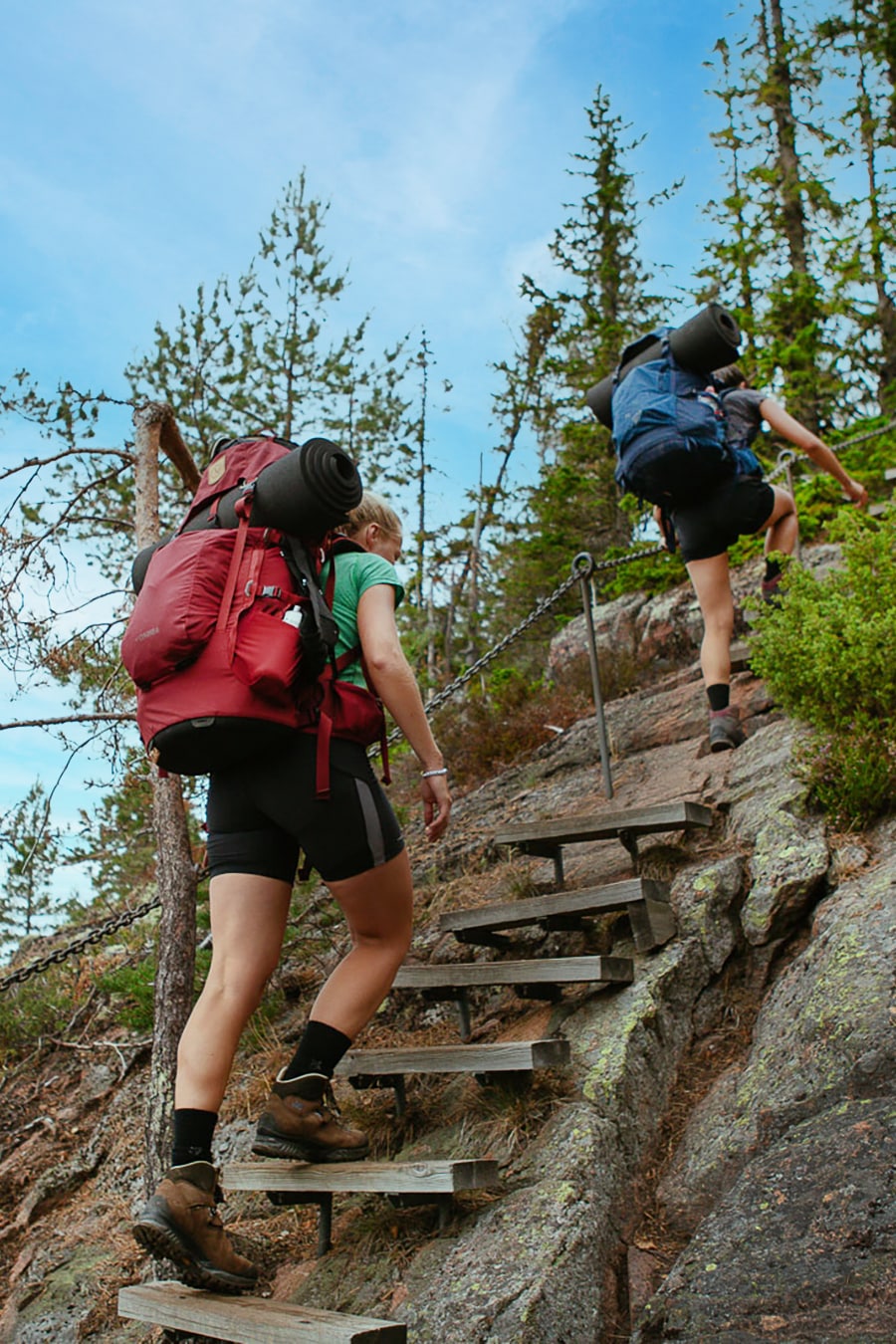 We walk along part of the High Coast Trail to Mt. Skuleberget. Here is where the dramatic finnish begins. Chose between Grottstigen or Östra Bergsstigen to reach the top.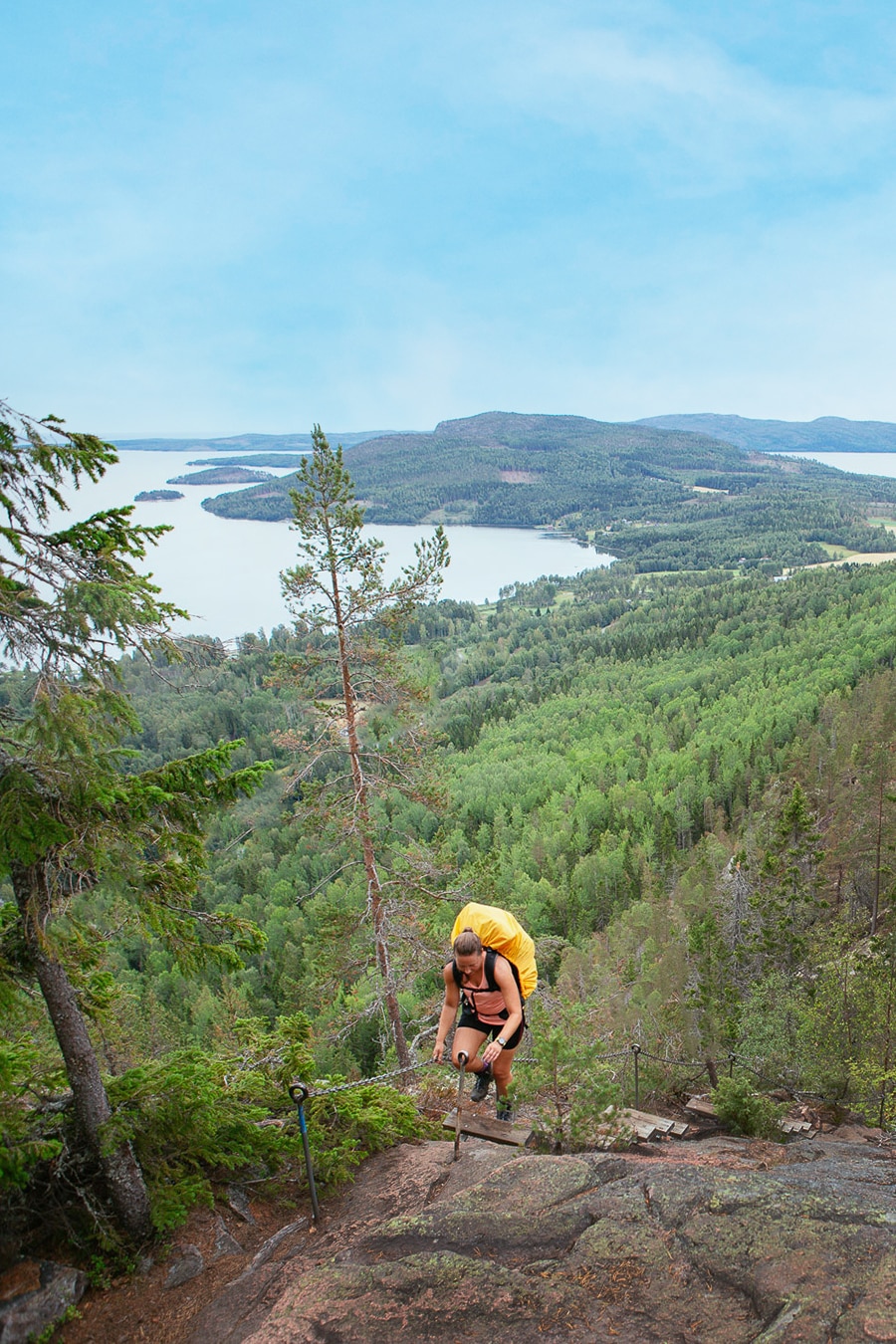 Grottstigen is significantly steeper but offers steps on parts of the trail. You will make it by cheering eachother on and take lots of breaks. Very soon you'll reach the top.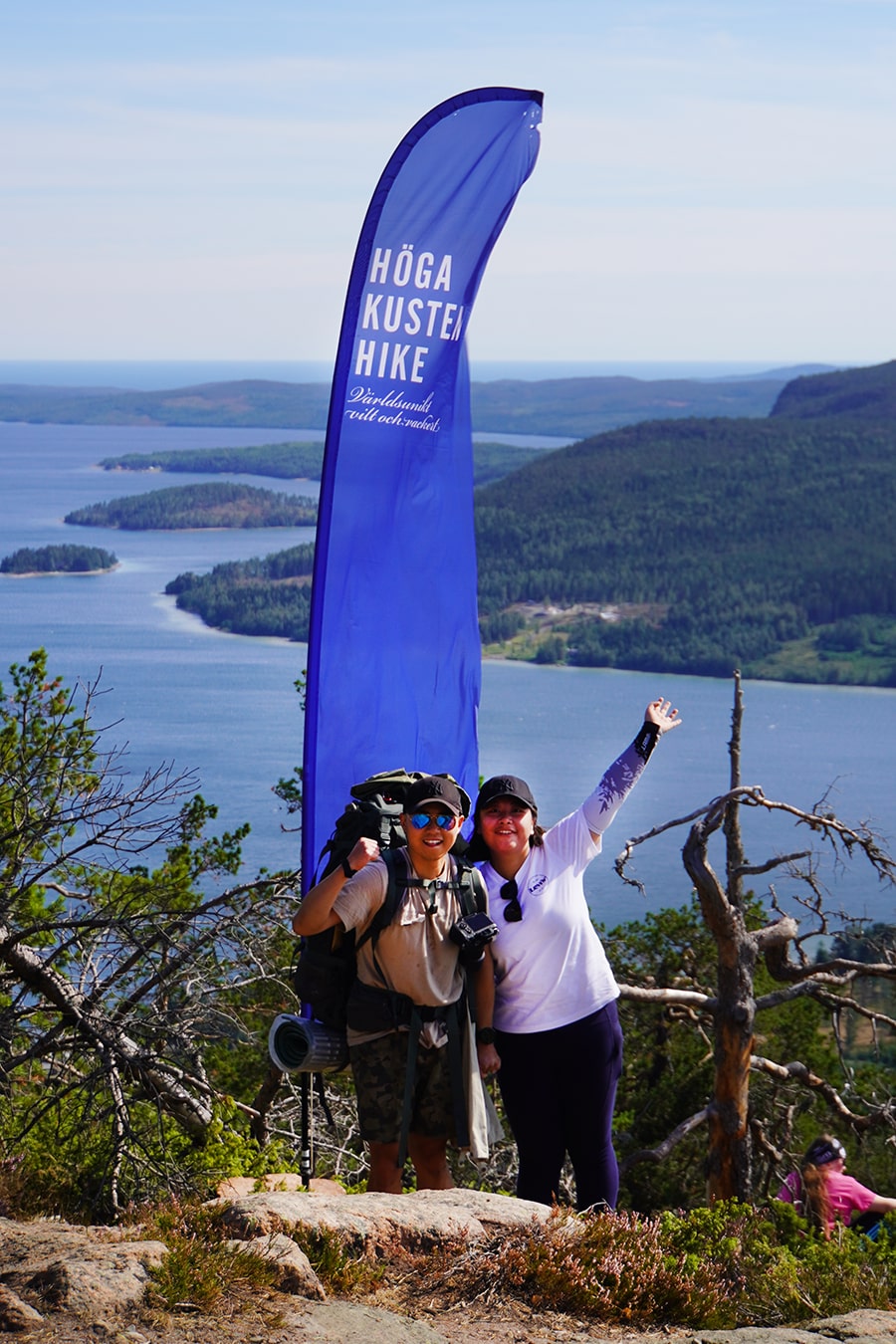 If you want you can leave your backpack with your guide before starting the climb up Mt Skuleberget. You'll then get your back pack back when you reach Friluftsbyn.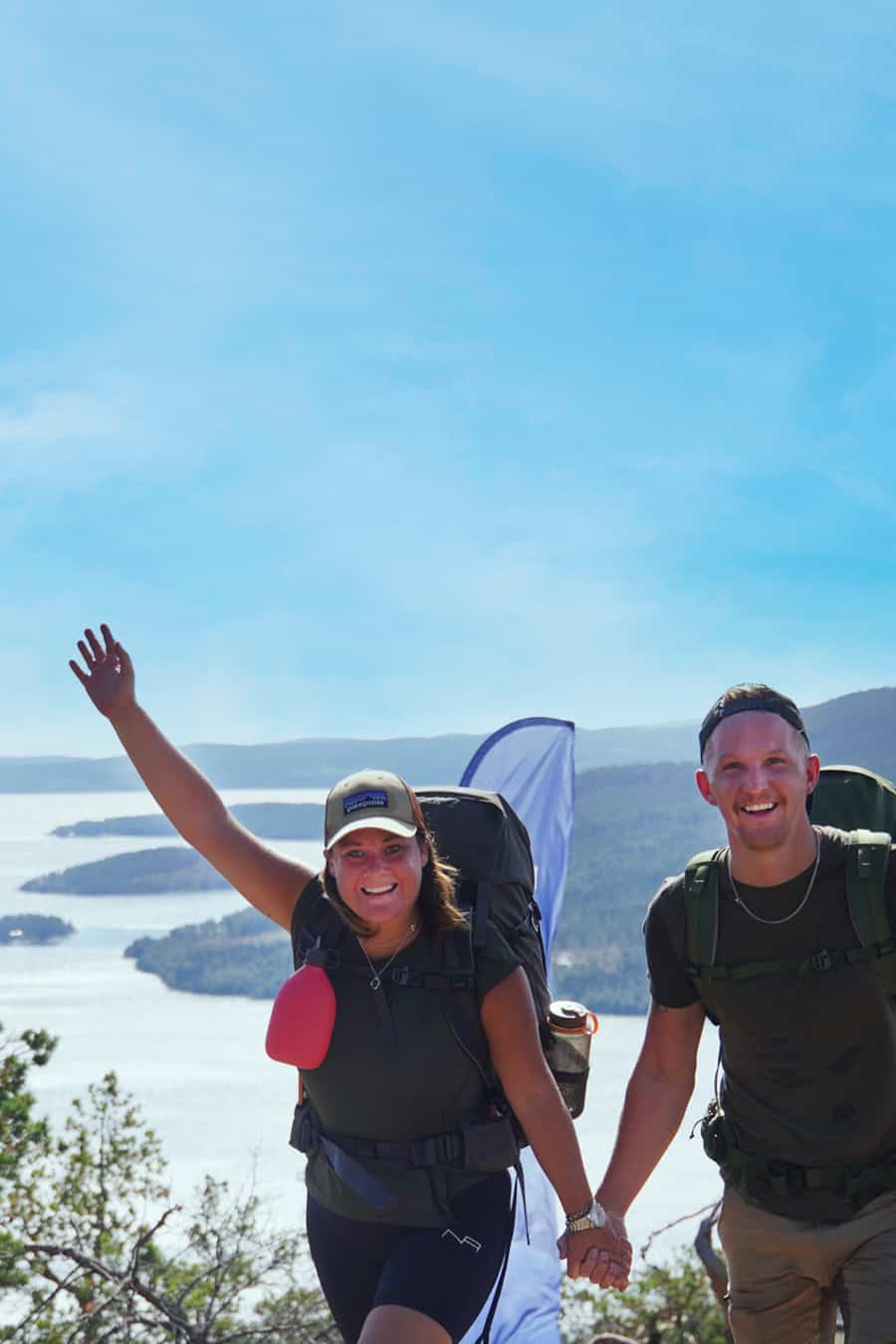 That feeling. We've been out for three days and we have now reached the goal. Pretty sure this adventrue will feel like a week as it has been jam packed with so many fun and memorable experiences together with new and old friends.
The last stretch down to Friluftsbyn is one of our favorites – High Coast Path along the south side of Mt. Skuleberget is one of Sweden's most beautiful views.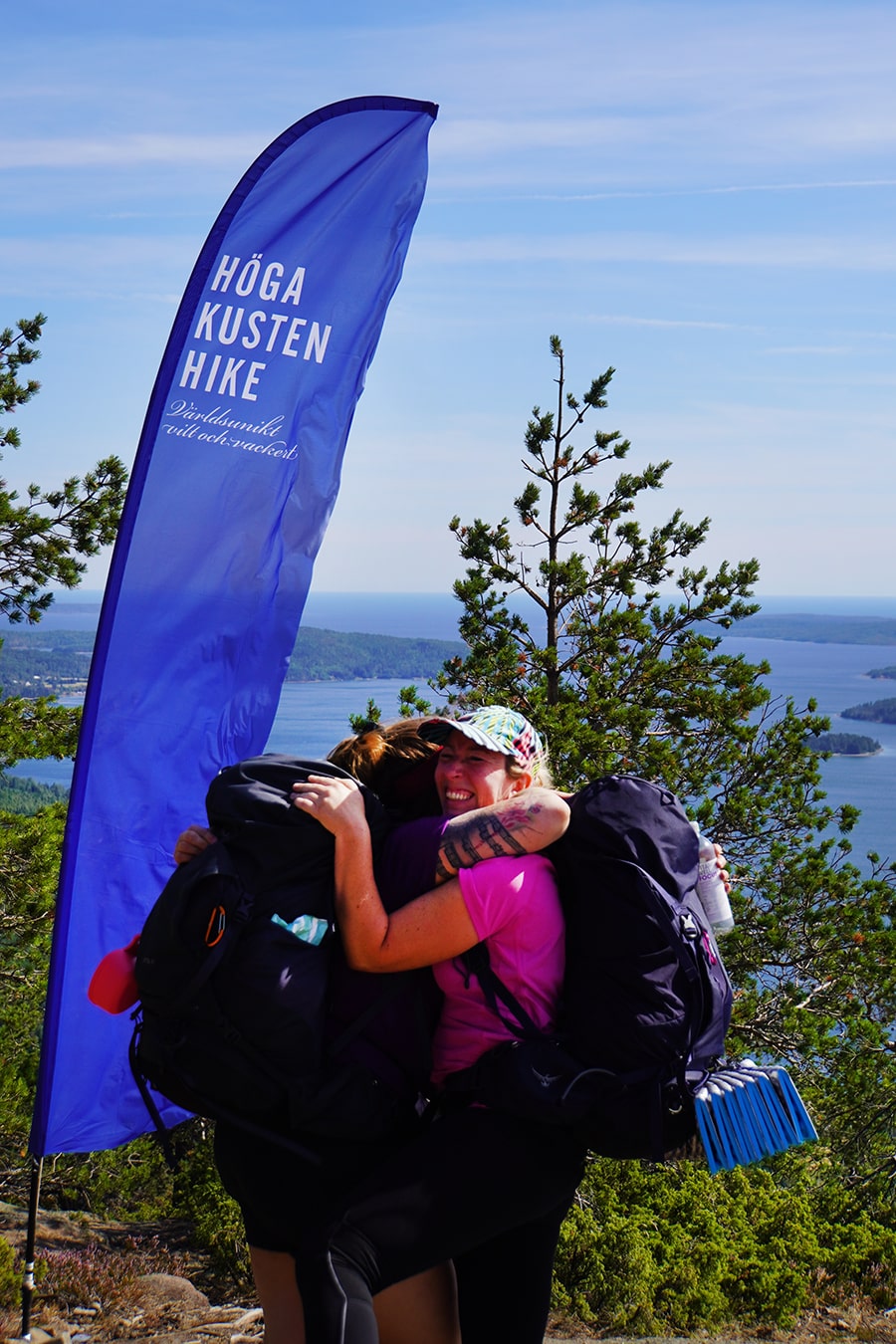 Vårt andra nattläger ligger på ett stort öppet fält i skogen. Vill du tvätta av dig går några hundra meter till Dalsjöfallet. Det är klart man vill svalka sig i ett litet vattenfall.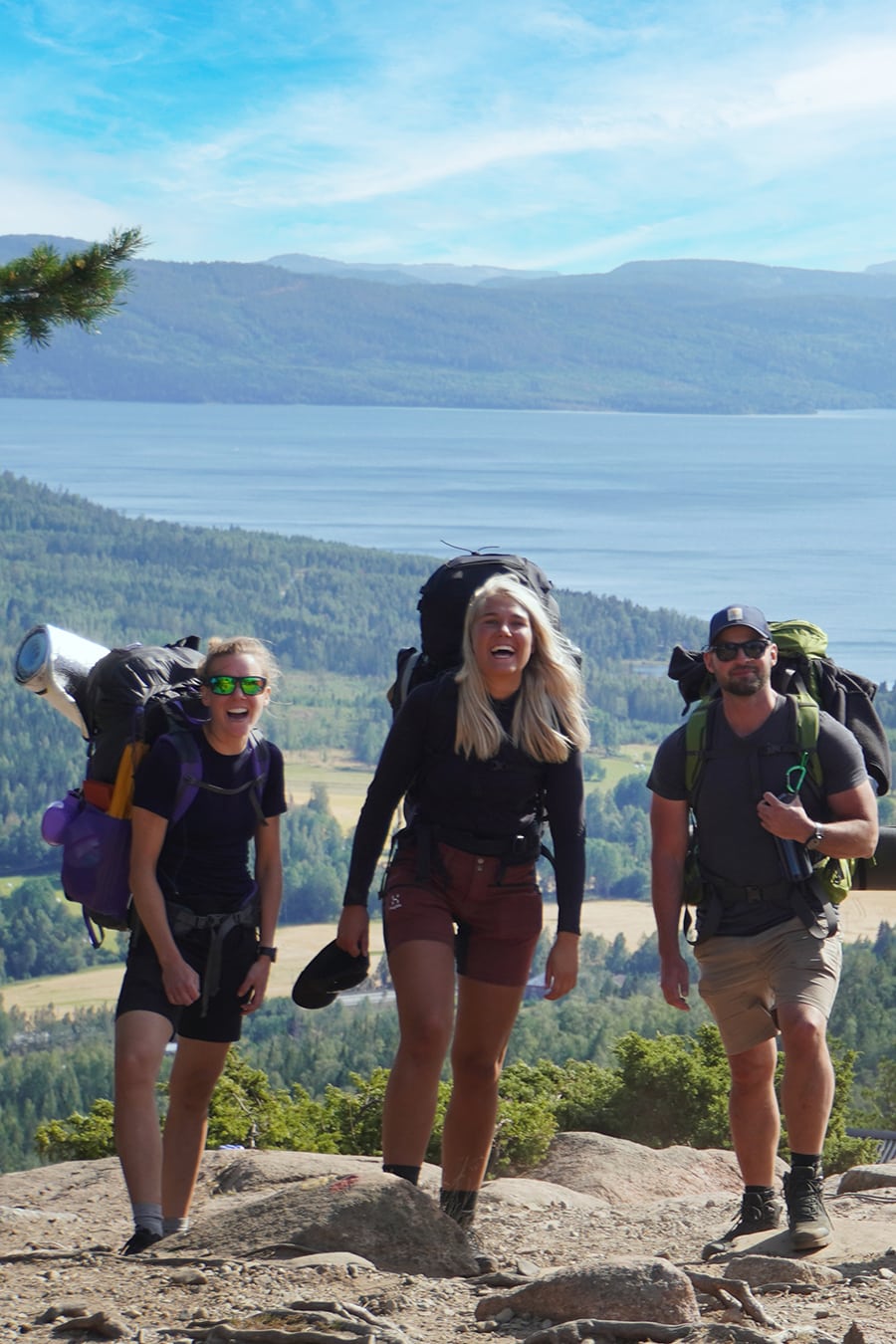 På toppen av utsiktsberget intill nattlägret håller Naturkompaniet kurs i friluftsliv. Räkna med cirka 30 minuters vandring utan packning.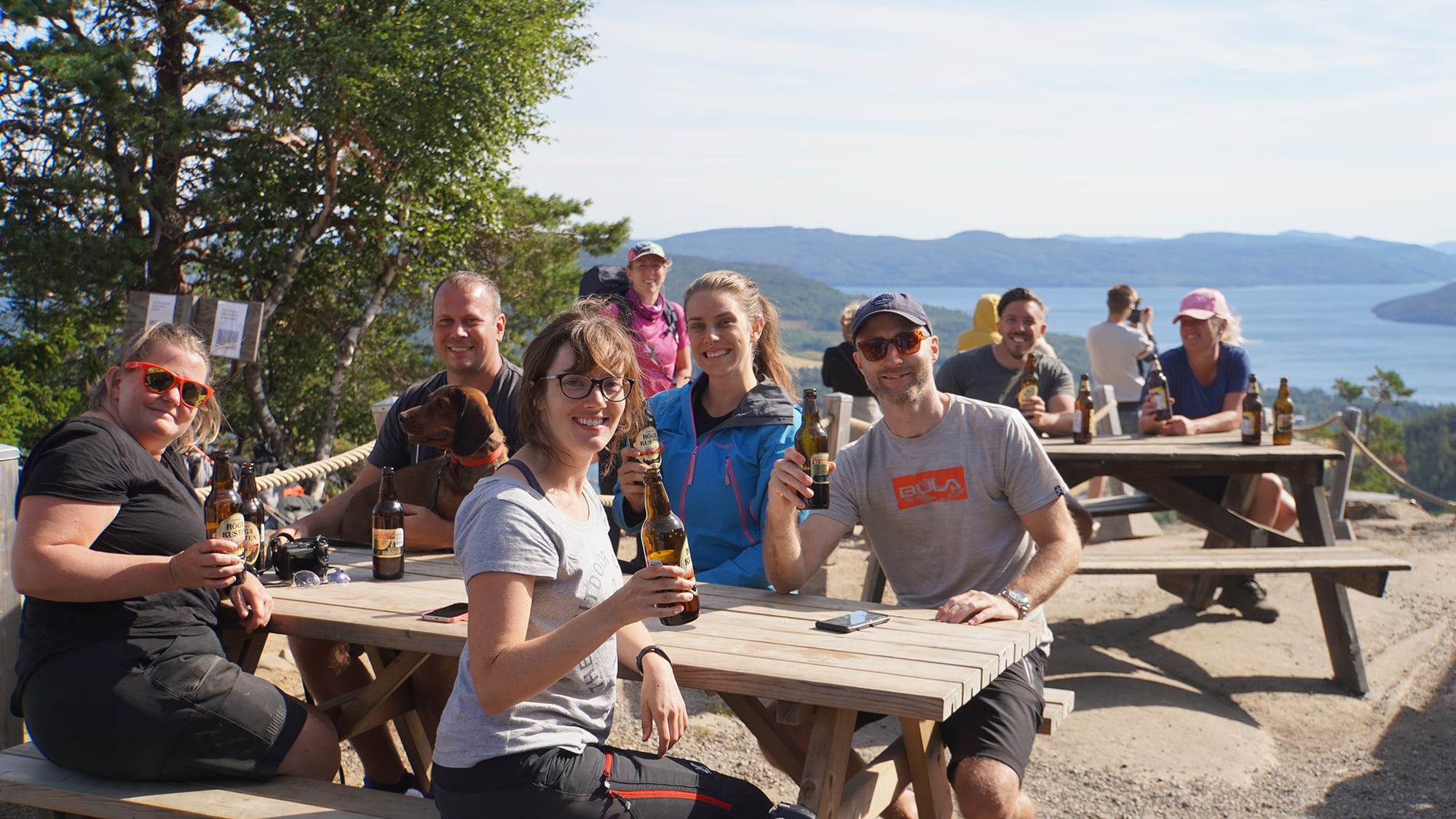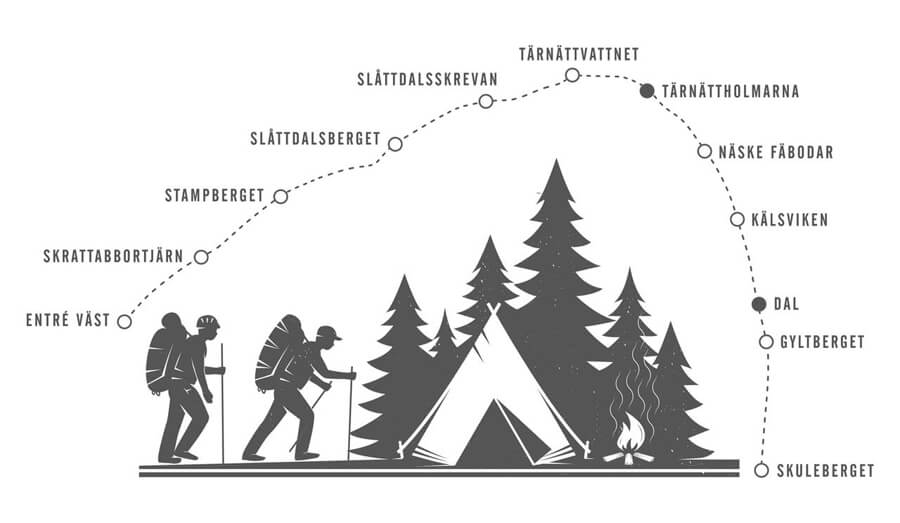 HOW HARD IS IT?
This question is difficult as it is so much up to each persons own ability. It actually took a bit of convincing for us to even add "kilometer per day" as it is pretty irrelevant here in the High Coast. It's equally as much about altitude meters and terrain as it is about length of hiking.
For you to ge the best possible experience we offer two different routes - the Regular route, which you can do if you are ir general good form and have hiked a little further with your packed backpack before. The we have the Pleasure route. which is great if you are a little uncertain, or if your hiking with kids or simply just want to enjoy the scenery and camp site chill even more. You can switch between the two routes each day if you wish. No matter which route you chose we end up at the same night camp all together.
The most crucial factor is wether you come prepared or not. For most hikers it is a new experience to hike with a back pack of arounf 15kg and therefore it is a good idea to test your gear before setting out on the High Coast Hike. If you test it out, know what to expect, this adventure will be a blast.
Wed: Pre-Evening >>
Thur 16 km or 8 km about 6-8h*
Fri: 13 km or 9 km about 6h*
Sat: 10 km about 4h* + After-Hike >>
Sun: Sleep-in travel home.
*Calculate with about 2-3 hours for breaks, food, photographing, relaxing, swiming etc.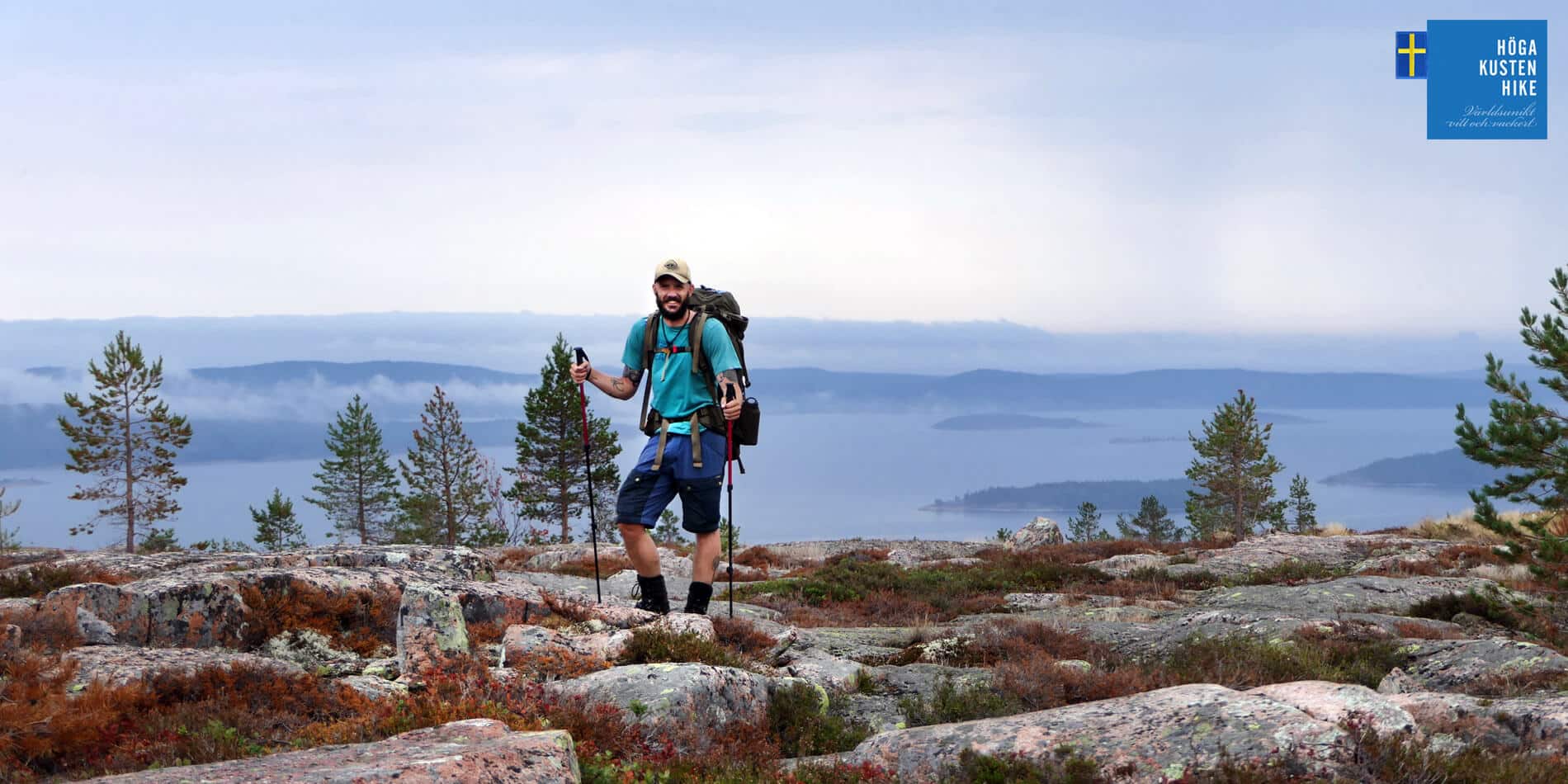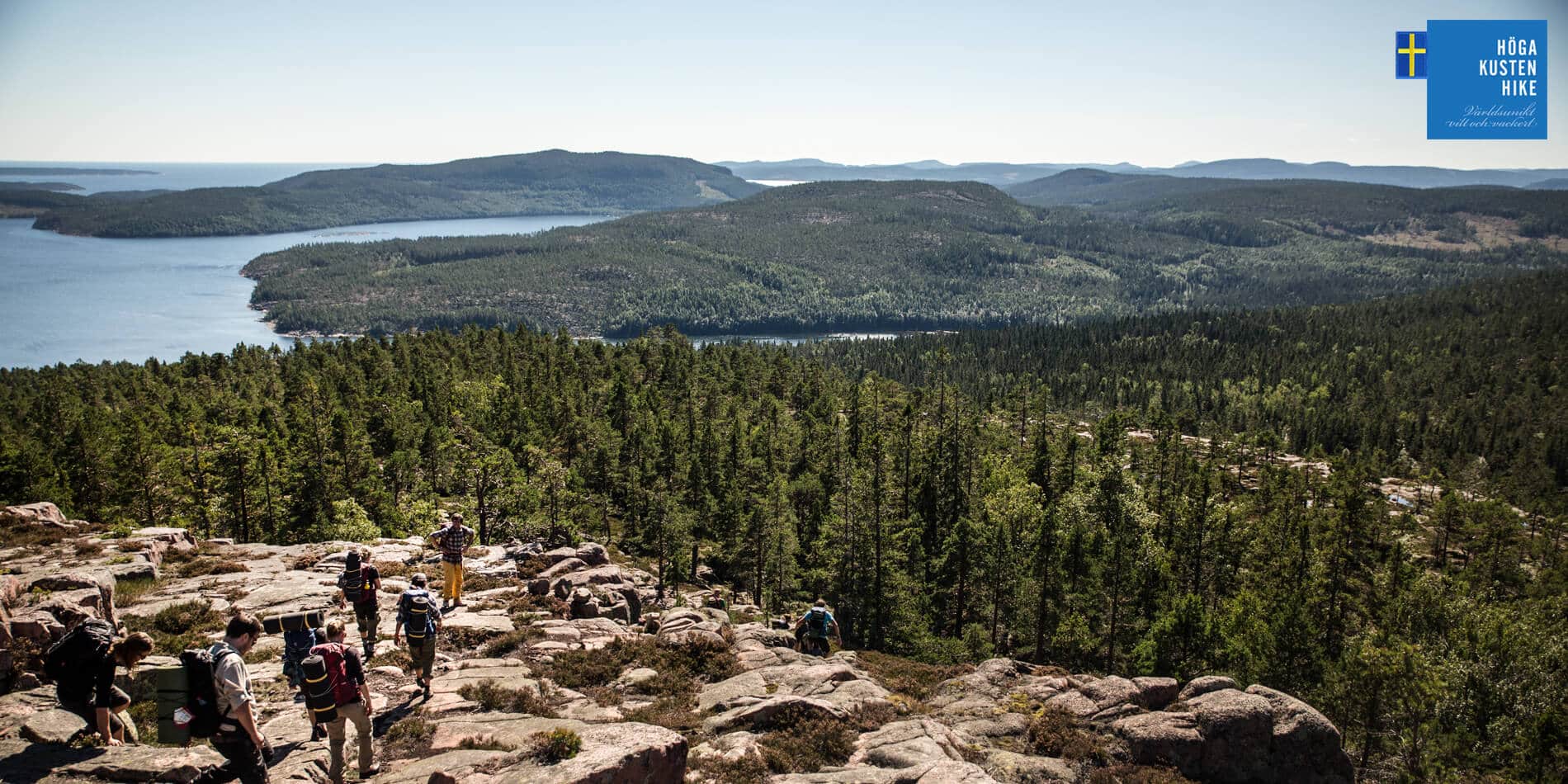 WHAT TYPE OF ADVENTURE ARE YOU LOOKING FOR?
Many come by themself and keeps coming year after year for the great outdoor community. Others bring their friends, family or partner and combine time with eachother and time with new found friends. No matter how you prefer to spend your hike, here are a few tips.
TIPS BEFORE THE HIKE
We will go over all the details about the hike and answer all your questions regarding the routes and what is best suited for you, your group of friends or your family. On site we'll also go over updated information on where to find water and of course go over the map to make sure everyone feels readly and prepared for the adventure that awaits. If you have any questions before the hike we really recommend that you join our facebook group "High Coast Hikers" where you can ask all sorts of questions and get great answers from us at FriluftsByn or by other hikers who know the event and keeps coming back. If this is the first time you head out on a longer hike you can check these links out:
WHO IS THIS FOR?
It sounds cliché to say that this hike is for pretty much everyone. But that is kind of how it is. Many chose to return year after year while other come for the first time. Some come by themself, others bring their partner, group of friends or even colleagues. We also noticed that more and more bring their kids along for the adventure. Often when it is one parent and their kids it's nice to get some assistance and pepptalk from other hikers along the route.
Age varies a lot. From groups of friends in their 20 to 40's to groups that passed the 60 year mark. Our youngest hiker was 4 and hiked with a lot of help from his parents, and the oldes hiker that hiked the Regular route were over 80, but a very fit 80 year old we should add. We are pretty sure this adventure will suit you and be one for the memory books years  and year to come.
A UNIQUE HIKING EXPERIENCE
The High Coast Hike attracts hikers from all over the world. Here are four reasons why you need to join the adventure:
Over the stretch of three beautiful days you'll experience the High Coast absolute highlights. Here is everything you need to know about the hike.
Attend seminars with some of Sweden's leading outdoor companies and get great tips on how to make every part of the adventure the most enjoyable.
Chill pre-party on Wednesday followed by a the grand After.HIke celebration with live music on Saturday. This will be a lot of fun!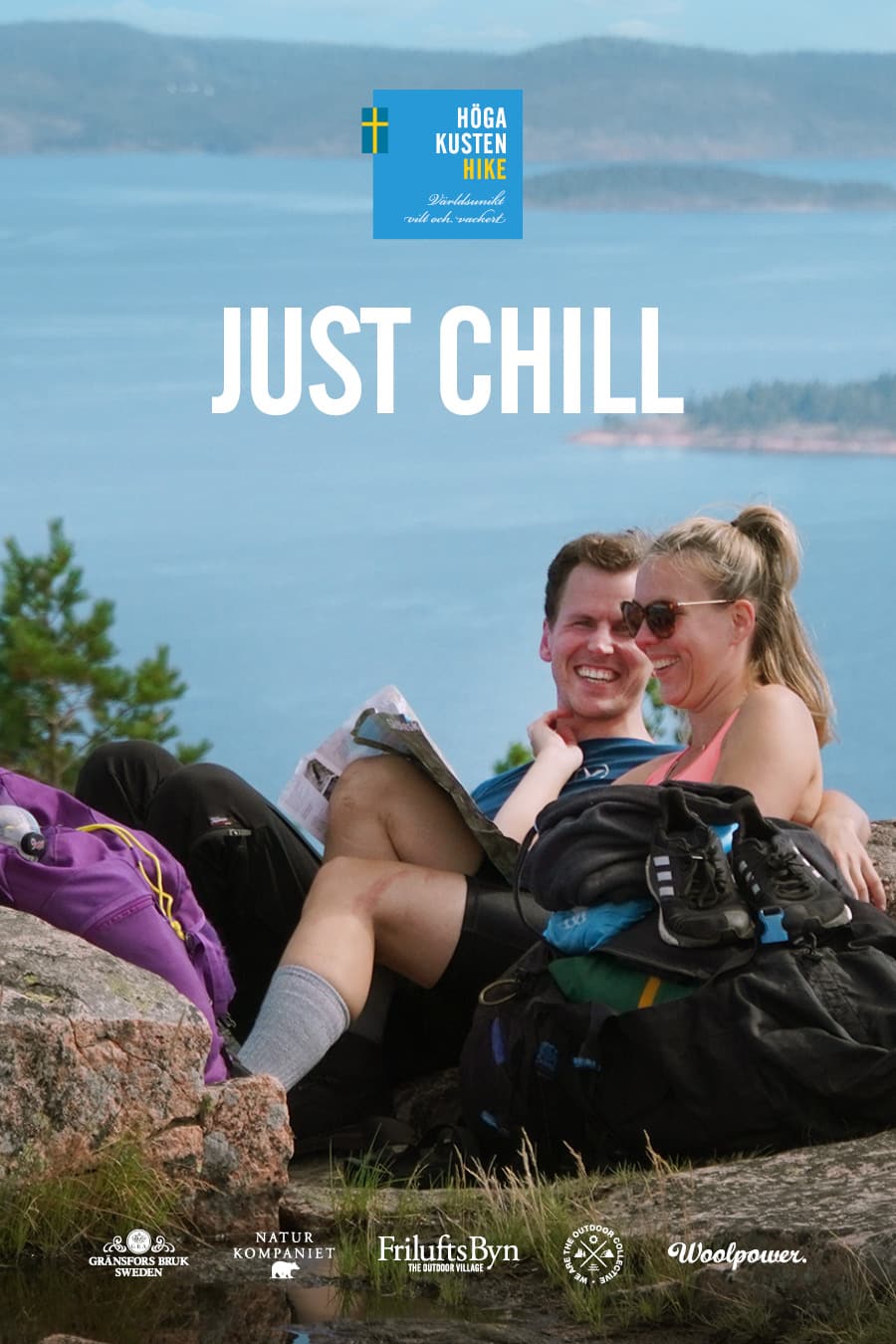 JUST CHILL >>
A big part of the experience is that you get time with yourself, each other or your new found friends, depending on how you prefer to spend your time. Many end up choosing a mix of all of them.
This is the adventure you've been waiting for. Come by yourself, bring your family or friends.
THIS WILL BE SO MUCH FUN!