"This is the second year I arrive by myself but meet so many amazing people. You bet I'll be back next year as well."
Sofia Nilsson, Stockholm
"This is not a typical group-hike. Here you'll experience the High Coast at your own pace and we all meet up in the evening at the night camps and during seminars. But there are guides along the trail if you need help with anything."
Jerry, FriluftsByn
"A big reason for coming back is the nice atmosphere. It kind of happens by itself when you set out like this."
Paul Wright, Stockholm.
COME BY YOURSELF
– HIKE WITH NEW FRIENDS
Are you longing for an adventure in incredibly beautiful nature where the pleasant atmosphere is an equally significant part of the experience? Then you've come to the right place. Every year, people from all over the world come to the High Coast Hike themselves, and many choose to return.
On this page, we have gathered tips for you who are coming alone.
It's time for an adventure!
Experience incredible nature together with likeminded people.
Learn a few new tricks at the seminars or relax in the camp.
Chose your route each day – Regular or Pleasure.
Celebrate the accomplishment with your new found friends at the After-Hike.
WHAT DO PREVIOUS PARTICIPANTS SAY?
Check out what previous participants have to say. Roll the film.
HIGH COAST HIKE
An adventure that's perfect for those who are coming alone.
Sometimes, you want to treat yourself to an adventure on your own. Other times, it might be tricky to get friends or family to join. There are probably more reasons than that, but regardless, each year several hikers come to the High Coast Hike by themselves, and many return. Of course, you can choose how much you want to socialize with others, but in some way, there's always a really pleasant sense of community that starts in our shared Facebook group 'High Coast Hikers' and during the pre-evening.
HIGH COAST HIKE
When: 3:rd - 5:th August, 2023
Where: FriluftsByn, Mt Skuleberget.
Adults:  229 euro* (2290 sek)
Youth (13-16 y) 119 euro* (1190 sek)
Kids: Up to 12y - 79 euro* (790 sek)
WHATS INCLUDED:
Bus transports from FriluftsByn, seven meals of freeze dried food, map, outdoor seminar with Woolpower and Naturkompaniet, After-Hike,  Outdoor Collective t-shirt (worth 40 euro) and free space for your tent in FriluftsByn Saturday to Sunday (30 euro).
Experience the magnificent nature of the High Coast World Heritage Site together with like-minded people from all around the world.
Some are experienced, others are curious beginners. It creates a really pleasant atmosphere.
We take buses to the starting point and set out at our own pace. There are guides at the back, in the middle, and at various stations along the hike who are there to help if something happens.
You hike at your own pace and can decide when you want some personal time or want to socialize with others. Your own curiosity and that of other participants, along with the pre-evening, the hike itself, the breaks, the overnight camps, the campfires, the workshops, and the celebration at the after-hike event, all create the wonderful community.
We handle all the practical aspects – food, transportation, maps, workshops, and the after-hike event – while you bring your own, collaborate with others, or rent equipment.
Two distances*:
Classic: 16 + 14 + 10 = 40 km
Pleasure: 8 + 9 + 10 = 27 km
*As we hike along the coastal mountains, the number of kilometers is not quite as relevant a measure.
Hiking per day:
Expect approximately 7-8 hours of hiking, including photo and meal breaks.
Of course, you should come along. The High Coast Hike is an adventure where many come by themselves. You will enjoy it.
A perfect mix of hiking, relaxation, and community.
Experience what has been voted as Sweden's most beautiful nature.
Now it's your turn to go on an adventure!
The High Coast Hike is one of Sweden's most popular hiking adventures and has been attracting both curious beginners and experienced hikers from all over the world since 2013. Welcome to a experience filled with magnificent nature, outdoor schools, and wonderful community in the High Coast – World Heritage site.
10 BEST TIPS
for those who come alone
1. Join the participant group on Facebook. Here, you will get to know more people who are coming alone.
2. Review the equipment you already have and what you need to buy, borrow, or rent.
3. Check out travel and accommodation. If you like company, you should stay in or near the Outdoor Village.
4. Learn how to handle the equipment you will be using and prepare yourself physically.
5. Arrive in the evening before; you will quickly get to know other hikers.
6. Familiarize yourself with the map.
7. Adjust the hike according to your daily condition.
8. Dare to ask.
9. Attend the After-Hike – one of the highlights of the adventure.
10. Experience more of the High Coast while you're already there.
Don't make it too complicated. Gather your equipment, learn how it works, then head out and go hiking with your gear a few times a month. The rest will work itself out when you arrive at FriluftsByn and during the pre-evening.
5.
DON'T MISS THE PRE-EVENING
–
Meet other participants, get tips for the hike, and have time to repack a bit.
Many solo participants arrive for the pre-evening on Wednesday to hang out a bit at the location. We grill burgers, perhaps have a beer, and prepare ourselves by the campfires. We also gather and go through the map.
This is a very natural way to immerse yourself in the community because it's impossible to sit by a campfire without starting to talk to each other. We have many campfires, so it's perfectly okay to switch to a quieter or livelier one. You'll figure it out.
Pre-Evening for the High Coast Hike>>
6.
CHECK THE MAP
–
It's easy to find, and there are both guides and other hikers to ask. But it's still nice to have control.
The hike takes place on existing and well-marked trails with clear directions, and you will receive your own map showing the area and our route. We will also go over the map in the evening.
You don't need to be an expert or have a compass to find your way, and there are guides and other hikers to ask. But it's still good to be in the know, so join the participant group on Facebook where we'll go over the map digitally, or come by in the evening on Wednesday.
​7.
ADAPT THE HIKE TO YOUR DAY FEELING
–
There's always an alternative.
During the first and second day of the hike, you can choose between the Classic and Pleasure routes. 
When it's just you to think about – make sure to gauge what suits you best. You'll manage the Classic if you come prepared; if you're unsure, opt for Pleasure and assess after the first day. There's no need for competition; the idea is for you to have the best possible experience where you can combine hiking with relaxation.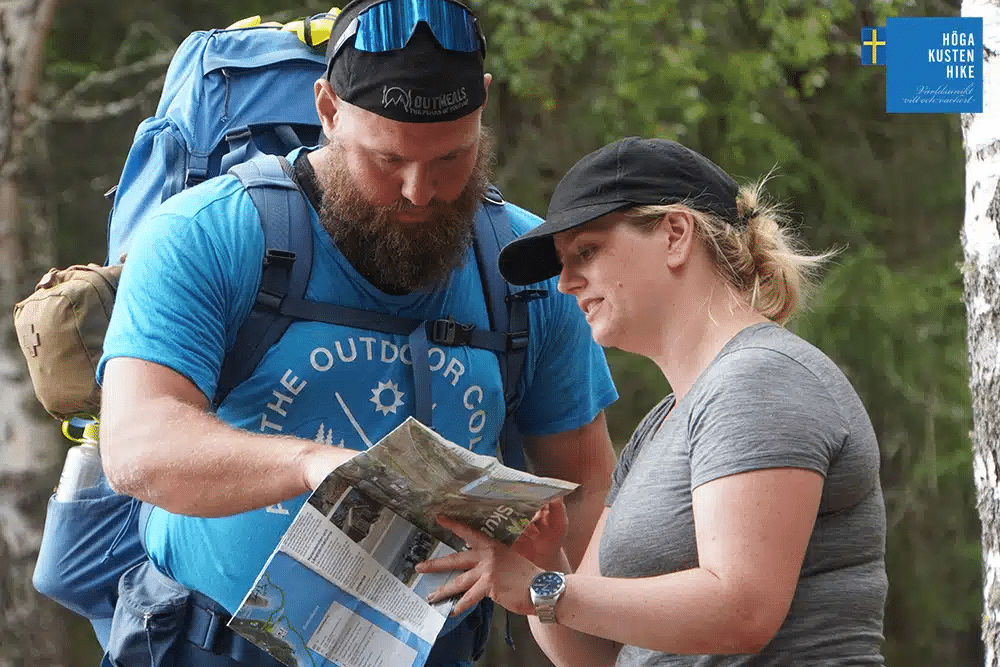 8.
ALWAYS ASK
–
Both guides and Naturkompaniet are here to help you have a wonderful adventure.
Before you arrive, it's a good idea to go through the program to keep track of the times. If you have any questions before the adventure, our participant group on Facebook is excellent, and you'll quickly get answers from previous participants or those of us who are organizing this adventure. You can, of course, also email us.
On-site, there are guides who can answer your questions, and Naturkompaniet is there to assist you with equipment-related queries.
High Coast Hike Program >>
During the hike, small groups often form naturally, but there's no formal organization. You have complete freedom to decide when you want to hike alone or join others. It has been shown that without obligations, a relaxed and pleasant sense of community develops.
–
One of the absolute highlights of the hike is celebrating our accomplishment.
It's Saturday, and it feels like we've known the people we've met on and off over the past few days, if not for a lifetime, then certainly for a long time. The celebration starts right at the finish line at Toppstugan on Skuleberget. After that, we hike down to FriluftsByn, take a shower, and gather for the After-Hike with burgers, beer, troubadours, and lots of fun. Camping with tents in FriluftsByn is included from Saturday to Sunday. Most choose to stay until Sunday to relax before heading home with new friends and lots of memories.
– After-Hike >>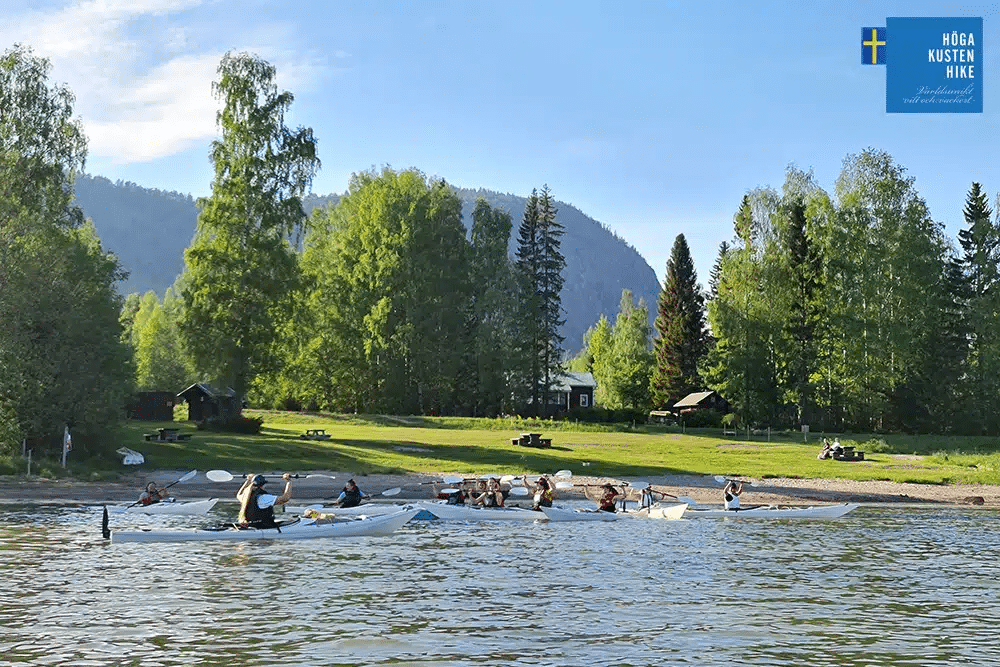 10.
EXPERIENCE MORE OF THE HIGH COAST
–
Kayaking, cozy cafes, and boat trips.
Lördag och det känns som vi känt de som vi mött av och till under de senaste dagarna, om inte hela livet så i alla fall en lång tid. Firandet börjar redan vid målgången vid Toppstugan på Skuleberget. Därefter vandrar vi ner till FriluftsByn, tar en dusch och möts upp på After-Hike med burgare, öl, trubadurer och massa skoj. Camping med tält i FriluftsByn ingår lördag till söndag. De flesta väljer att stanna kvar till Söndag för att kunna koppla av innan man beger sig hemåt med nya vänner och massa minnen.
– Guide Höga Kusten >>
OUTDOOR TIPS
Here you can listen to previous hikers to get a sense of what lies ahead. If you want more tips for the hike, we've gathered them here.
A GOOD NIGHT'S SLEEP
How to have a cozy night outdoors in nature >>
WHAT TYPE OF ADVENTURE ARE YOU LOOKING FOR?
Many come by themselves and return for the great outdoor community. Others bring their friends, family or partner and combine time with eachother and getting to know people from all over the world. 
Start the video to get a feeling of what you are about to experience.
JOIN ONE OF THE MOST POPULAR HIKING FESTIVALS IN THE WORLD
The High Coast Hike attracts hikers from all over the world.
Here are four reasons why you will love the adventure:
Over the stretch of three days you will experience the highlights of the High Coast of Sweden.
Get together on Wednesday and the grand After-Hike celebration with live music on Saturday.
Get new skills and make outdoor life more enjoyable. We invite some of Swedens leading outdoor companies.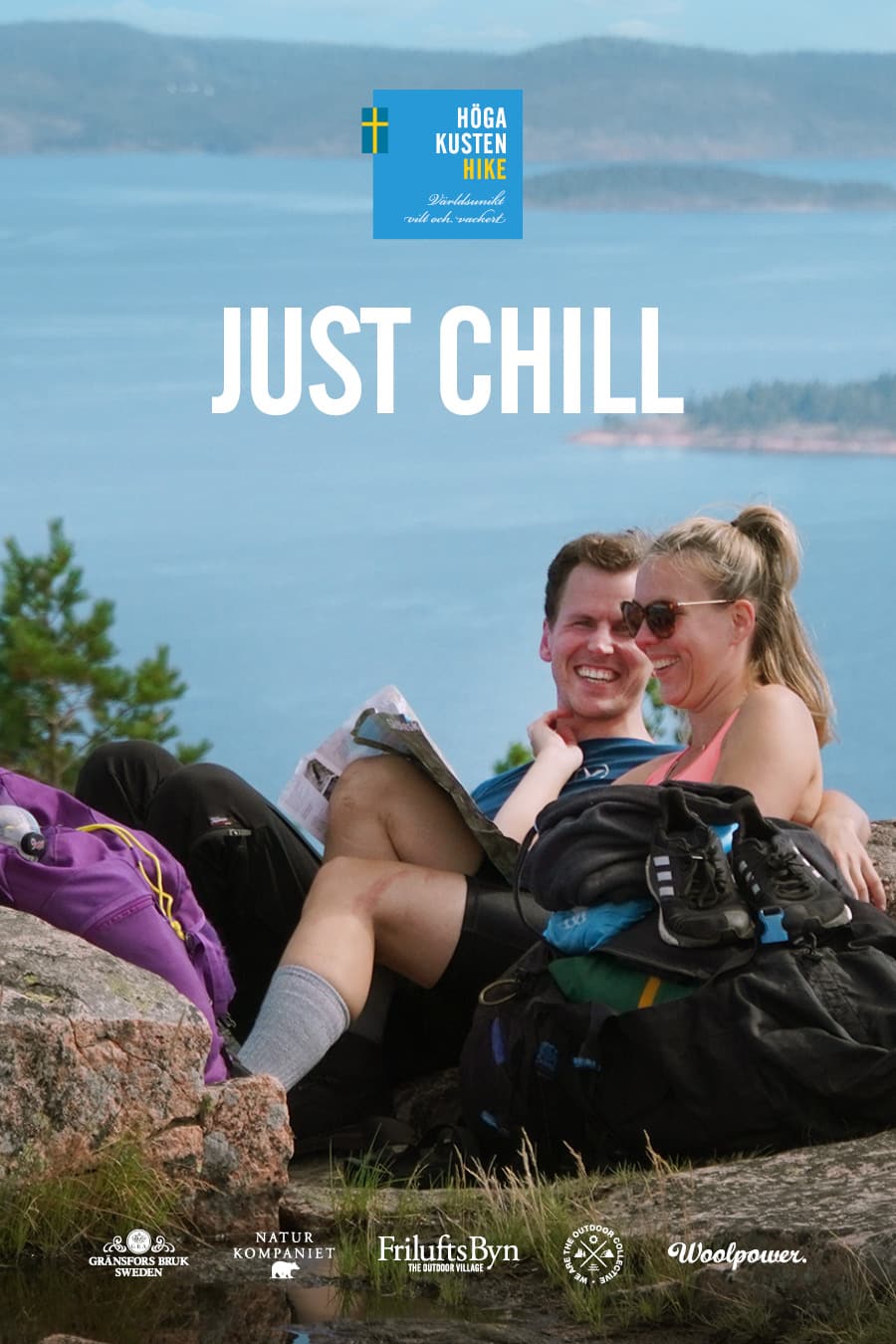 CHILLING >>
There is plenty of time for breaks and chilling with likeminded people from all over the world.
HIGH COAST HIKE, SWEDEN
IT IS TIME FOR
AN ADVENTURE!
JOIN US!
START >>
Get a great overview of the High Coast Hike.