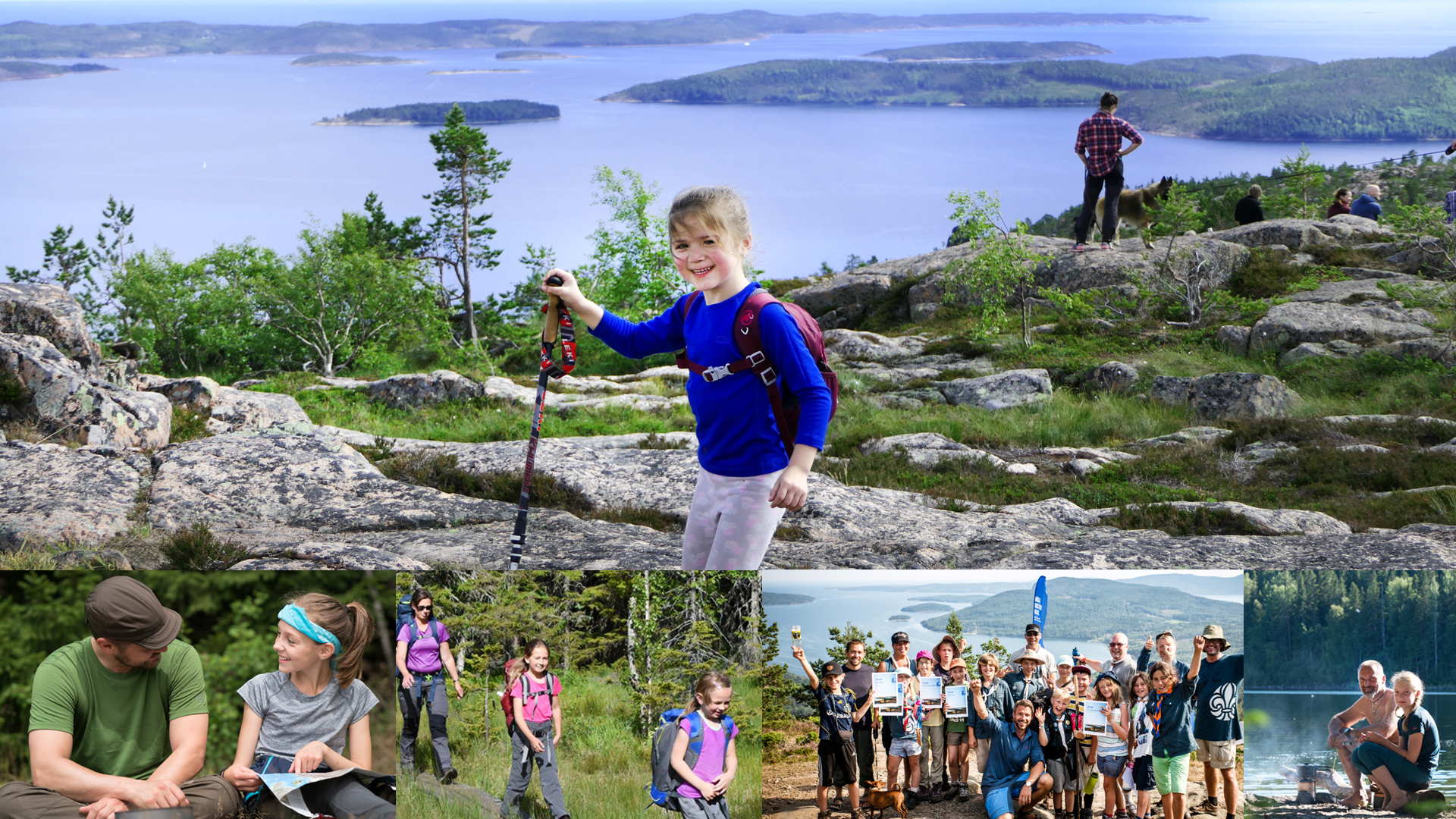 We hiked with our two girls 4 and 7 years old. It was amazing. I am still so very proud, just as they are themself.
Weisser Øhlenschlæger, Danmark
I hiked with my 9 year old daughter. It was definitily a challenge but a really incredible experience. Bring extra candy.
Marcus Eklånge Gindemo, Sweden.

You need to do this. We did the High Coast Hike with our two kids. 6 and 7 years old and they are still talking about this experience. It turned out to be an incredible adventure.
Sara Brown, England.
HIGH COAST HIKE
WITH KIDS
The High Coast Hike is one of the most popular hiking adventures in Europe and a really great one for the active outdoor family. Every year parents join, by themself or with their partner, to experience the World heritage High Coast together with their children. Come and create memories of a lifetime.
On this page we'va gathered information specifically for you who plan to hike the High Coast Hike with kids.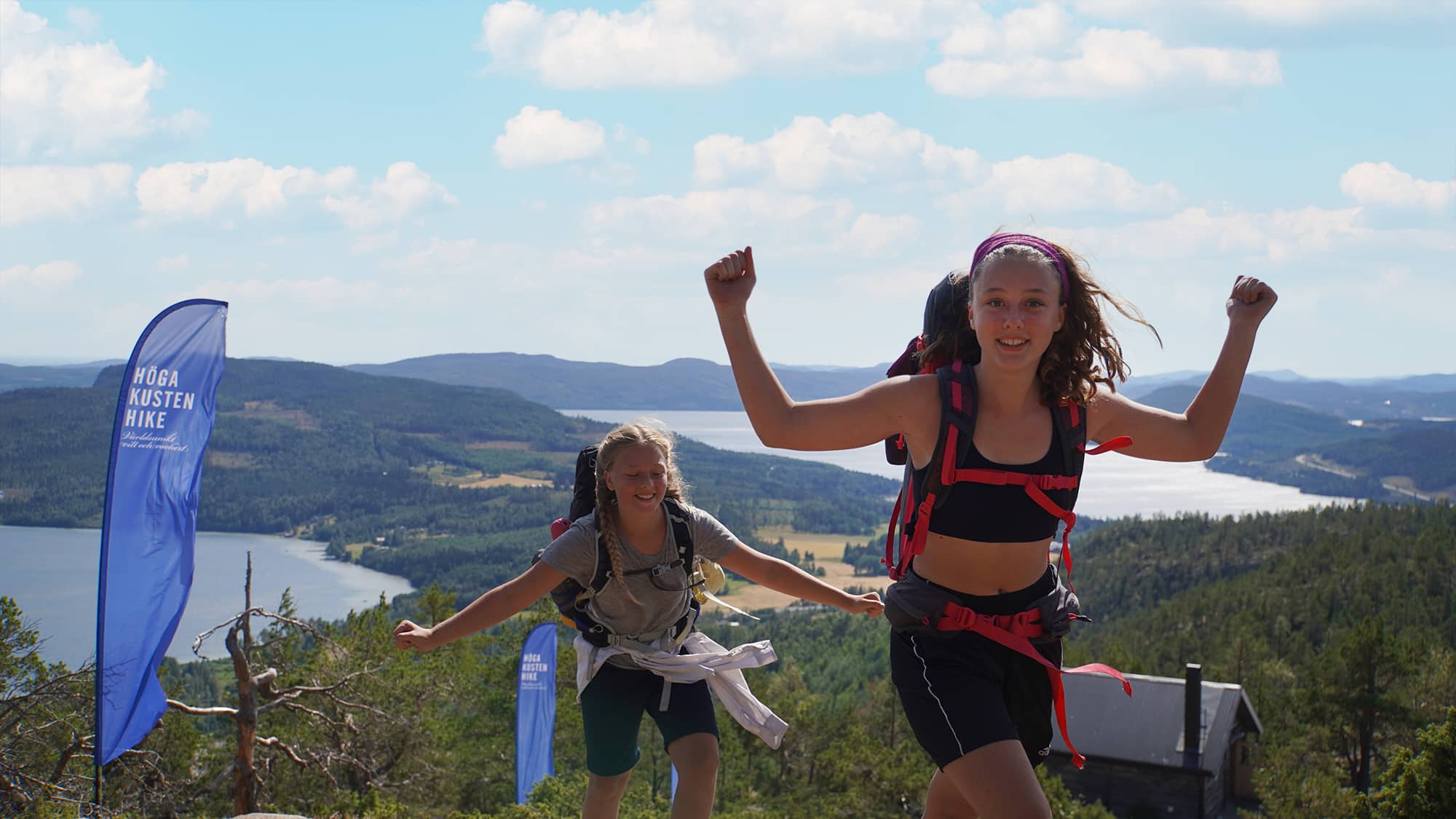 The High Coast Hike is organized in August and is a three day adventure that takes you through the absolut high lights of the High Coast of Sweden. You bring your own equipment (See Packing list >>) while we sort out all the logistics, host outdoor schools, after-hike and so much more.
Join this adventure of a life time, one you'll always remember and cherish. Here you can read more about it more about the hike >>
There will be lots of time to relax. Bring a boardgame, candy and a book where you document this experience.
At the first night camp you'll meet Woolpower and get a chance to make your own cellphone case or seating pad from scrap material.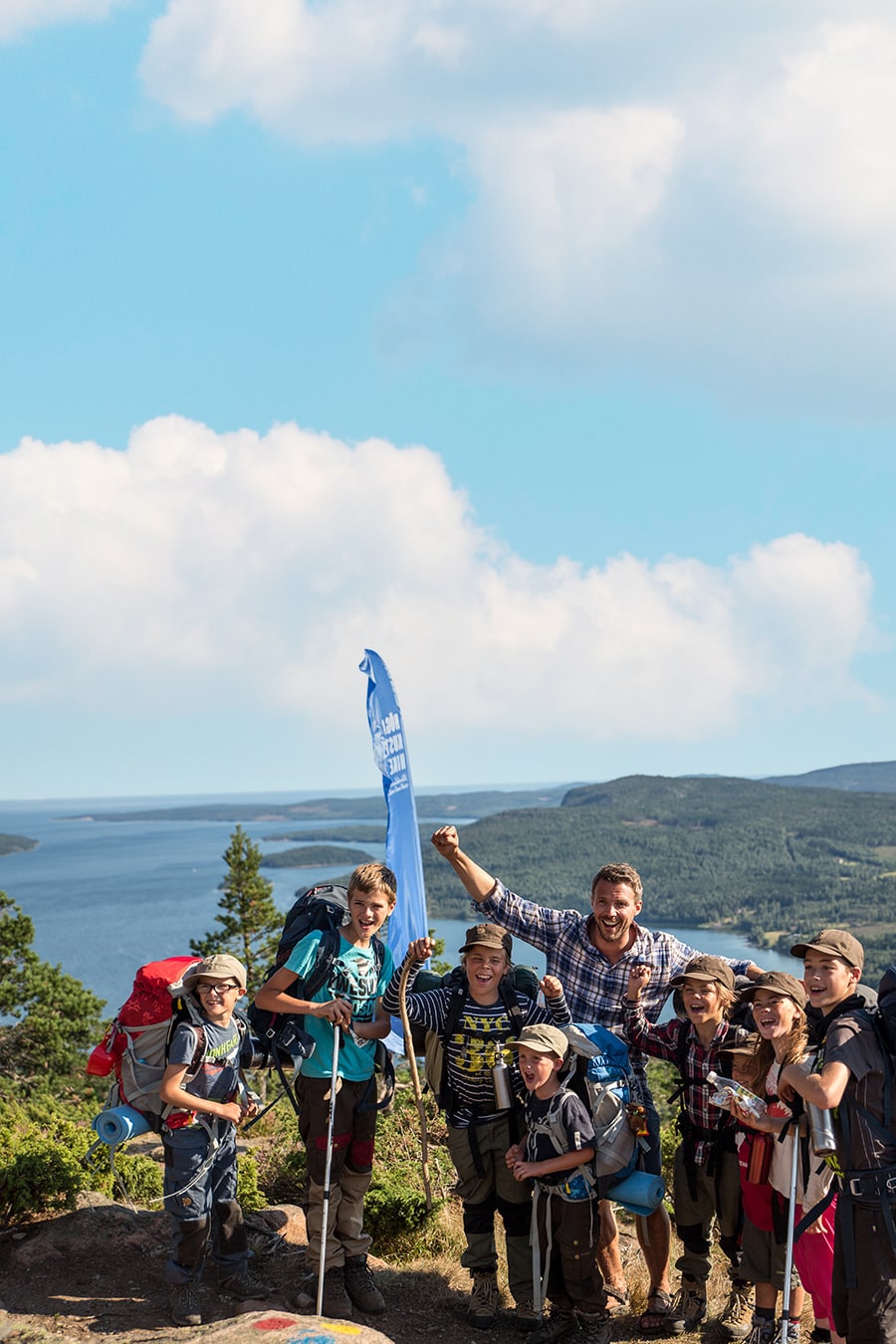 More and more are hiking with kids each year so count on that you will make new friends during the hike.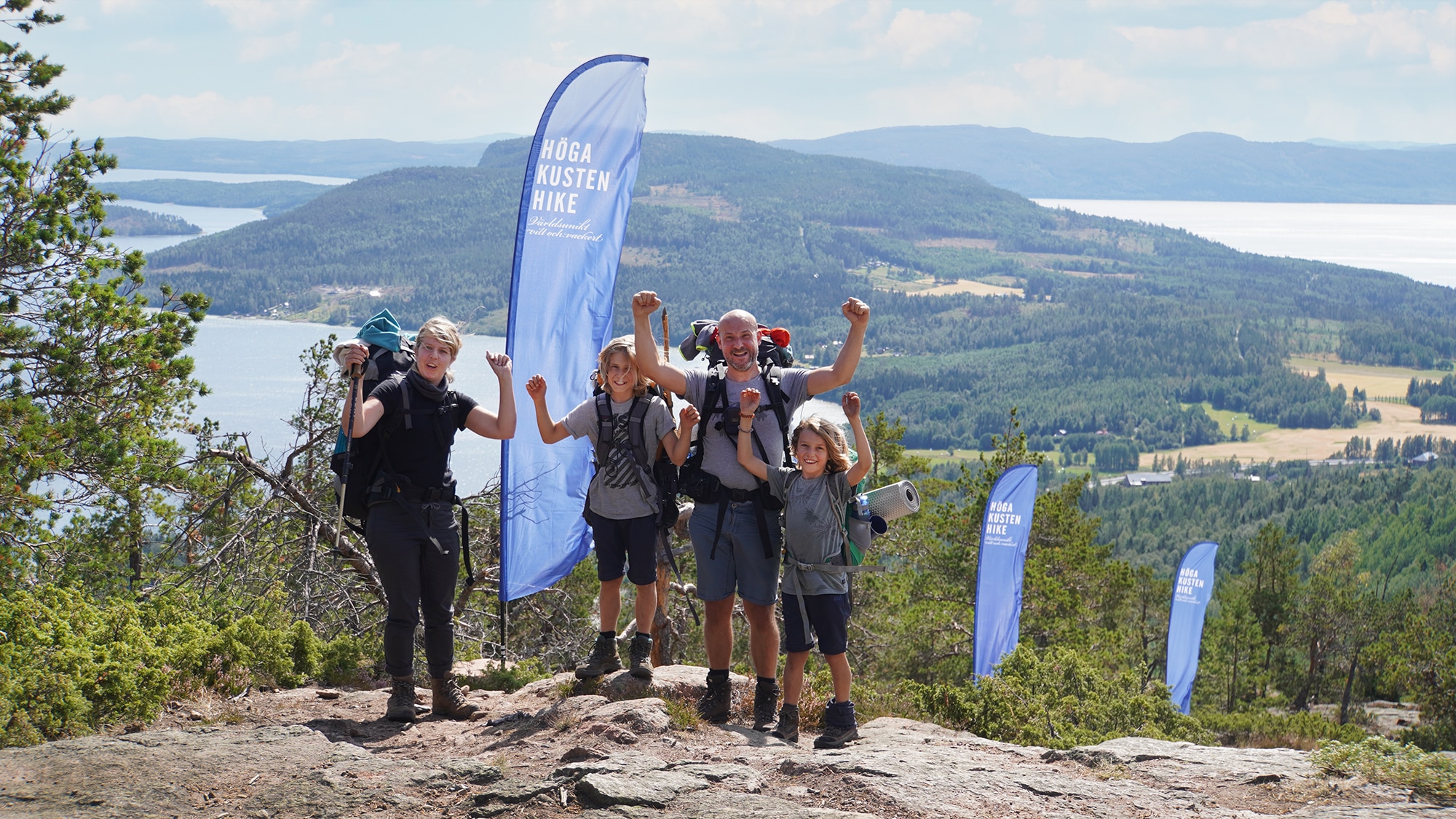 If you hike with as a family we recomennd the Pleasure-route. Evethough the trail still is a challenge and brings you to the dramatic view points, there are more time for breaks.
HIGH COAST HIKE WITH KIDS
This truly is an adventure the whole family will enjoy. 2022 is the 9:th edition of the High Coast Hike that quickly become one of the m ost popular hiking adventure in all of Europe. Over the coarse of three days you'll experience the absolut highlights of the world heritage – coastal mountains, beautiful beaches and magical forests mixed with fun crafts, outdoor schools and relaxation.
We meet up at the Pre-Evening to have plenty of time to go over the event and answer any questions. On Thursday we take buses to the starting point and from there you you hike at your own pace  while carrying your own equipment , food and tent to the shared night camp. Some chose the "Original" while those with younger kids might go for the shorter "Pleasure" route which offers more time for breaks. In the evenings we gather top listen to some of Sweden's leading outdoor companies, go for a swim in the ocean or just relax after a beautiful day by the camp fire.
Here we've gathered a few tips for hiking with kids. If you want a quick overview take a look here: Program High Coast Hike >>
HIGH COAST HIKE
When: 3:rd - 5:th August, 2023
Where: FriluftsByn, Mt Skuleberget.
Adults:  229 euro* (2290 sek)
Youth (13-16 y) 119 euro* (1190 sek)
Kids: Up to 12y - 79 euro* (790 sek)
WHATS INCLUDED:
Bus transports from FriluftsByn, seven meals of freeze dried food, map, outdoor seminar with Woolpower and Naturkompaniet, After-Hike,  Outdoor Collective t-shirt worth (40 euro) and free space for your tent in FriluftsByn Saturday to Sunday (30 euro).
The High Coast Hike is an amazing adventure for the young adventurer. Check out this video then scroll down for more tips.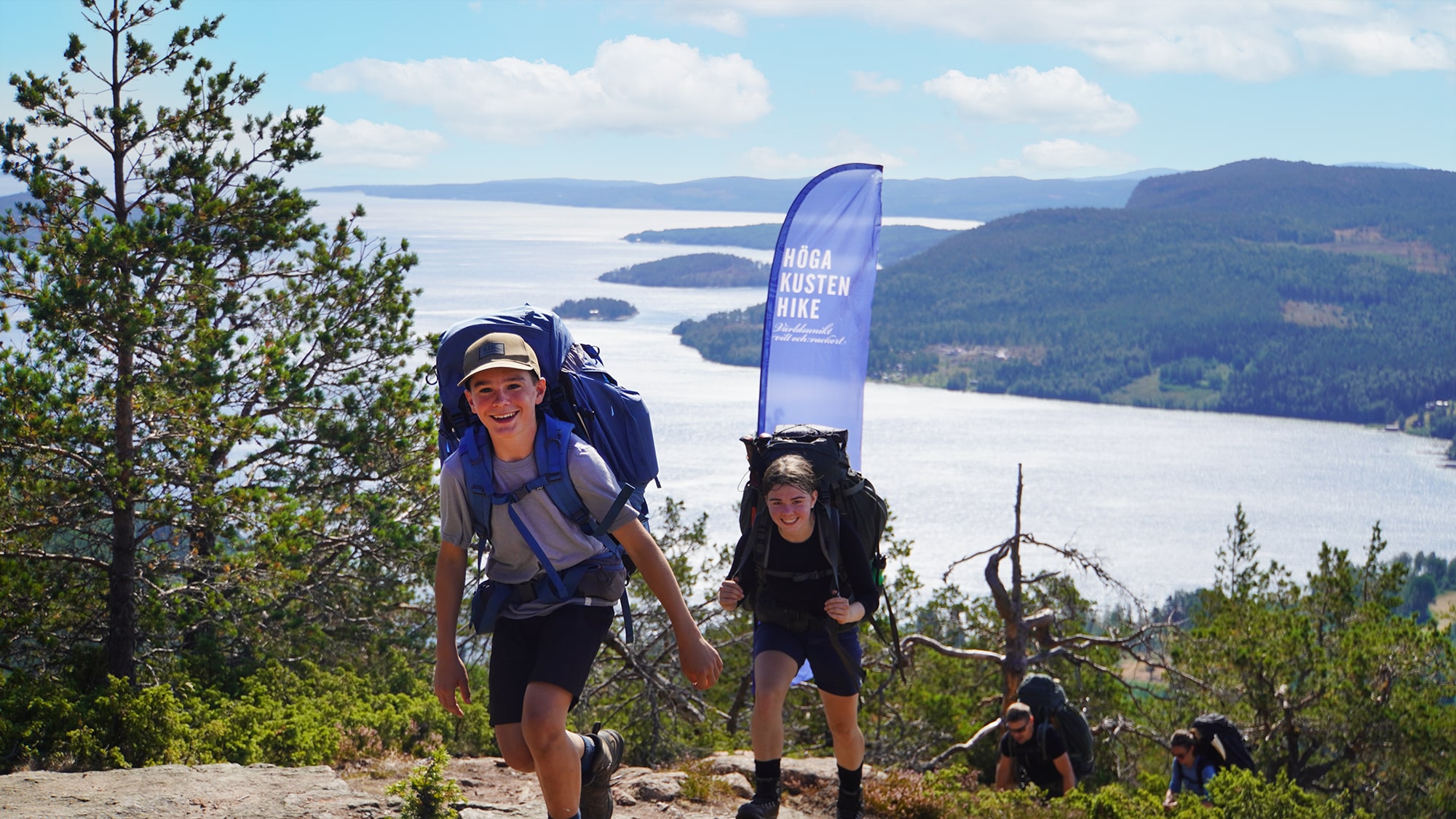 TIPS IF YOU HIKE THE HIGH COAST HIKE WITH KIDS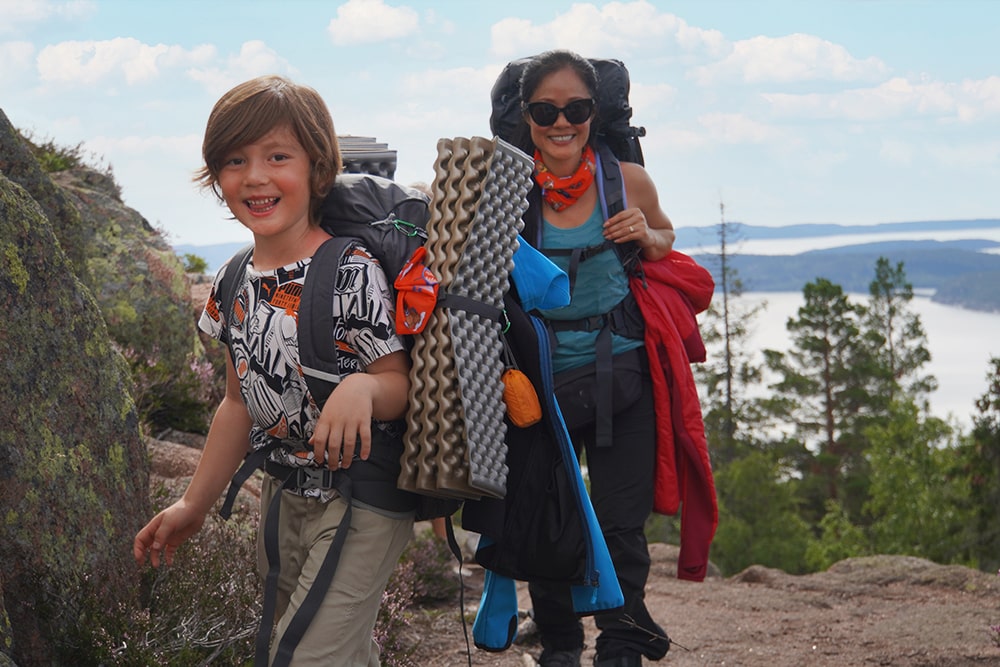 Many families have hiked the High Coast Hike. Some by themself with one or two kids, others with their partner as well. In our Facebook group we share tips and reminders leading up to the adventure. This is a great place for you to ask quesitons and also get tips from other hikers who hiked with kids.
Before the event we put up a thread in the group with the questions "Who is joining with kids?" which is a great way to get in contact with others who are doing the High Coast Hike as a family.
Great, take me to the participation group >>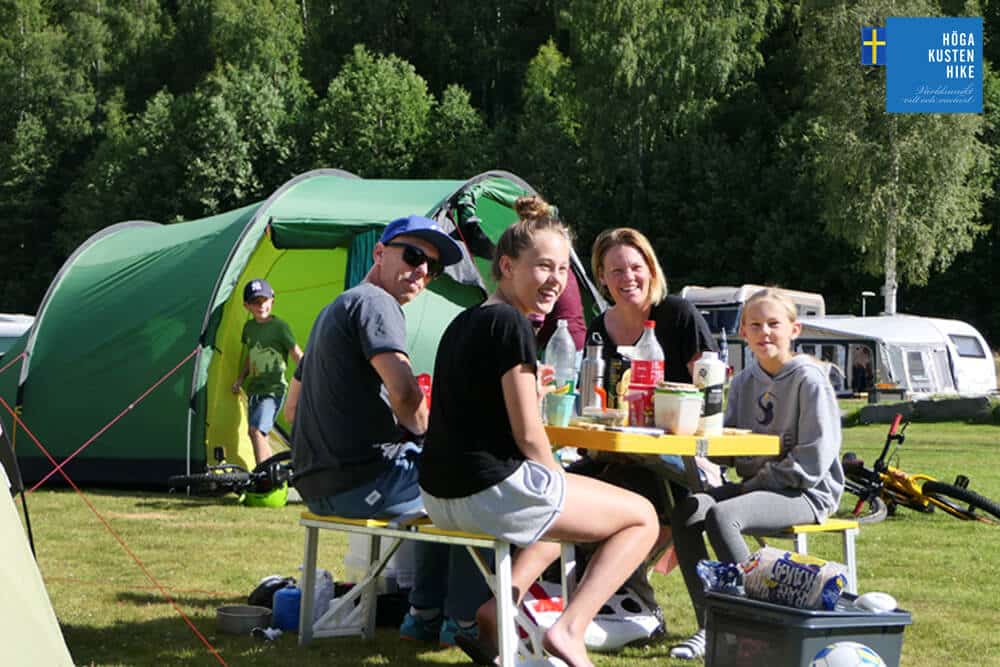 This might be out best tip. If you stay in Friluftsbyn before the adventure you'll get a chance to meet other families and your kids will most likely apprechiate getting to know the other children a little bit before settin gout on the trails.
A camp spot in FriluftsByn is included the night between Saturday and Sunday. We don't recommend that you get right in the car on Saturday after hiking for three days straight. Take a day and just relax and enjoy. 
Best tent site in the High Coast >>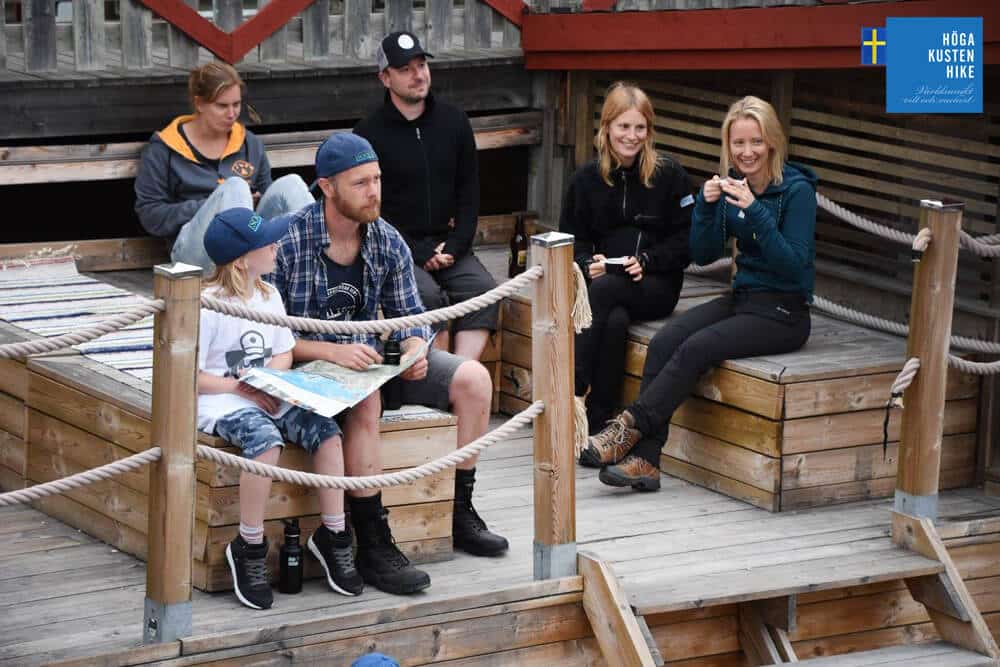 In the days leadin gup to the event you are mot likely busy packing, puttin gup the tent and lots more. Tha considered it might be a good idea to arrive the day before the event  and join the Pre-Evening in Friluftsbyn on Wedensday. We will go over the map and what to expect for the days to come and you get a chance to answer all quiestions you might have. Where to find water, our recommendations for the best rest sports and all of the things that make you fall a sleep with that happy and satisfied feeling.
Pre-Evening at High Coast Hike >>
Make sure to set yourself up for success by practising hiking with your packed back pack atleast a few miles before the adventure.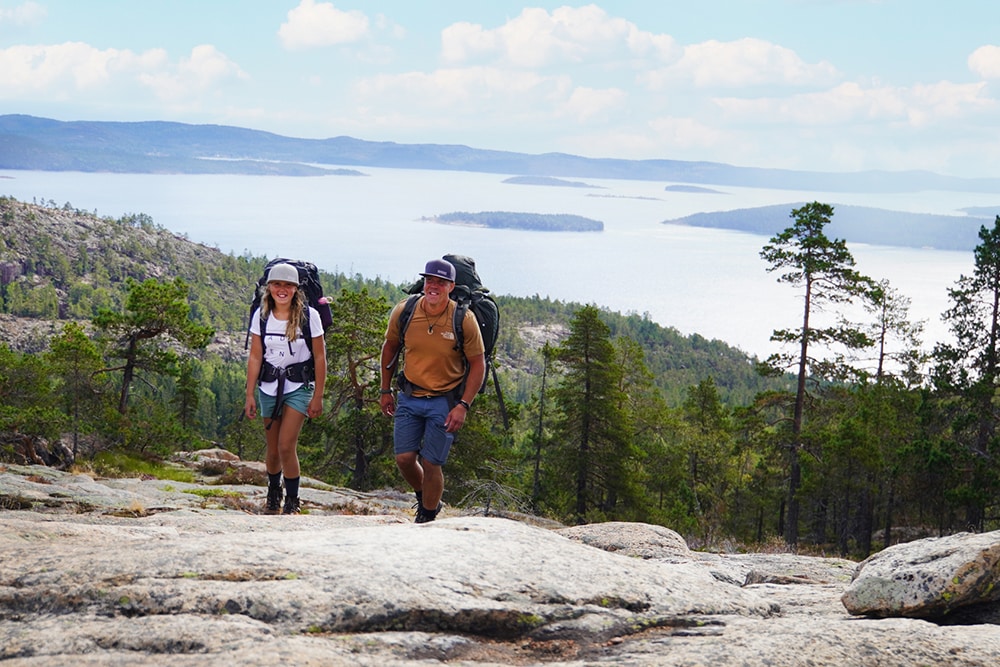 4. HIKE "PLEASURE"-ROUTE
During the first and second day you can chose between two different routes. If you are hiking with kids 10 years or younger we recommend the shorter "pleasure-route". Then the first day is about 8 kilometers, the second about 9 km and the thirds around 10 km. We set out together and there are guides along the trail, in the front and in the very back.
High Coast Hike is not a guided hike where you'll be led by someone every step of the way. You hike at your own pace carrying your own equipement and tent. Since you are sharing buses to the starting point many end up hikin gtogether parts of the way but split up to walk by them self for other parts.
Vandringen >>
Seminarier & Workshops >>
Tips till förstagångsvandrare >>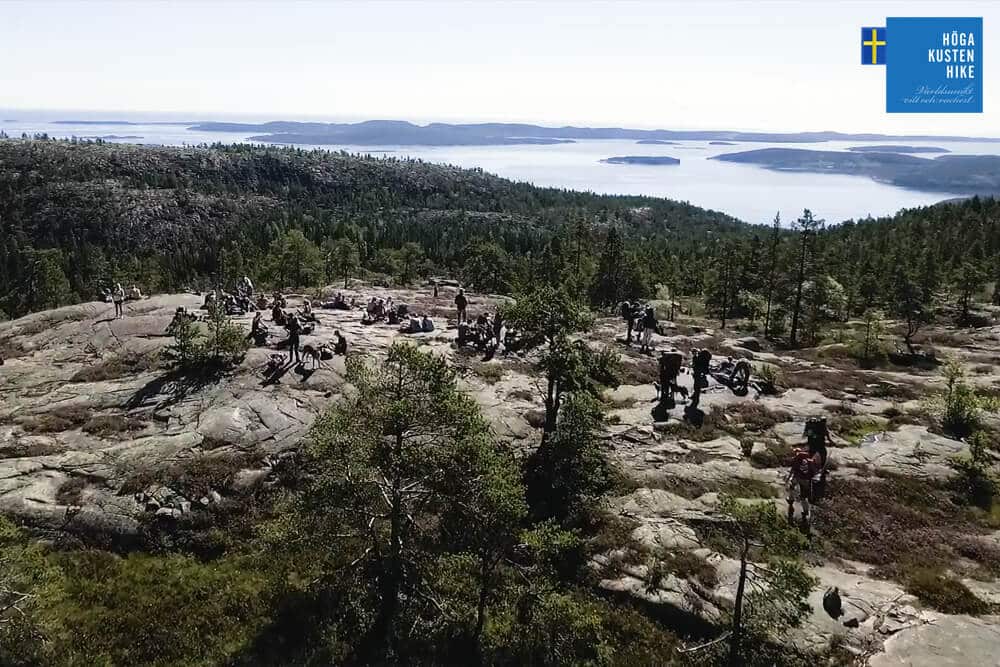 5. TAKE LOTS OF BREAKS
The High Coast Hike has an exciting and varied nature. You might want to run up every mountain top bit your responsibility is to take lots of breaks and make sure you have plenty of snacks to keep the energy levels up throughout the whole day.
That might mean fuling up on some extra nuts or candy right before a climb or maybe at the half way point up to the breathtaking views on top. That increases the likelihood of keeping the energy levels upp all day. Make sure you go for a swim at Tärnättvattnet, Tärnättholmarna and Kälsviken. Enjoy this experience. You will most likely remember and cherish this for the rest of your life.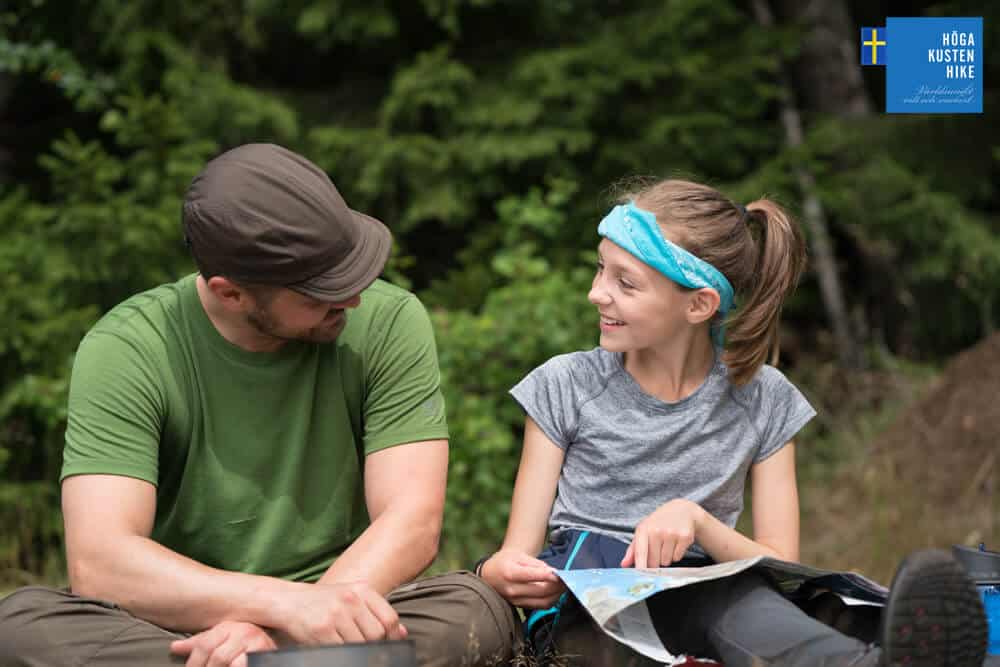 6. LET THE KIDS EXPERIENCE NATURE
At check-in you'll get a map of the route. We recommend that you come by the Pre-Evening and make a plan for the hike. Why note bring a book on Swedish animals or Swedish Nature. Look for birds or tracks from animals, gather stones or look for certain trees. Maybe bring a binoculars.
Involve the kids in looking at the map so they know where you are and were you're going. The younger kids sometimes find it fun for their favorite stuffed animal to join the adventure, sit by the camp fire and sleep in the tent.
The most common tip from previous parents who hiked the trail is to get to know your equipement, your tent, your outdoor stove, and to take lots of breaks. Do that and this will be amazing.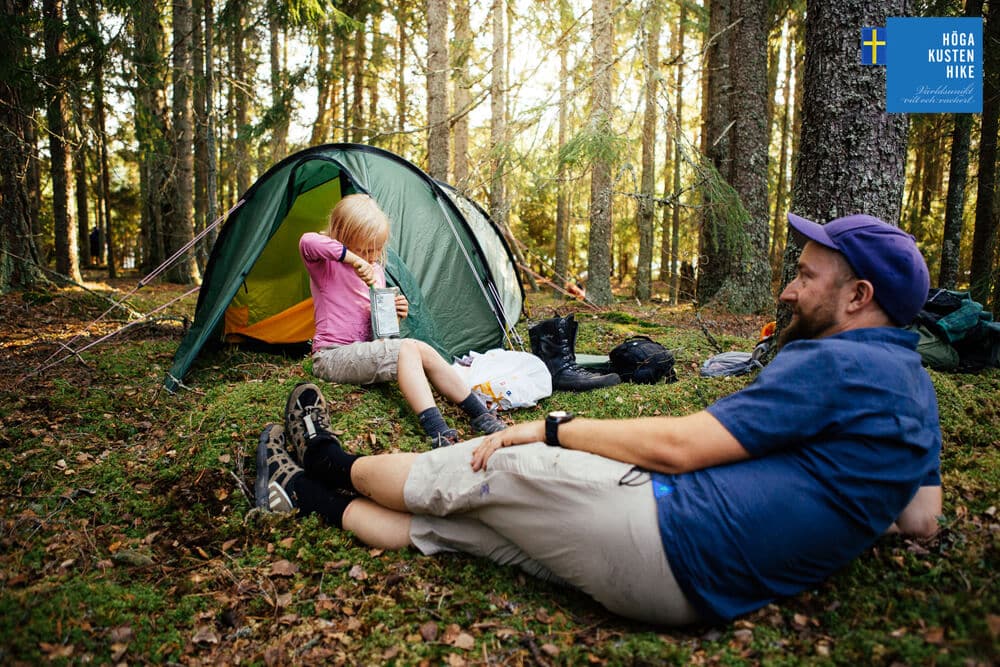 7. TAKE CARE OF YOURSELF
It is really important that you as a parent take care of your self to make sure you have the energy when other parties might lack in some. A first step is to really know how your own equipment works. Especially the tent and the outdoor stove. Pitch your tent a few times in the backyard and cook a meal or two on the outdoor stove.
If someone temporarily looses the motivation – take a break. Let the kids play for a little bit – there will be other kids there too. Have a fika or go for a swim while you relax and realize what a truly unique experience this is to have together as a family.
8. SHARED NIGHT CAMPS
Every night everyone meet up at the shared night camps. You chose if you want to pitch your tent close to others or more secluded. At the first night camp many chose to go for a late night swim before its time for a seminar with Woolpower where the kids get to create something from scrap pieces of wool. This is typically really popular.
At the second night camp many hike up to Mt Gyltberget to take in the views and to attend another seminar with Naturkompaniet, but if you hike with kids a better idea might be to go for a swim in our little waterfall called Dalsjöfallet not far from the camp.
Tips for first time hikers >>
It really makes our day when families chose to stay for the After-Hike. There's great burgers and live music which typically is very appreciated by the younger kids who quite often break out in spontaneous dancing.
In the adventure a place to pitch your tent between Saturday and Sunday is included in the ticket. We really encourage you to take advantage of this and stay and celebrate your accomplishment together with other kids and hikers. 
After-Hike >>
HOW TOUGH IS THE HIGH COAST HIKE?
Well this is very individual and depending if you hike the Classic or the Pleasure routes. First of all, lets just say that looking at kilometers could trick you since we will hike along coastal mountains. 
But we have created two routes through the absolute most beautiful spots in the High Coast of Sweden and if you come prepared and in decent shape you will be able to take the Classic Route.
However, if you are not that used to hiking with a backpack, know that you can get sore knees or a sore back or hike with children we recommend you to take the Pleasure route the first day to get a feeling of te terrain. In order to enjoy the High Coast Hike you must have hiked with your packed backpack a few times. Most people who have to quit the hike have not prepared for the hike. If you come prepared, this will be an amazing experience.
Wed: Pre-Evening >>
Thur 16 km or 8 km about 6-8h*
Fri: 13 km or 9 km about 6h*
Sat: 10 km about 4h* + After-Hike >>
Sun: Sleep-in travel home.
* Each day, add 2-3 hours for breaks, food, photographing, relaxing, swiming etc.
PREPARATIONS
1. Register for the event in time as it tends to get fully booked: Registration >>

2. Plan how to travel to FriluftsByn in the High Coast. You can most likely caarpool with other hikers if you want: Travel to the High Coast >>

3. Check what equipment you have and what you mightneed to buy or borrow from a friend: Packlista >>

4. Reseeve accomodation, most chose to camp out in FriluftsByn. It is the mostd fun and efficient option: Boende >>

5. Prepare yourself: Friluftstips >>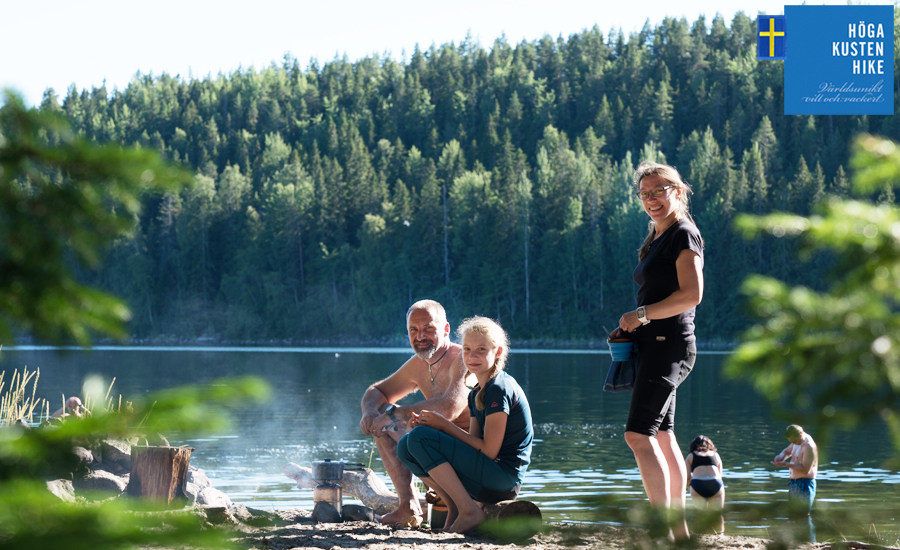 Age is absolutely no problem!
It has more to with the person and how certain challenges are handled by the person and by the family. So when your kids are positive and up for the challenge, i.e. motivated you should definitely go for it.
Roland Bäck, Finland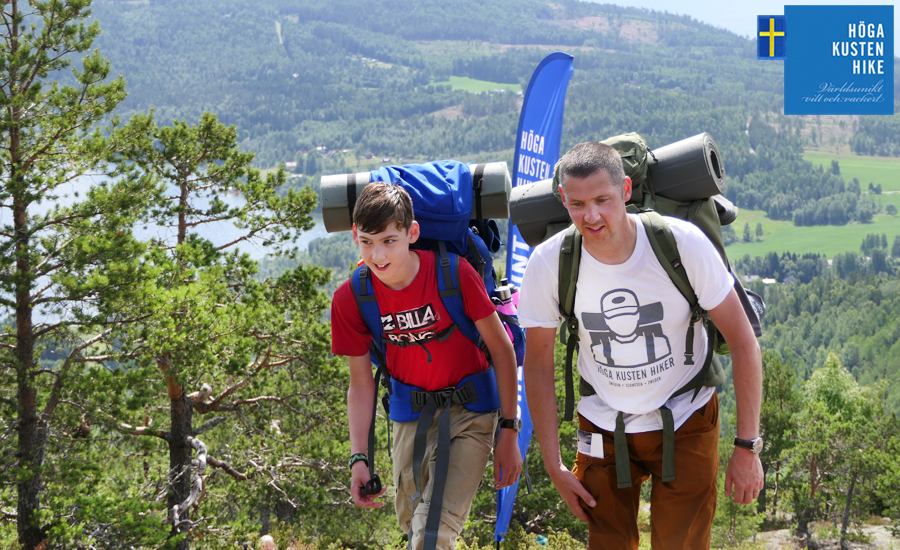 My 10 year old son walked it last year, he found it challenging but really enjoyed it. He enjoyed that much we are doing it again this year. Also, there were families with children a lot younger then him.
Al Waters, Ireland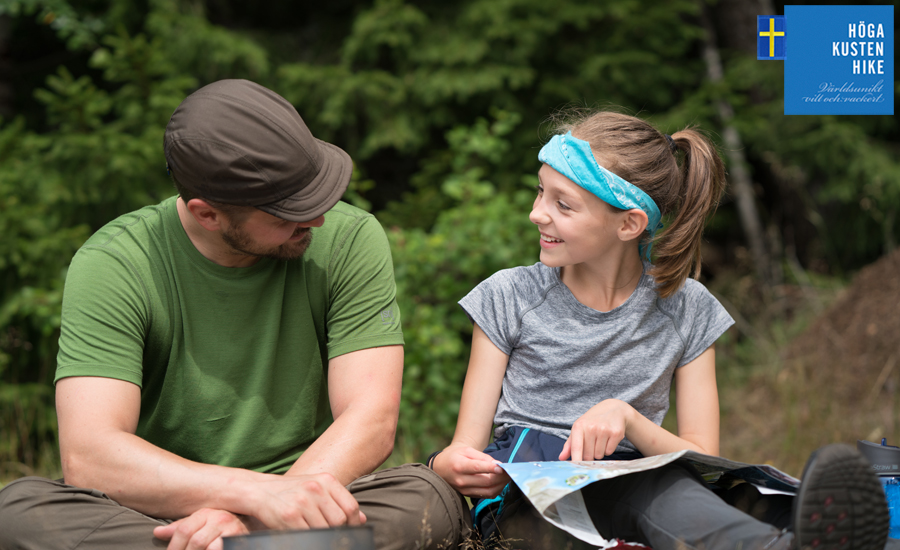 Did it last year with my 9 year old daughter. It's a challenge but it's not impossible. Just bring a lot of candy or chocolate.
Marcus Eklånge Gindemo, Sweden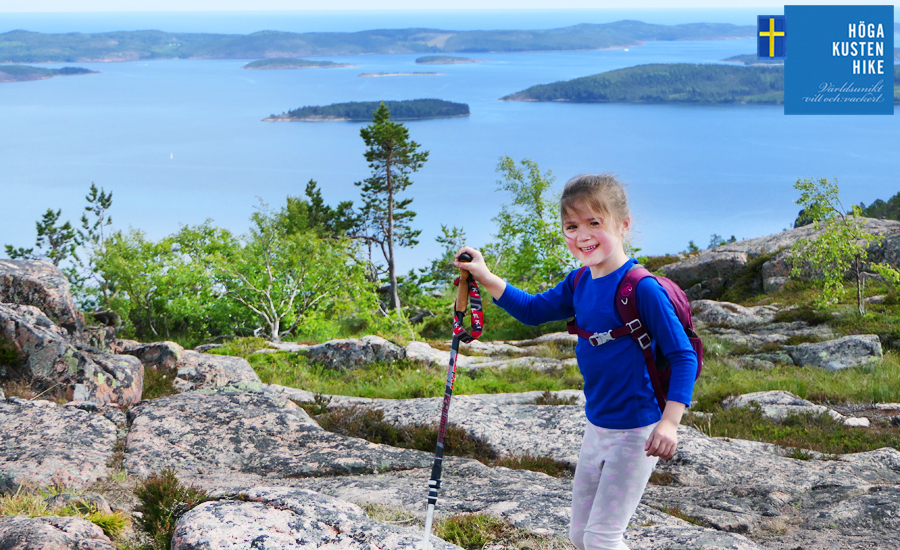 We did the hike in 2016 with our girls who were 4 and 7 at that time. It was amazing! Lots of candy and stories did it for us. And patience. I am still so proud of my kids for this and believe me -they can feel that. Go for it!
Weisser Øhlenschlæger, Denmark
We did the hike in 2016 with our girls who were 4 and 7 at that time. It was amazing! Lots of candy and stories did it for us. And patience. I am still so proud of my kids for this and believe me -they can feel that. Go for it!
Weisser Øhlenschlæger, Denmark
Go for it! We did the High Coast Hike with our 6 and 7 year old kids and they still talk about it. A great adventure. They were so proud of themselves and easily kept up with adults.
Sara Brown, England
The moments of today are the memories of tomorrow.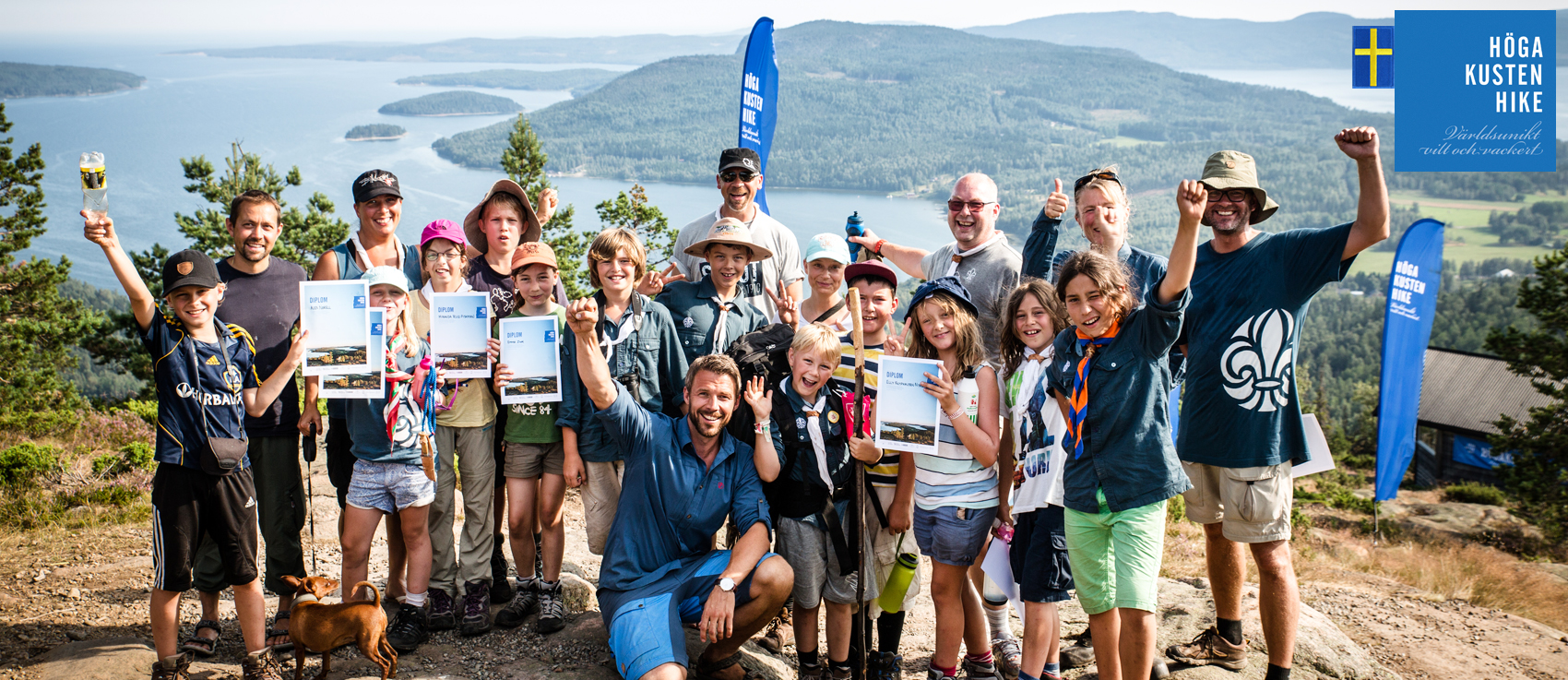 WHAT TYPE OF ADVENTURE ARE YOU LOOKING FOR?
Many come by themselves and return for the great outdoor community. Others bring their friends, family or partner and combine time with eachother and getting to know people from all over the world. 
Start the video to get a feeling of what you are about to experience.
JOIN ONE OF THE MOST POPULAR HIKING FESTIVALS IN THE WORLD
The High Coast Hike attracts hikers from all over the world. Here are four reasons why you will love the adventure:
Over the stretch of three days you will experience the highlights of the High Coast of Sweden.
Get together on Wednesday and the grand After-Hike celebration with live music on Saturday.
Get new skills and make outdoor life more enjoyable. We invite some of Swedens leading outdoor companies.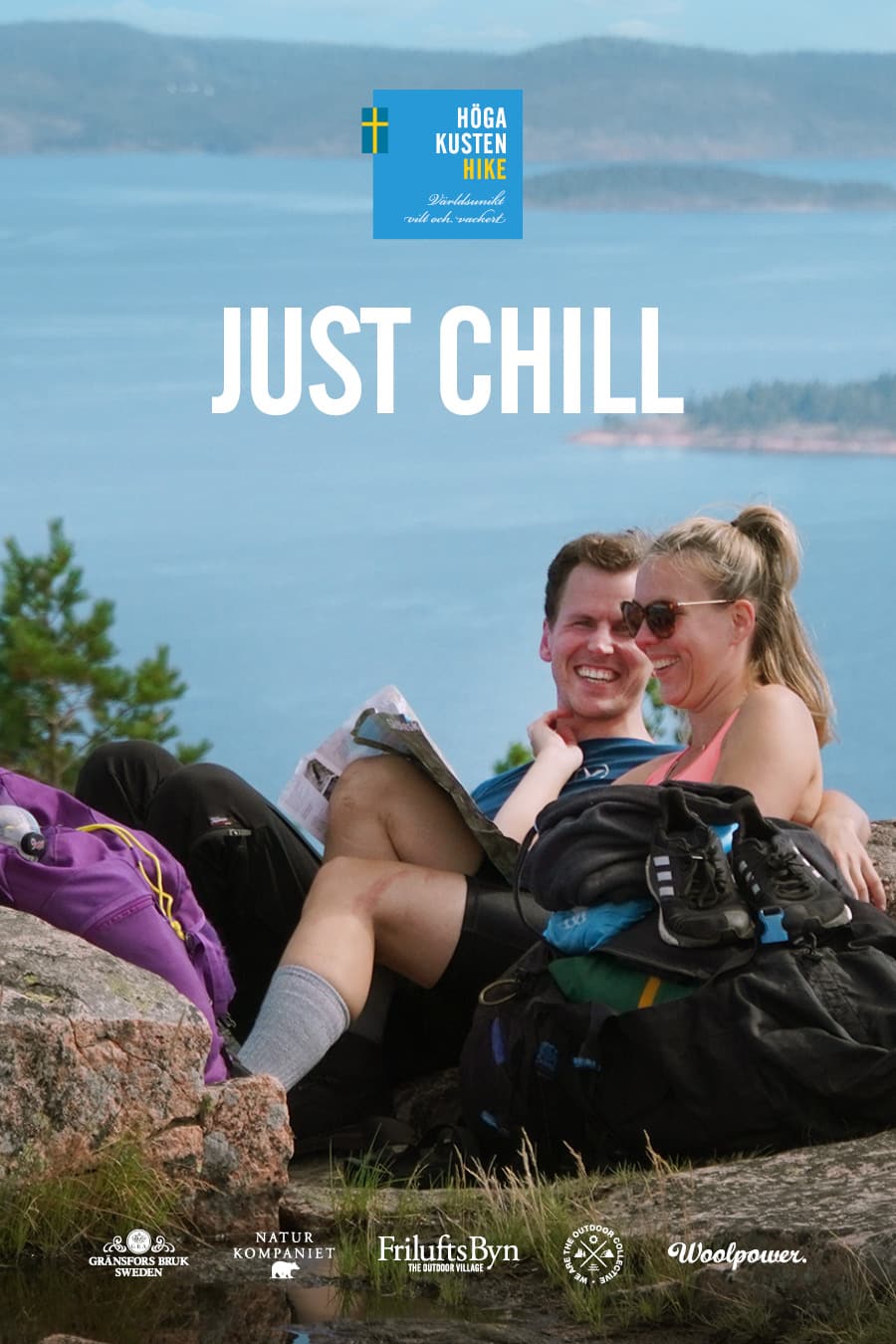 CHILLING >>
There is plenty of time for breaks and chilling with likeminded people from all over the world.
HIGH COAST HIKE, SWEDEN
IT IS TIME FOR
AN ADVENTURE!
JOIN US!
START >>
Get a great overview of the High Coast Hike.