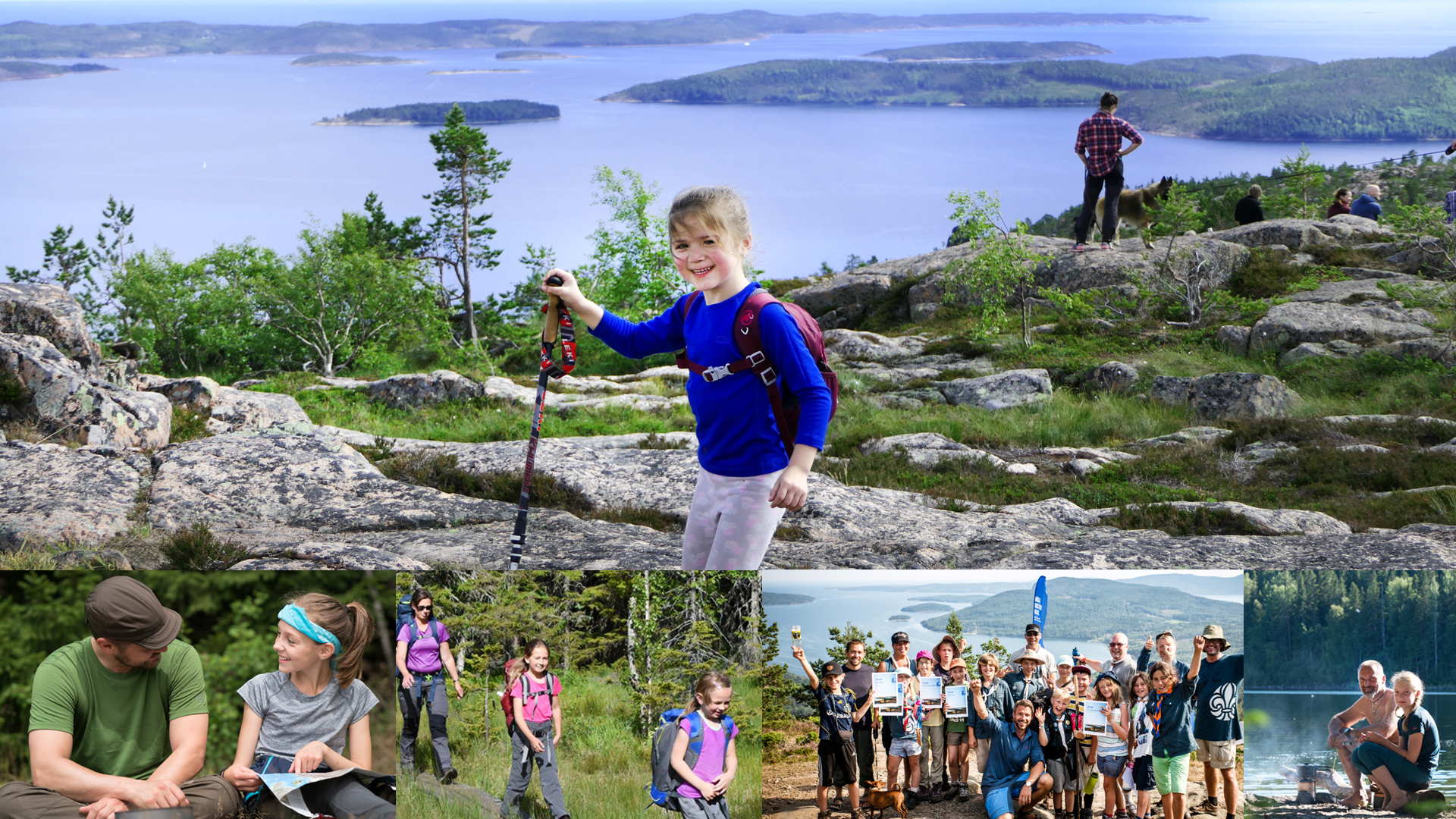 We hiked with our two girls 4 and 7 years old. It was amazing. I am still so very proud, just as they are themself.
Weisser Øhlenschlæger, Danmark
I hiked with my 9 year old daughter. It was definitily a challenge but a really incredible experience. Bring extra candy.

Marcus Eklånge Gindemo, Sweden.
You need to do this. We did the High Coast Hike with our two kids. 6 and 7 years old and they are still talking about this experience. It turned out to be an incredible adventure.
Sara Brown, England
Take your kids on a great adventure!
The High Coast Hike is one of the most popular hiking adventures in Europe and a really great one for the active outdoor family. Every year parents join, by themself or with their partner, to experience the World heritage High Coast together with their children. Come and create memories of a lifetime.
On this page we'va gathered information specifically for you who plan to hike the High Coast Hike with kids.
Together, you will get to experience some of the highlights of the High Coast. Coastal mountains, beaches, and deep forests.
There will be lots of time to relax. Bring a boardgame, candy and a book where you document this experience.
During the hike you can make your own wool products with Woolpower and receive outdoor tips from Naturkompaniet.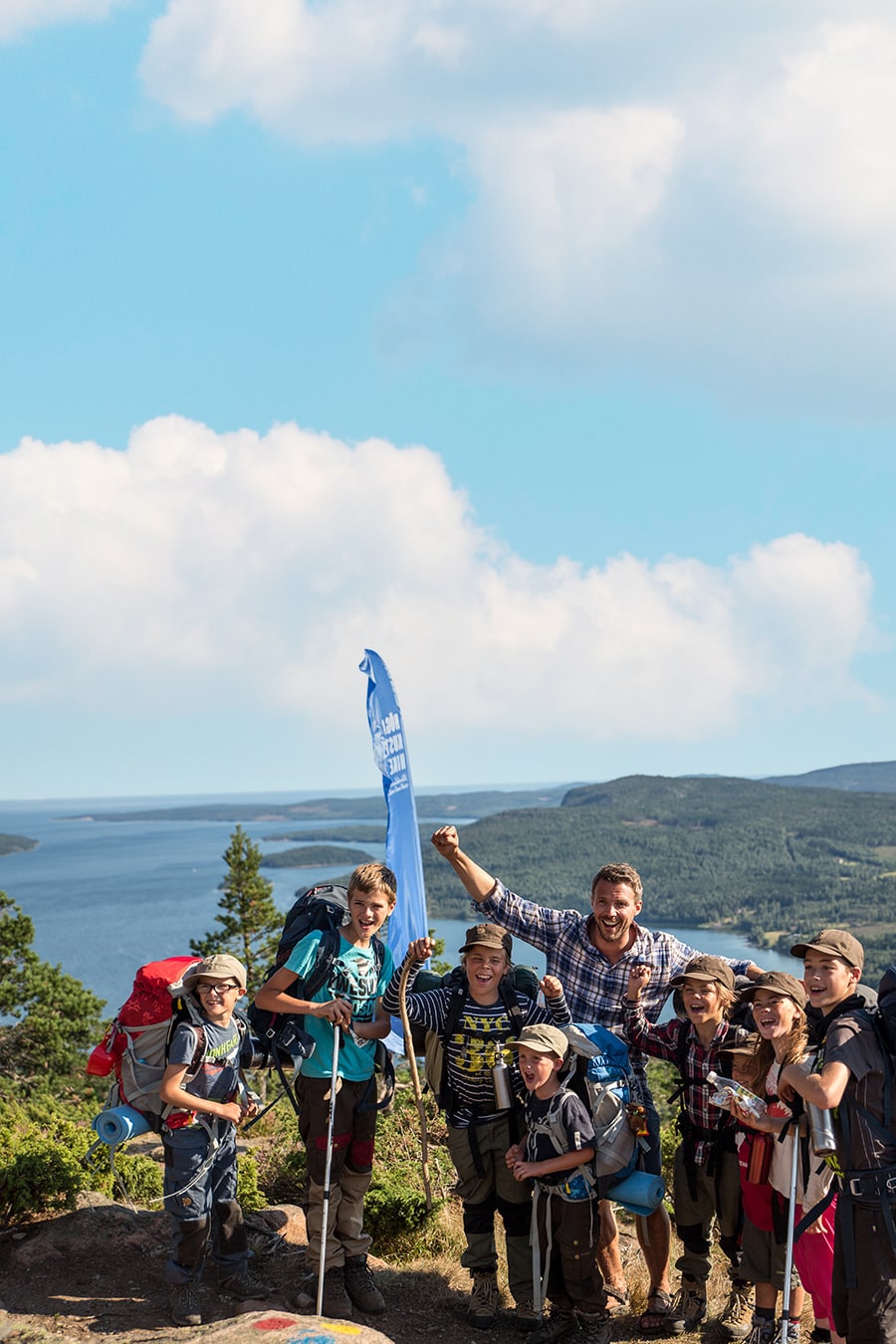 More and more are hiking with kids each year so count on that you will make new friends during the hike.
HIGH COAST HIKE
A hike that is perfect for those who want to take the kids on a real adventure.
The High Coast Hike is an awesome hiking journey where you will explore the highlights of the High Coast. The "Pleasure" distance is perfect for experiencing together with your children! We arrange buses, guides, food, courses, and lots of fun activities so you can focus on the experience. During the hike, you and your children will get to experience majestic mountains, deep forests with beautiful lakes, and a fantastic coastline with sandy beaches.
But this is not just a hiking tour; there are also courses and seminars where you have the opportunity to learn how to make your own wool products with Woolpower and get outdoor tips from Naturkompaniet.
In the evenings, we gather in communal campsites and enjoy the cozy atmosphere by the campfires. Don't miss this unique opportunity to get closer to nature and spend time with your family.
Join us on an adventure you will always remember!
HIGH COAST HIKE
When: 3:rd - 5:th August, 2023
Where: FriluftsByn, Mt Skuleberget.
Adults:  229 euro* (2290 sek)
Youth (13-16 y) 119 euro* (1190 sek)
Kids: Up to 12y - 79 euro* (790 sek)
WHATS INCLUDED:
Bus transports from FriluftsByn, seven meals of freeze dried food, map, outdoor seminar with Woolpower and Naturkompaniet, After-Hike,  Outdoor Collective t-shirt (worth 40 euro) and free space for your tent in FriluftsByn Saturday to Sunday (30 euro).
Experience the magnificent nature of the High Coast World Heritage Site together with like-minded people from all around the world.

We take care of all the practicalities: food, transportation, maps, courses, and after-hike activities – while you bring your own, borrow, or rent equipment.

After you've checked in and picked up your food and map, we'll take buses to the starting point and set out at your own pace. There are guides at the rear, in the middle, and at various stations along the hike to assist if anything happens.

We meet at our campsites where you can choose to relax, hang out by the campfires, or learn something new at courses and workshops.

The adventure ends with the After-Hike in FriluftsByn, a perfect end where you can sum up the days and the kids have a chance to hang out with their new friends.
Two distances*:
Classic: 16 + 14 + 10 = 40 km
Pleasure: 8 + 9 + 10 = 27 km
*As we hike along the coastal mountains, the number of kilometers is not quite as relevant a measure.
Hiking per day:
Expect approximately 7-8 hours of hiking, including photo and meal breaks.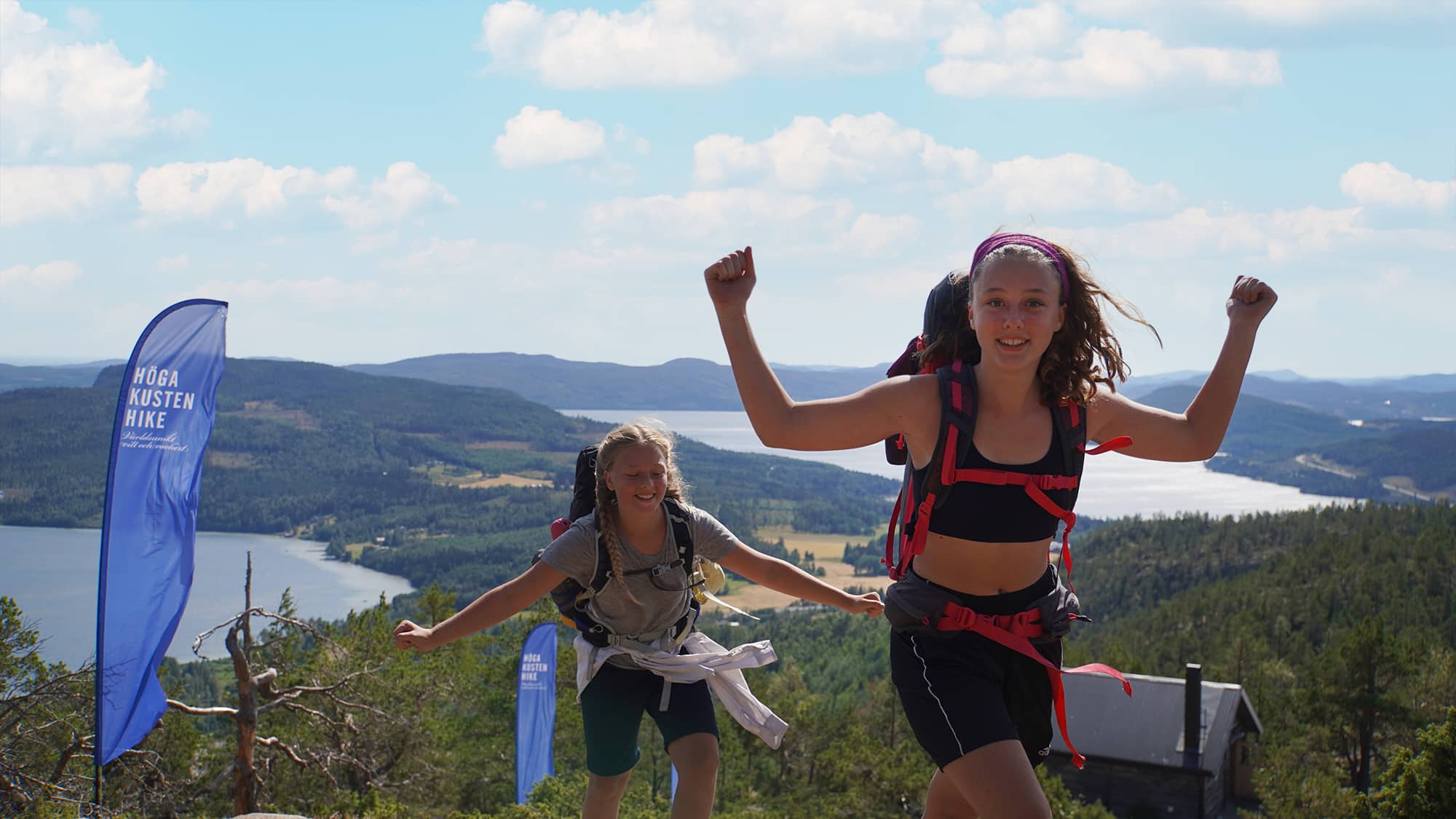 The High Coast Hike and the Pleasure distance have been completed by children as young as 4 years old, but it largely depends on you as a parent.
A perfect mix of hiking, relaxation, and community.
Experience what has been voted as Sweden's most beautiful nature.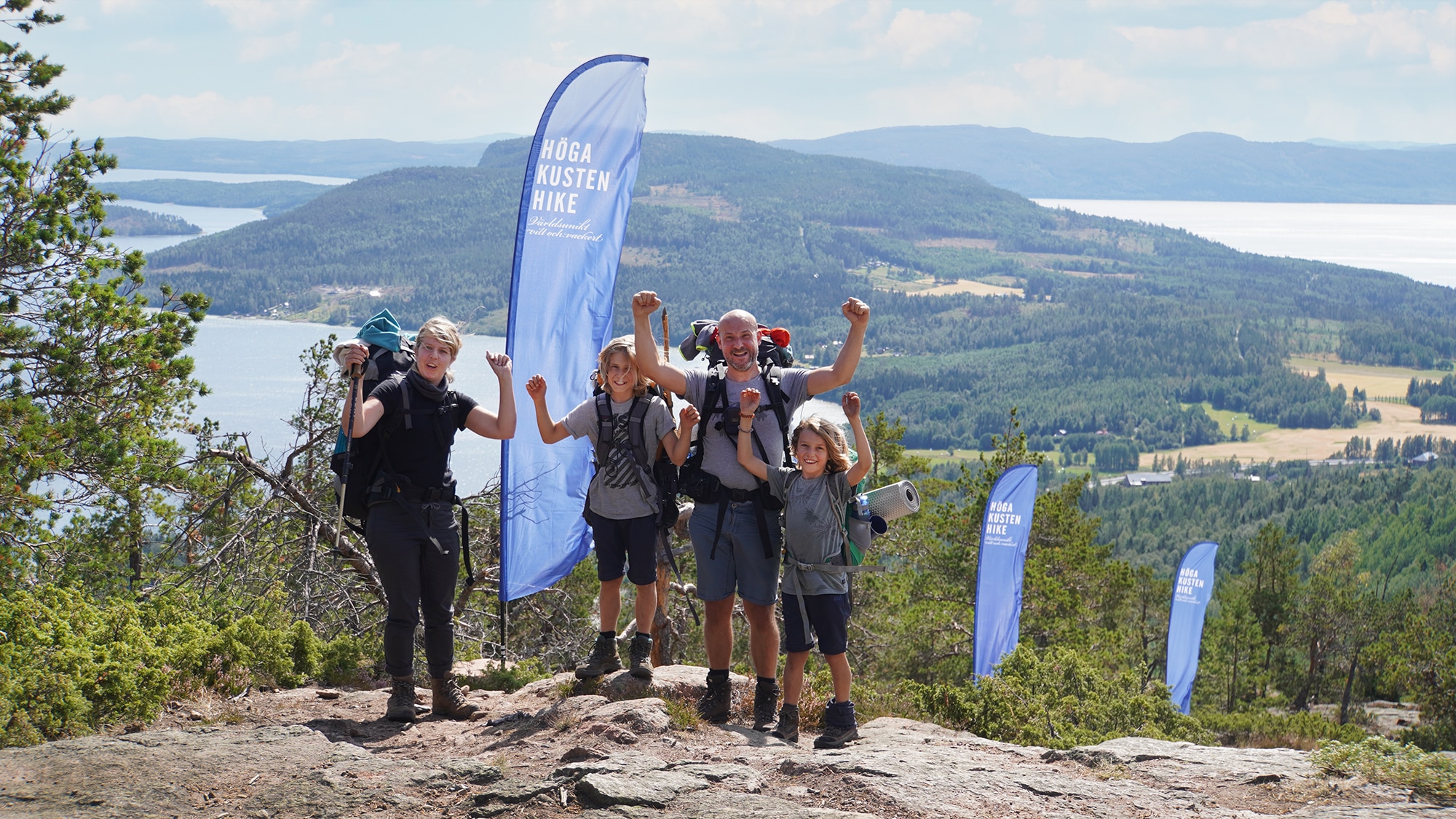 Some children come with the whole family, others come with mom or dad. Some come with relatives or friends.
– In any case, it will be a great adventure!
The High Coast Hike is one of Sweden's most popular hiking adventures and has been attracting both curious beginners and experienced hikers from all over the world since 2013. Welcome to a experience filled with magnificent nature, outdoor schools, and wonderful community in the High Coast – World Heritage site.
10 BEST TIPS
for those who hike with kids
1. Join the participant group on Facebook. Here you will get to know more families with kids.
2. Review the equipment you already have and what you need to buy, borrow, or rent.
3. Stay at Friluftsbyn.
4. Prepare for the adventure.
5. Arrive in the early evening so the kids have time to meet other kids who are also going.
6. Hike the "Pleasure" distance.
7. Take plenty of breaks.
8. Dare to ask.
9. If necessary, send the packing on the last day.
10. Attend the After-Hike – one of the highlights of the adventure.
If you've prepared yourself physically, are comfortable with your equipment, ensure you have energy in your bodies and remember to take breaks – this will turn into a truly enjoyable adventure.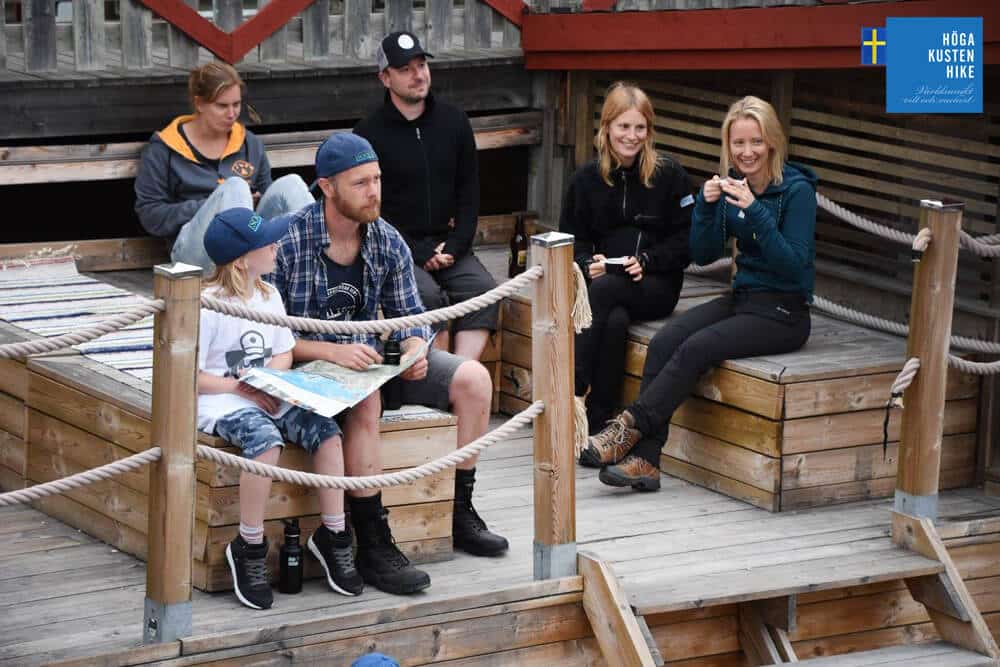 5.
DON'T MISS THE PRE-EVENING
–
Meet other participants and let the children take responsibility for their map.
You'll probably have a busy time in the days leading up to the hike. There will be clothes to pack, and you'll likely want to test the tent and other things. That's why it can be nice to be on-site already the evening before.
On Wednesday evening, there is also a pre-evening event where we calmly go through what will happen in the next few days, and you can, of course, ask any questions you have. Where to find water, some tips on good resting spots, and all those things that will make you go to sleep with the feeling of "well, this actually feels good."
Pre-Evening for the High Coast Hike>>
6.
THE "PLEASURE" HIKE
–
There's always an alternative.
During the first and second days, you can choose between two distances. If you're hiking with children under 10 years old, we would recommend taking the shorter "Pleasure" route. This makes the first day approximately 8 kilometers, the second day around 9 km, and the third day around 10 km. We set out together, and there are guides both at the front and at the back throughout the day. You will also encounter guides during the day.
Höga Kusten Hike is not a collective hike in the sense that we walk in a group. You choose the pace that suits you, carry your own equipment and tent. Since you will share a bus with others to get to the starting point, it's easy to walk together for a while, split up, and then walk together again for a bit.
Route Description>>
​7.
TAKE MANY BREAKS
–
There's always an alternative.
High Coast Hike offers a truly exciting and diverse natural landscape. It can be tempting to hike up to the various peaks, but your responsibility is rather to ensure that you take many breaks and have packed some extra snacks so that you can endure the whole day.
This may involve replenishing your energy with some extra nuts or candy before heading up a mountain and perhaps even stopping halfway. This increases the chances that you can make it through the entire day.
Take the opportunity to swim at Tärnättvattnet, Tärnättholmarna, and Kälsviken. Enjoy the experience. Because you will probably remember it for the rest of your life. We will go through more details during the pre-evening event.
8.
ALWAYS ASK
–
Both guides and Naturkompaniet are here to help you have a wonderful adventure.
Before you arrive, it's a good idea to go through the program to keep track of the times. If you have any questions before the adventure, our participant group on Facebook is excellent, and you'll quickly get answers from previous participants or those of us who are organizing this adventure. You can, of course, also email us.
On-site, there are guides who can answer your questions, and Naturkompaniet is there to assist you with equipment-related queries.
High Coast Hike Program >>
Give your kids a break from screens and instead teach them to appreciate nature, create unforgettable memories, and experience adventures together on an exciting multi-day hike through Sweden's most diverse landscapes.
9.
SEND YOUR PACKING
–
If you're tired, we can help on the last day.
It's important that you, as a parent, have accustomed your body to carrying a backpack before you arrive. It's also good if the children have been on some trips as well. However, unexpected things can always happen, and in such cases, our guides will do everything they can to find solutions.
After you wake up at the second night's camp and are about to hike to the top of Skuleberget for the finish on day three, we can help you with parts of your equipment (e.g., tents and sleeping bags) to transport them to FriluftsByn from Camp Gyltberget. This way, you'll have an easier finish. We will provide more information about this possibility during the pre-evening event and, of course, when you arrive at Camp Gyltberget.
10.
JOIN THE AFTER-HIKE

​
–
One of the highlights of the hike is celebrating our achievement.
What truly delights us is that many families with kids, especially parents who come alone with their kids, choose to stay for the after-hike celebration. There's music, and it's often the kids who kick off the spontaneous dancing in the courtyard.
As part of the adventure, a campsite in FriluftsByn from Saturday to Sunday is included because we want to encourage you to actually stay and enjoy the achievement. Summing up all the memories together with others, especially other kids, really enhances the experience.
– After-Hike >>
OUTDOOR TIPS
Here you can listen to previous hikers to get a sense of what lies ahead. If you want more tips for the hike, we've gathered them here.
A GOOD NIGHT'S SLEEP
How to have a cozy night outdoors in nature >>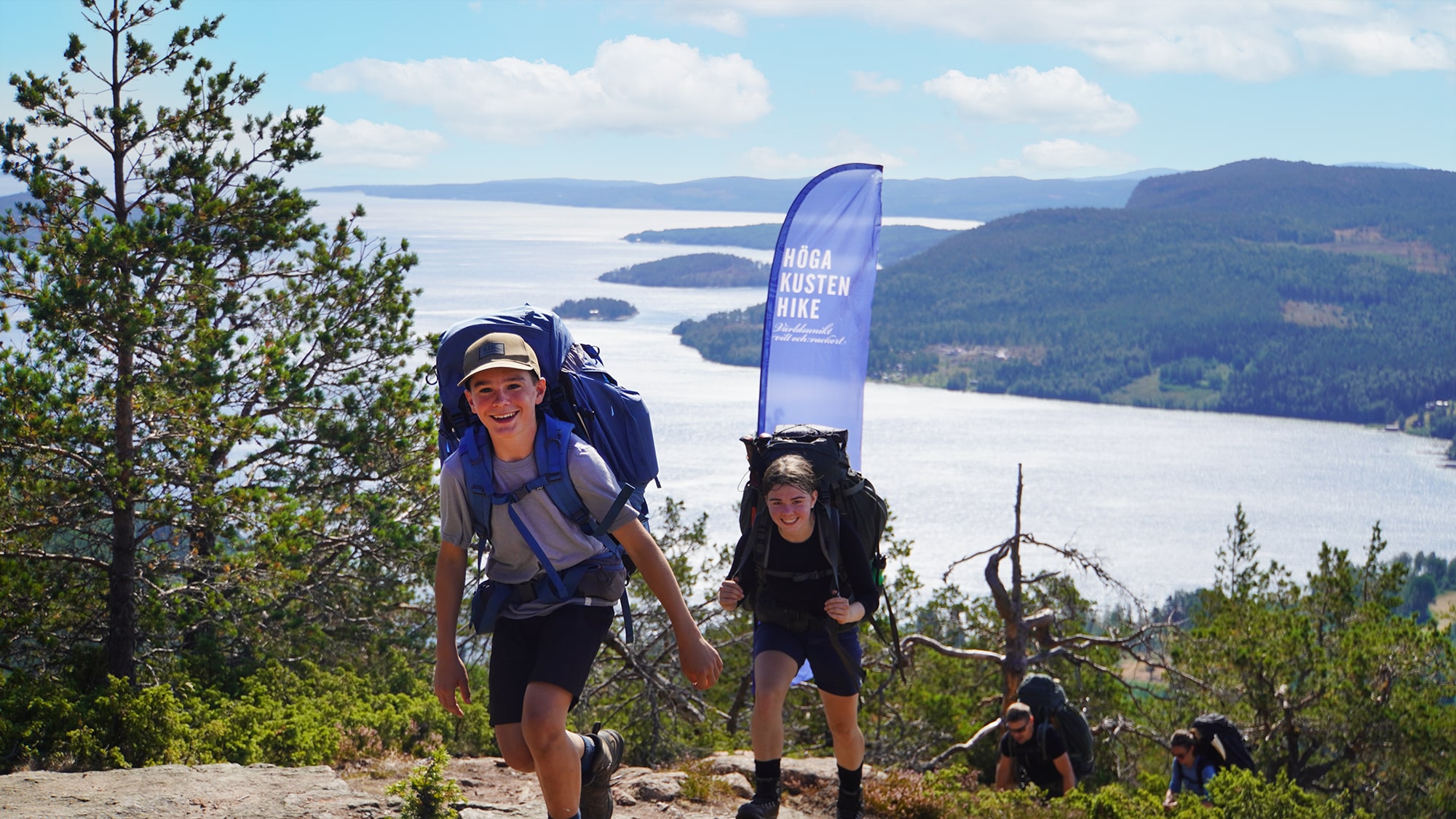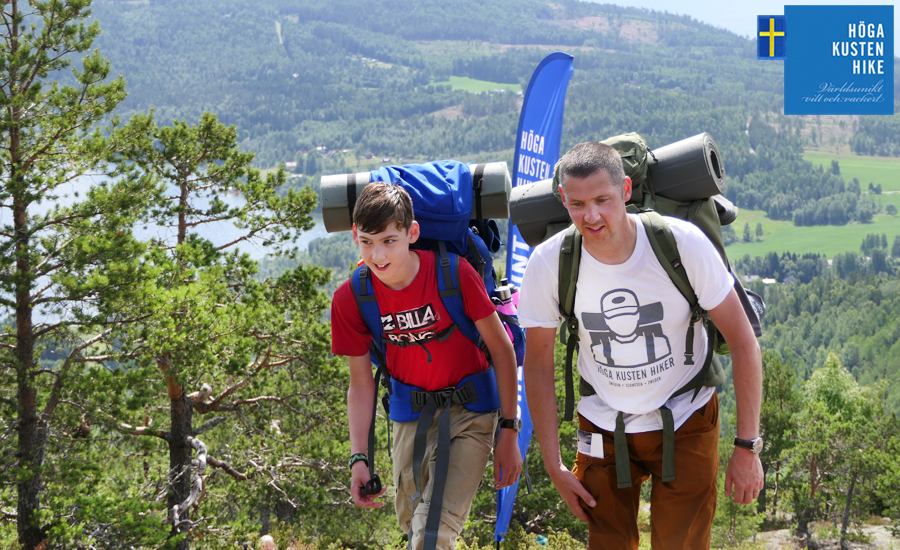 My 10 year old son walked it last year, he found it challenging but really enjoyed it. He enjoyed that much we are doing it again this year. Also, there were families with children a lot younger then him.
Al Waters, Ireland
Did it last year with my 9 year old daughter. It's a challenge but it's not impossible. Just bring a lot of candy or chocolate.
Marcus Eklånge Gindemo, Sweden
Go for it! We did the High Coast Hike with our 6 and 7 year old kids and they still talk about it. A great adventure. They were so proud of themselves and easily kept up with adults.
Sara Brown, England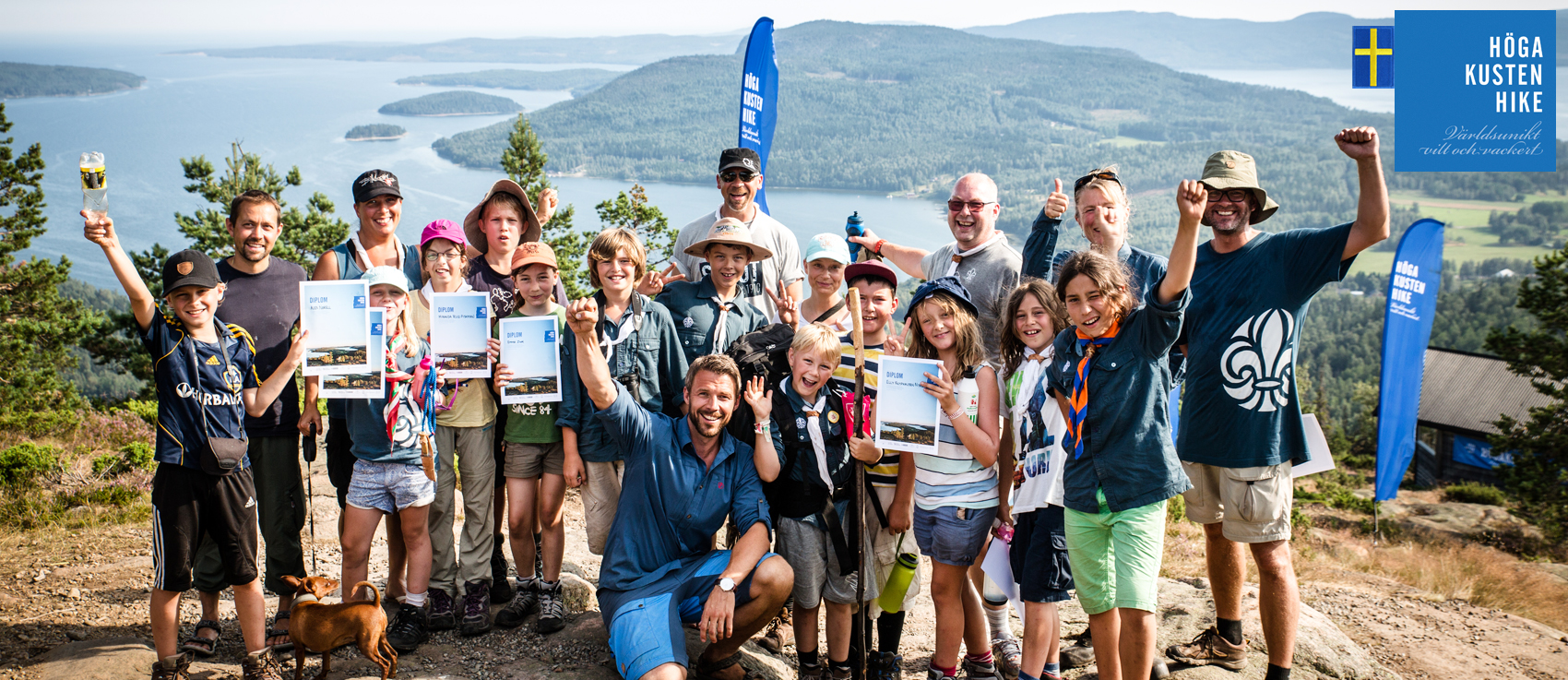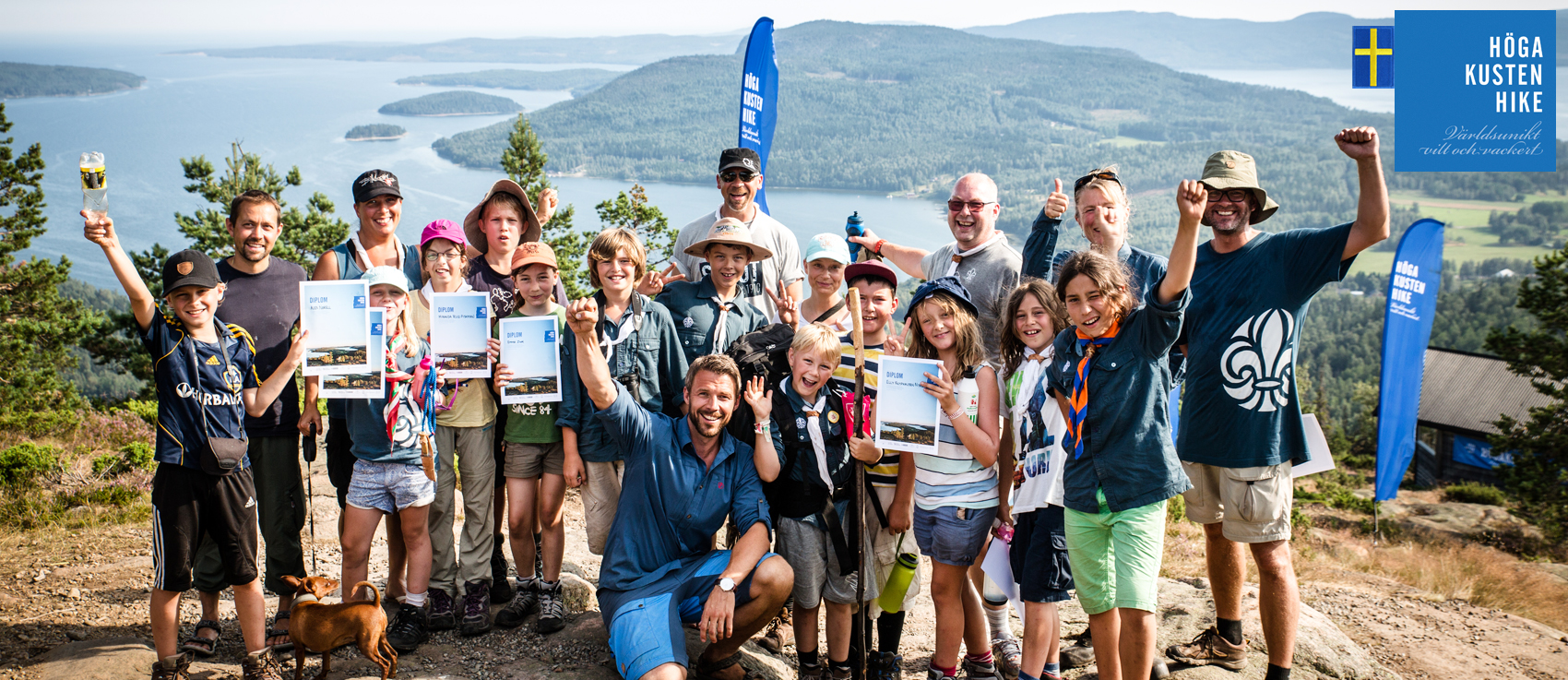 WHAT TYPE OF ADVENTURE ARE YOU LOOKING FOR?
Many come by themselves and return for the great outdoor community. Others bring their friends, family or partner and combine time with eachother and getting to know people from all over the world. 
Start the video to get a feeling of what you are about to experience.
JOIN ONE OF THE MOST POPULAR HIKING FESTIVALS IN THE WORLD
The High Coast Hike attracts hikers from all over the world.
Here are four reasons why you will love the adventure:
Over the stretch of three days you will experience the highlights of the High Coast of Sweden.
Get together on Wednesday and the grand After-Hike celebration with live music on Saturday.
Get new skills and make outdoor life more enjoyable. We invite some of Swedens leading outdoor companies.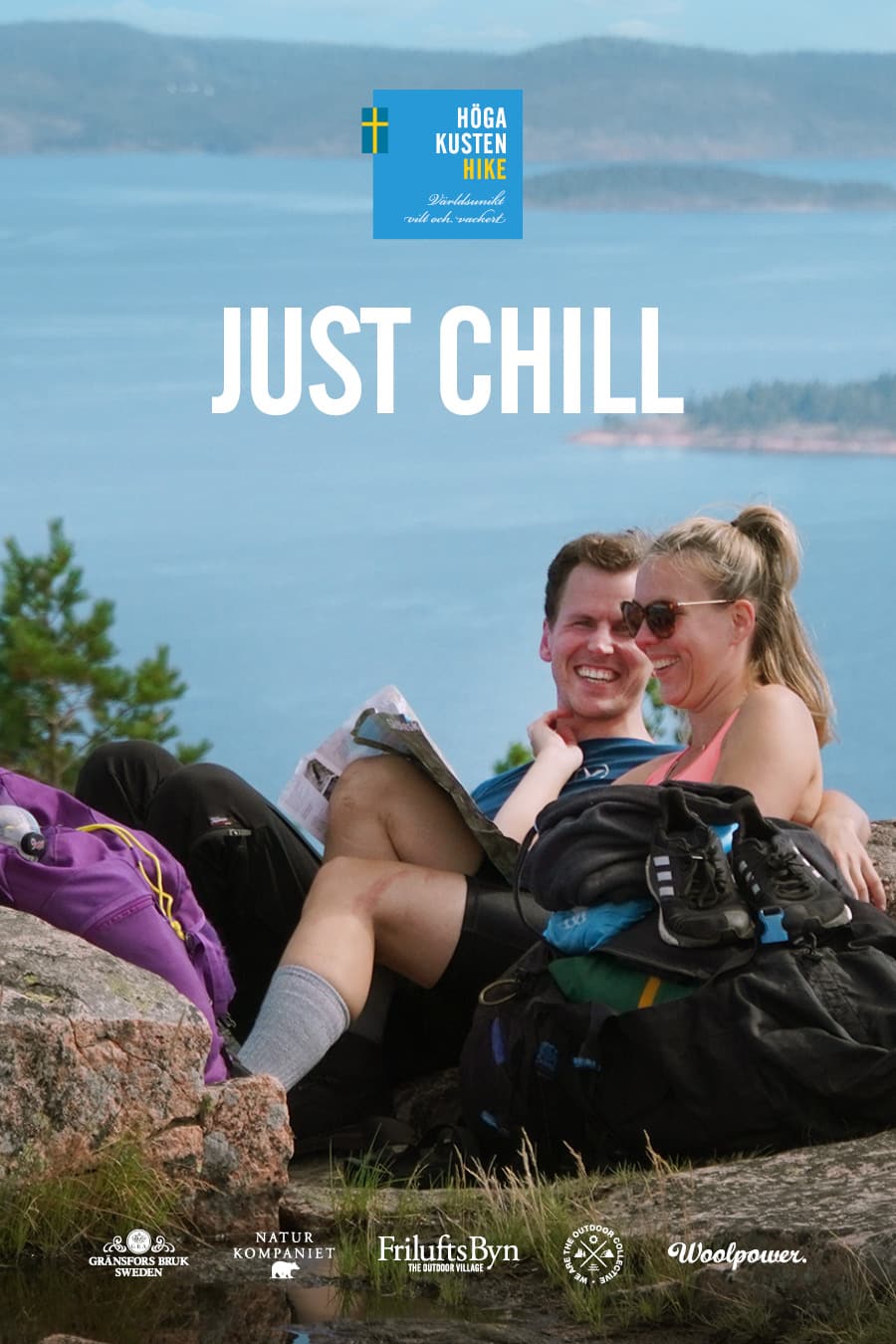 CHILLING >>
There is plenty of time for breaks and chilling with likeminded people from all over the world.
HIGH COAST HIKE, SWEDEN
IT IS TIME FOR
AN ADVENTURE!
JOIN US!
START >>
Get a great overview of the High Coast Hike.